travelling process for handicapped seniors and disabled travelers :
You don't need to stroll too far past a search on Google to see that the Internet is ripe with stories about the repercussions of plane travel for individuals with disabilities as you know some bad things happen in vacations for handicapped seniors.

 In July 2021, Disability Advocate Engracia Figueroa boarded a flight to Washington, DC to participate in the Care Can't Wait Rally. Upon her return to Los Angeles, United Airlines informed her, that the wheelchair was destroyed in Cargo.
According to the Center for Disease Control, there are over 61 million adults in the United States that live with a disability. Within this demographic, the highest percentile is reported at 13.7% (or 8,357,000+) of adult Americans being mobility impaired. This would be just shy of the entire population of New York City.
Many of these Americans are all too familiar with the upsetting outcome of traveling with their mobility device. For Figueroa, United Airlines was legally required by the Air Carrier Access Act to replace her $30,000 medical device and after 5 hours of waiting in the Los Angeles Airport, they provided her with loaner that was ill-suited to her medical needs.

 Figueroa developed pressure sores, inducing muscle spasms, severe edema, and loss of appetite, leading to two hospitalizations and a surgical procedure to remove the infected bone/tissue. Figueroa died in October as a direct result of the infection.
With instances ranging from Cory Lee, Shane Burcaw, Bri Scalesse, Theo Donnelly, Gabrielle DeFiebre, and Illinois Senator Tammy Duckworth, these incidents are happening across the United States and Canada at any given moment. In 2019, the Air Consumer Report indicated a massive 10,548 mishandling relative to 29 mobility devices per day that required repair or replacement.
As a Travel Agent that has first-hand perspective of living with a physical disability, I am all too familiar with these processes. There is a strict procedure that will nearly eliminate the possibility of an incident like this ever happening to you at the Airport.
The most important instrument in the planning process is the communication of the client's medical needs with the Airline. Whether you are flying with Air Canada, WestJet, Delta Airlines, United Airlines, Alaska Airlines, American Airlines (Etc.), these Airlines will have a specific department trained in the process of managing a traveler with mobility challenges. If the Travel Agent is simply booking your flight through a Global Distribution System like Sabre or Amadeus and then handing off the ticket. Then they missed the most important step. If you booked your trip directly through a wholesaler like Expedia and are depending on them to get it right, the likelihood of that happening is non-existent.
They might have input the Service Request in with your reservation, but that does not supplement the fact that the plane might not be large enough to accommodate the medical device. Or that you could be impeded with obstacles by the Transport Security Administration. You could be denied boarding because the Airline doesn't have the proper information related to your medical device.
Central Reservations will not have this information on-hand. If they do, it's untrusted information. When you reach out to the Airline's Medical Assistance Department, it is critically important to have the dimensions and battery type of your mobility device readily available.

The Airline won't typically ask about the dimensions of your device, but not providing it will increase the odds of damage or disembarkation. Once you have provided the Airline with the dimensions, the Airline needs to then provide you with the dimensions relative to the cargo door. Regional Jets are typically too small to board a mobility device, but the Airline may get around this by turning disassembling it or turning the device on its side for the duration of the flight.

You will not be told this. You will have greater success booking on an Embraer, Boeing, or Airbus. Certain passengers that require CPAP or Ventilators will also need to obtain medical clearance before the Airline will permit them on board. You cannot simply show up at the Airport without this information.
Prior to departure, it would be an excellent idea to have your mobility device inspected by a professional. Consider this an insurance policy that if the Airline damages it, then you will have a certified report that absolves you of any liability.
If the Travel Agent hasn't collected or requested any of this information, then the likelihood of damage or disembarkation becomes a real possibility.
While there are things the passenger can do to reduce potential damage to their mobility device during the planning process as you know potential damage to your device may ruin your vacation as a handicapped traveler. The most important step will take place on your departure date when you arrive at the Airport.
You are the single, most adept expert qualified to demonstrate proper handling and safety of your mobility device. You wouldn't ask a veterinarian to do surgery on your legs, so why would you hand off a delicate powered machine to a team. Whose primary objective is to recklessly load luggage onto the plane? They have no idea what to do with it. What's more, the Airports don't communicate with one another.
 You will not be offered the preference of expressing proper handling/safety measures with the luggage team upon touching down. What you can do is print off a piece of paper that provides this information and tape it onto the seat. You will want to articulate the means of turning on/off the device, disconnecting the battery (if applicable), removing the backrest/headrest (if applicable), controlling seat recline/elevation, putting it into neutral, but most important, the best place to lift from.
This is typically done so from underneath the base of the seat to avoid breaking anything. Doing so will ensure that your mobile device does not arrive damaged.
Once you have recorded this on paper, it's time to ask the Gate Agent to bring up the Ramp Supervisor. Documenting proper handling instructions is a good insurance policy for informing the team at your destination, but you have every right to inform the team that will be taking your device at the departure gate on the safe handling of your mobility device. Show the Supervisor what they can (and cannot) do with your device, then ask them to demonstrate what you just did. This is a process that will take less than two minutes to convey and provides you with peace of mind that the team can adequately load your device onto the plane without damaging it.
You will be required to hand over your mobile device before boarding the plane. Airlines prohibit passengers from remaining seated in it due to safety regulations.
It's never a good idea to book yourself on a tight connection because you will be the last person to disembark the plane. Once you arrive, the team will either bring your device to the jet bridge or transfer it onto the next plane. If you are rushed for time, then asking the team to bring it to the jet bridge could mean missing your next flight.
However, if you cannot be safely transferred from one plane to another without it, then these are safety measures that need to be taken during the planning process. An Airline may hold the plane for a brief period, but you should not be disembarking the plane with this mindset.
If you have made it onto the jet bridge with more than thirty minutes before your connecting flight, then you can safely resume the process of mindfully inspecting your device for damages and then inform the next Gate Agent of your right to speak to the Ramp Supervisor.
Inspect your device carefully before you leave the Airport at your final destination. If you believe it has been mishandled or damaged, then it needs to be reported immediately. If you do not report it after arriving at the Airport, the Airline will not assume responsibility and you will be liable to repair any damage sustained.
Booking through a Travel Agent means recognizing that they understand the complex processes of accommodating travelers with disabilities and thus you prevent bad repercussions that happen in vacations for handicapped seniors.

 If you have reflected such issues onto your Travel Agent and were met with a response along the lines of, "I don't know, but let me look into that for you", then the likelihood of a problem occurring will increase dramatically.
One cannot confidently attest to understanding the physical impediments of living or traveling with a disability if they do not have a disability. Remember, it's your mobility at stake. Incompetency is not worth risking injury, loss of income, hospitalization, and a lack of independence.
Aaron Busch is a Travel Agent/Disability Travel Specialist at Guide Me Away. With his expertise, Guide Me Away is considerate of all different travel needs and accommodations for all of our clients. We try our best to give you the best deals and also the knowledge needed to have a more comfortable travel experience. You can contact us by clicking the button down below, and we will give in-depth answers to your travel inquiries.  Happy Travels!
Found this interesting? Check out other blogs that may also interest you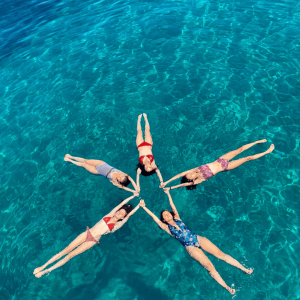 Discover the Advantages of Group Bookings with a Professional Travel Agent Group travel is a great way to see the world, but it can also
Read More »