Traveling can be one of life's greatest pleasures, whether it's visiting a new city or resting on a beach. However, planning and scheduling a trip is often confusing, especially with the multitude of options available online. For convenience and price, travel firms like Expedia, Orbitz, and Travelocity have grown in popularity. While these sites appear to be a terrific alternative at first glance, extended research suggests otherwise. Continue reading to learn about the benefits of working with a travel agency instead of
TRAVEL PLATFORMS SUCH AS EXPEDIA, ORBITZ, AND TRAVELOCITY. 
Disadvantages of Booking with Expedia, Orbitz, Travelocity, and Other Travel Platforms
1. Hidden Fees and Limited Options
When planning a trip, one of the major disadvantages of booking through online travel platforms such as Expedia, Orbitz, and Travelocity is they may not always provide the greatest deals. Hidden fees and charges are common when booking through Internet travel firms whereas a travel agent will provide you with a final price for your accommodations. Some hotels, for example, may charge a resort fee that is not stated on the booking site, while airlines may charge additional fees for services such as seat selection or baggage. These costs might soon build up and cause you unnecessary frustration.
Furthermore, some websites may not have access to all available flights and rooms, limiting the options available to you. If you have your heart set on a suite that includes a bathtub, often all suites are grouped together when booking through a third-party site, so that bathtub won't be guaranteed.
2. Poor Customer Service

 
Another issue with using online travel firms is the absence of dependable customer service. If something goes wrong with your reservation, such as a flight cancellation or a problem with your hotel room, getting in touch with someone who can fix the issue can be challenging. Whereas travel agents, on the other hand, provide individual guidance and support throughout your trip.
Many customers have complained about excessive wait times and inadequate customer service due to the nature of a third-party booking platform. When booking through Expedia, for example, travelers are referred to individual itineraries' airline regulations and restrictions. As a result, it may be difficult to locate your exact trip information, as well as any associated fees or refunds.
Additionally, if you need to change your trip arrangements, you may have to pay cancellation costs to both the service provider and Expedia, which can quickly cancel out any savings you gained from booking with Expedia initially. 
3. Lack of Flexibility
Plans often change when you meet unanticipated issues such as a medical emergency or a natural disaster. This can be stressful when you encounter a lack of flexibility that often occurs when booking through online platforms such as Expedia, Orbitz, and Travelocity. Once you've booked your trip, it can be tough to make modifications or cancel. Many of these sites have strict cancellation policies and may charge fees for making changes or canceling your trip. 
This is something you don't have to worry about when you work with our travel agency. We are here to support you through any unexpected changes in your travel plans.
4. Unreliable
When planning a trip you want peace of mind that the provider is trustworthy and dependable. Although internet travel firms appear to be a convenient option, these websites are not always reliable. There have been reports of bookings being canceled or lost owing to technological faults or errors. Our travel agents, on the other hand, have personal contact with their clients and are responsible for the services they give. At Guide Me Away, we can provide you peace of mind and ensure that your journey is a  success.
Advantages of Working with a Travel Agency
1. Travel Expertise
Let us now discuss the several advantages of utilizing a travel agent. Guide Me Away's travel experts provide personalized service. Our travel agents have vast expertise and experience in the travel industry and can offer recommendations and insights that aren't always available online. Based on your budget and tastes, we can advise you on the finest destinations, flights, and hotels. For example, if you're searching for a romantic honeymoon, our travel agents can propose the best places for couples and hotels with romantic amenities such as couples' massages or private hot tubs.
2. Save Time and Money
When planning a trip, working with a travel agency can save you time and money in addition to providing expert advice. Travel planning can be time-consuming, especially if you are unfamiliar with the destination. The experts at Guide Me Away can handle all of the details for you, such as reserving flights, lodging, transportation, and activities. This can save you hours of research time and allow you to concentrate on enjoying your vacation. If something goes wrong during your trip, such as a flight cancellation or an issue with your hotel room, our travel agents provide around-the-clock help. 
3. Exclusive Benefits
Another perk of working with a travel agency is the additional value and bonuses we provide. Here at Guide Me Away, we have access to exclusive pricing and deals that are not available online.  We have connections with airlines, hotels, and tour operators, which provide the opportunity to offer our clients exclusive deals and discounts. We can also offer perks like hotel upgrades, free breakfast, and early or late check-in or check-out, which can improve your whole vacation experience.
Furthermore, travel agents provide unique vacation packages that are tailored to your individual needs and tastes. For example, if you're planning a family vacation, our travel experts can help you organize activities and hotels that are appropriate for children, as well as offer family discounts.
Travel With Guide Me Away
To summarize, while online travel platforms such as Expedia, Orbitz, and Travelocity may appear to be a handy and cost-effective option for arranging your next vacation, there are several reasons why utilizing a travel agent is a superior option when planning a trip.
Guide Me Away's travel experts offer individualized advice and support, save you time and effort, provide added value and advantages, and frequently save you money in the long run. Online travel platforms, on the other hand, may not always give the greatest pricing, have untrustworthy customer service, impose hidden fees, lack flexibility, and do not ease your travels like a travel agent can.
Make Your Next Vacation Unforgettable!
Get Travel Tips Sent Right To Your Inbox.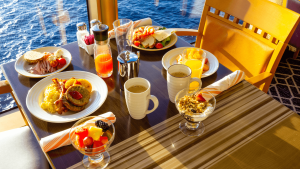 From delectable Michelin-starred cuisine to immersive cooking classes and unique dining experiences, these cruises are meticulously designed to exceed the expectations of foodies everywhere. 
Read More »
Paris is known for its rich culinary culture and its love for good food. From traditional French cuisine to modern gastronomic creations, the city has
Read More »
Several nations have a reputation for great food, and France is definitely among the best in that list. Their cuisine is rich, varied, and it has
Read More »