If you haven't visited before, you've been missing out on the experience that is Fire Island, NY. Here, you'll find a charming barrier island, situated off the southern coast of New York's Long Island. Likewise, it is the unique setting for two thriving LGBTQ+ resort towns: Cherry Grove and Fire Island Pines.
About Cherry Grove and Fire Island Pines
Receiving an honorable mention in the LGBTQ+ Travelers section in the CDC 2024 Yellow Book, Cherry Grove, and Fire Island Pines are not to be missed.
The journey to this exceptional destination is an adventure in itself. Take the Long Island Rail Road to Sayville, then catch a shuttle bus that leads to a 30-minute ferry ride. Finally, continue on foot. Notably, automobiles are absent on the island's pathways. Instead, you'll find wooden boardwalks and people merrily pulling little red wagons filled with their provisions.
Adding to its allure, each of the two communities boasts its own distinct vibe. Fire Island Pines mirrors the atmosphere of New York's Chelsea, with its gatherings of attractive partygoers and gay professionals. On the other hand, Cherry Grove embraces diversity and maintains a down-to-earth feel. Which attracts both a younger and an older crowd of visitors.
Nestled between these two towns lies a small stretch of forest affectionately known as the "meat rack". This a spot is renowned as one of the liveliest places on earth. This vibrant oasis between the communities adds an extra layer of excitement to an already enchanting destination.
When To Visit
Due to climate limitations for the island setting, make sure to visit in-season. Peak times are from Memorial Day to Labor Day. With that said, establishments open their doors from April through September for extended opportunities to visit this inviting community.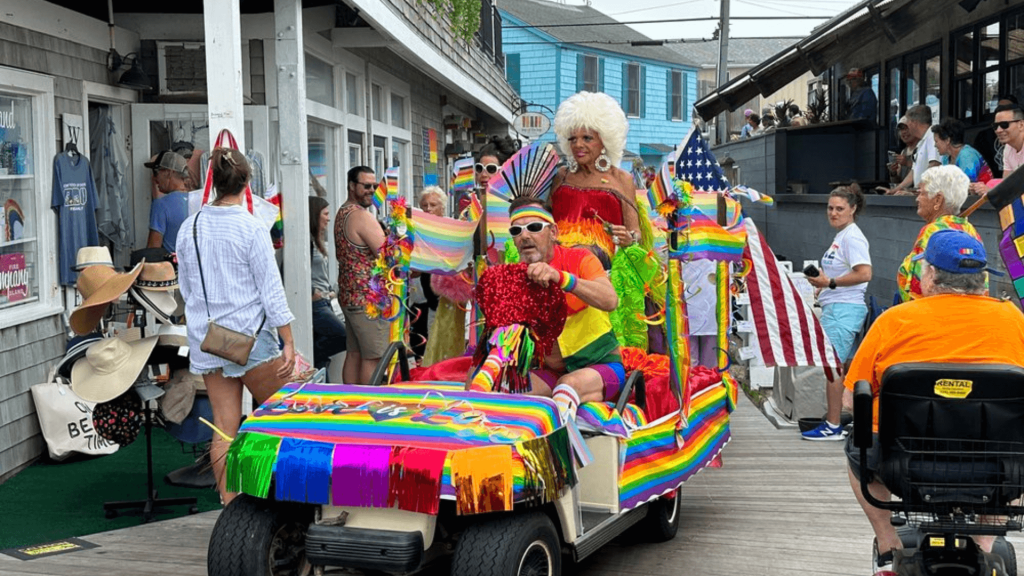 LGBTQ+ Events on Fire Island
Fire Island Pines Party
Where: Fire Island Pines, NY
When: July 19-July 21, 2024 (This event is held annually in July.)
Set in the latter half of July, Fire Island's Pride celebrations, officially recognized as the Pines Party, come to life. This extravaganza is hailed as the apex of New York's vibrant queer nightlife and stands as a jewel in Fire Island's festive calendar.
Unfolding as a three-day circuit party, the Pines Party draws individuals who gather with the shared purpose of dancing ceaselessly on the island's sandy shores and charming streets. In this realm, inhibitions simply melt away, creating an atmosphere of pure liberation.
Furthermore, the Pines Party also carries a philanthropic mantle. The event operates as a charity initiative. The proceeds are reserved for the Stonewall Community Foundation as well as local charitable organizations within Fire Island and New York City. In this manner, the festivities not only deliver joy but also hold the power to make a meaningful impact on vital causes.
Spartacus Fire Island
Where: Belvedere, Bayview Walk, Cherry Grove, NY
When: Saturday, September 9, 2023 · 7pm-11pm
Internationally renowned and one of Fire Island's most celebrated occasions, is the Spartacus Fire Island party.
This event captures a comprehensive festival experience. It features the intriguing "Mr. Nude Belvedere" contest, an engaging underwear dance spectacle. Furthermore, it is set within the exquisite backdrop of a historically significant venue. Also, it offers picturesque views over the Great South Bay.
Women's Pride in the Pines
Where: Whyte Hall – 577 Fire Island Blvd, Fire Island Pines, NY
When: Saturday, June 8, 2024 · 1pm-9pm (This event is held annually in June.)
Embrace the spirit of unity at the ALL Women's Pride event in the Pines. Engage in lively dances and outdoor mingling, all nestled within a covered pavilion. The experience is heightened with open bars offering a selection of vodka and wine, complemented by a spread of delightful hors d'oeuvres.
For those seeking an enhanced experience, indulge in VIP Cocktails. Here, open bars continue to flow with vodka and wine, alongside a lavish buffet dinner featuring more than 20 exquisite items. Amidst the jubilant atmosphere are captivating shows. The upcoming event will include a performance by comedian Jessica Kirson. Furthermore, more acts are yet to be revealed.
A classic white dress code adds an extra touch of elegance to the event. So, pack your finest white attire and partake in this unforgettable celebration of unity and pride.
LGBTQ+ Bars on Fire Island
The Ice Palace
Where: 1 Main Walk, Cherry Grove, NY 11782
This extraordinary venue has earned a reputation for hosting some of the wildest parties on a global scale. From famous drag performers to mesmerizing DJ sets, The Ice Palace offers an experience like no other.
Not to be overlooked are the exceptional underwear events that are nothing short of remarkable. Overall, making this club a true beacon of vibrant celebration and entertainment.
Sip·n·Twirl 
Where: 36 Fire Island Boulevard, Fire Island Pines, NY
Near: upstairs, in the back, behind the Pavilion
Sip·n·Twirl stands tall as the paramount nightly lounge and club within the Fire Island Pines. As the Pines' most expansive and consistently bustling club, Sip·n·Twirl offers an all-encompassing experience.
Immerse yourself in a full-service bar, ideal for mingling and socializing. Then, step onto the TWIRLdeck for afternoon and evening dancing. The atmosphere creates opportunities for casual connections amidst the rhythmic beats. The expansive dance floor is complete with state-of-the-art sound and video systems.
The DJ lineup is an eclectic blend of community favorites and emerging talents. Enjoy everything from cherished Fire Island Favorites to the latest global club sounds.
Beyond its vibrant nightlife, Sip·n·Twirl goes above and beyond by hosting events like movie nights and drag performances. These happenings solidify the bar's status as a multifaceted hub of entertainment and camaraderie.
From the opening moments to the season's conclusion, Sip·n·Twirl remains the epicenter of Fire Island's vibrant social scene.
Cherry's on the Bay
Where: 158 Bayview Walk, Cherry Grove, NY 11782
Nestled in a serene waterfront setting favored by the LGBTQ+ community, this relaxed venue boasts picturesque views. Furthermore, it is renowned for full-service dining and cocktail offerings, including an inviting Sunday brunch.
The entertainment lineup is a true highlight, featuring weekly shows and DJs, complemented by an impressive roster of resident drag performers who never fail to captivate the audience.
Adding to its charm are the special events. The Annual Drag Attack in June takes center stage, ensuring a dynamic and engaging experience for all.
Low Tea at the Blue Whale
Where: Harbor Walk, Fire Island Pines, NY 
Near: Next to Betel Hotel
Spanning more than five decades, this destination has held its ground as the ultimate spot for both being seen and seeing others in The Pines. Moreover, it has served an inspiration for LGBTQ+ afternoon dance events across the world.
Serving as an ideal precursor to your evening, Low Tea beckons you to engage in heartwarming conversations with familiar faces and forge bonds with new acquaintances.
Moreover, relish signature cocktails and sway to the tunes of both esteemed and up-and-coming DJs. This experience awaits you every summer day, as well as on weekends in the spring and fall, from 5:00 to 8:00 p.m.
Visit Fire Island, New York!
Do not overlook this hidden gem when planning your New York getaway. Whether Fire Island is your main destination or an island retreat while visiting Manhattan, the travel experts at Guide Me Away will make booking your vacation a breeze.
From finding the best accommodations, to seamlessly coordinating train and ferry schedules, we are here to help! Book a free consultation with your go-to LGBTQ+-friendly travel experts today. 
Travel with an agency that understands your needs.
Get the latest travel information for the LGBTQ+ community sent right to your inbox.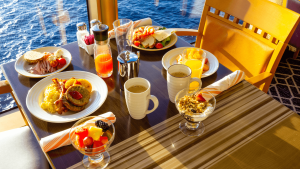 From delectable Michelin-starred cuisine to immersive cooking classes and unique dining experiences, these cruises are meticulously designed to exceed the expectations of foodies everywhere. 
Read More »
Paris is known for its rich culinary culture and its love for good food. From traditional French cuisine to modern gastronomic creations, the city has
Read More »
Several nations have a reputation for great food, and France is definitely among the best in that list. Their cuisine is rich, varied, and it has
Read More »