Unveil the best all-inclusive resorts for the LGBTQ+ community. These five remarkable havens go beyond conventional hospitality, providing not only superb lodgings and delectable dining but also a genuinely inviting ambiance that honors every form of love and self-expression. Explore these premier resorts where lively communities flourish and everlasting moments are etched into your stay.
Sonesta Ocean Point Resort
Nestled on the stunning island of St. Maarten, the Sonesta Ocean Point Resort beckons as an adults-only sanctuary of inclusivity. Boasting captivating views of the Caribbean Sea, this all-inclusive resort is conveniently located just a short walk from the famed Maho Beach.
With IGLTA accreditation, it warmly welcomes gay and lesbian travelers, embodying a commitment to authentic inclusiveness and hospitality for all. Catering to both couples and solo adventurers, the hotel's inviting atmosphere stands at the heart of its esteemed reputation.
Offerings Overview:
Recognized for excellence, this 5-star resort is a distinguished, adults-only, all-suite haven with round-the-clock all-inclusive services.

Enjoy the convenience of online mobile check-in and check-out on your arrival and departure days.

Savor delectable dining experiences at three à-la-carte restaurants boasting breathtaking views, two of which are exclusively reserved for Sonesta Ocean Point guests. Additionally, enjoy four exclusive bars and lounges.

Explore further culinary delights at the adjacent Sonesta Maho Beach Resort, which features four additional restaurants and bars.

Experience seamless indulgence with 24-hour room service, pool service, and Butler Service available in the top-tier category suites.

Take a dip in any of the three pools, including the signature Edge Pool featuring a zero-entry cliffside beach, the popular Point Pool complete with cabanas, and the semi-private swim-out pool exclusively accessible to Swim-Out Suite guests.

For special occasions, the resort offers a wedding gazebo and extensive meeting and conference facilities spanning 24,000 square feet, complemented by captivating outdoor venues.

Enjoy complimentary Wi-Fi throughout all rooms and public spaces.

Embrace the prime location just steps away from renowned beaches, shopping, and nightlife at the heart of Maho Village. Don't miss Casino Royale, the island's largest gaming establishment.

Opt for added mobility with electric scooters available for rent at an additional daily rate, subject to availability.

With the "Stay at One, Play at Two" offer, you gain full access to all amenities at the nearby family-oriented resort, Sonesta Maho Beach Resort, Casino & Spa.
Divi Resorts
Open and inclusive, Divi Resorts warmly embrace all guests, priding themselves on their LGBTQ+-friendly atmosphere. Set against the backdrop of pristine white sands, caressed by gentle tropical breezes, and infused with authentic island flair, our all-inclusive resorts are thoughtfully designed to cater to the needs of every visitor, regardless of their lifestyle. Whether you're a couple in search of a tranquil escape or a solo LGBTQ+ traveler, our properties offer the idyllic Caribbean settings you've been dreaming of.
When it comes to LGBTQ+ vacations, Aruba stands out as an exceptional choice, largely owing to the cosmopolitan perspective of its people. This open-minded attitude, a unique trait among the Caribbean islands, finds its roots in Aruba's Dutch heritage. Notably, the Netherlands, which has significantly influenced Aruba, pioneered the legalization of same-sex marriage back in 2001.
The forward-thinking outlook of the Aruban population guarantees a safe and embracing environment for our LGBTQ+ visitors. Hand-in-hand exploration of Aruba and the unadulterated enjoyment of your well-deserved vacation are not only endorsed but also entirely free from concerns, courtesy of the progressive mindset upheld by the Aruban community.
Array of Services:
Enjoy access to an array of facilities, including restaurants, activities, beaches, and pools, at both Divi & Tamarijn Aruba all-inclusive resorts.

Indulge in a variety of culinary delights with all meals and snacks offered at 11 restaurants and grills.

Immerse yourself in unlimited beverage options, from daily specials to beer, mixed drinks, frozen beverages, liquors, and wine/champagne by the glass, at 8 bars.

Experience the convenience of guest accommodations located just a few steps away from the sandy shoreline.

Take a dip in any of the 4 freshwater pools.

For Tamarijn Aruba guests under the all-inclusive package, exclusive access to two pools at Divi Dutch Village, adjacent to the property, is granted.

Enjoy poolside drink service at the primary pools.

Embark on e-mountain bike adventures and group tours to iconic destinations.

Enhance your tennis skills with clinics and make use of well-lit tennis courts, including night play options, at Tamarijn Aruba.

Engage in beach volleyball for some active fun.

Participate in weekly yoga, Zumba, and water aerobics classes.

Make the most of a state-of-the-art oceanfront fitness and activity center.

Challenge yourself on the 30-foot rock climbing wall located right on the beach.

Benefit from shuttle service connecting the properties and various resort areas.

Delight in daily activities and evening entertainment.

The Sea Turtles Club offers engaging experiences for resort guests aged 4 to 12.

Stay connected with complimentary Wi-Fi accessible in guest rooms and throughout the entire property.
Hilton Vallarta Riviera
Hilton Vallarta Riviera warmly welcomes you and your friends to a sun-kissed beach haven for your upcoming Mexican adventure. Notably, with an inclusive and LGBTQ+ friendly atmosphere, you can revel in endless resort activities day and night. These activities feature vibrant parties, engaging entertainment, spontaneous performances, and the opportunity to create countless new friendships.
Moreover, our all-inclusive resort is ideally situated just a short 10-minute taxi/Uber ride away from Zona Romántica (Puerto Vallarta's celebrated LGBTQ+ district) and the iconic El Malecón boardwalk. Here, you can bask in breathtaking vistas that span from Bahia de Banderas on one side to the Sierra Madre forest on the other.
Furthermore, regardless of your chosen destination within our resort, you'll savor authentic local cuisine, immerse yourself in captivating cultural encounters, and embark on thrilling aquatic adventures. All of this awaits you within the inviting embrace of the resort's beachfront complex. Join us for a truly inclusive and unforgettable experience!
What's Included:
Enjoy a complimentary welcome beverage upon your arrival.

Indulge in daily meals, including breakfast, lunch, and dinner, at our array of 14 dining establishments.

Your minibar will be replenished daily with a selection of premium beverages and snacks.

Delight in limitless beverages and cocktails throughout your stay.

Participate in group yoga, fitness, and wellness sessions.

Immerse yourself in daily cultural activities.

Experience live music and entertainment every evening.

Benefit from the assistance of a dedicated personal concierge.

Choose between our exclusive Adults-Only section and the Family-Friendly area.

Explore amenities tailored exclusively for adults.

Take advantage of our pool and beachside service.

Stay connected with complimentary WiFi access.

Enjoy unrestricted use of the fitness center.
Galley Bay Resort & Spa
Indulge in an authentic Caribbean retreat at the exclusively adult Galley Bay Resort & Spa in Antigua. Offering a truly inclusive experience that warmly embraces the LGBTQ+ community, this all-inclusive resort invites you to unwind in a tranquil oasis. Nestled between Antigua's finest shoreline and expansive tropical gardens, this boutique resort ensures an enchanting ambiance that is both sophisticated and inviting. Specifically designed for couples and newlyweds in search of a romantic escape, this acclaimed tropical haven presents a harmonious blend of exciting exploration and serene relaxation.
At Galley Bay Resort & Spa, the Craft of Extraordinary Experiences has been mastered. Here, the allure of nature, the pristine beach, and the captivating azure Caribbean Sea come together seamlessly to fulfill your most vivid dreams. Notably, as a LGBTQ+ friendly destination, we proudly celebrate diversity, fostering an environment where all guests can feel welcome, respected, and cherished throughout their stay.
Included with your stay:
All-Inclusive package covers breakfast, lunch, dinner, afternoon tea, and snacks.

Unlimited alcoholic and non-alcoholic beverages available.

Enjoy Hobie Cat catamaran sailing and stand-up paddle boarding.

Sea kayaking for tranquil water exploration.

Snorkeling with vibrant marine life and coral reefs.

Complimentary water sports instruction provided.

Free-form swimming pool with cascading waterfall.
New Fitness Center with cardio and weight training equipment.

Yoga classes in the beach pavilion.

Bicycles available for exploration.

Nature walks around the bird sanctuary lagoon.

Live music with steel-drum rhythms, acoustic, and reggae beats.

Weekly Cocktail Party for mingling with staff and guests.

Caribbean Barbecue night on the beach with assorted favorites.

Beach Movie Night with personal headsets for a relaxed outdoor cinema.
Complimentary golf cart shuttle service for easy movement around the landscaped grounds.
Esperos Mare Resort
Embark on a journey to Esperos Mare Resort, a haven of all-inclusive luxury tucked along the untouched Ammoudes beach in Faliraki, Rhodes. Here, against a backdrop of mesmerizing sea views, you'll find comfortable rooms, stylish restaurants, and a wide range of activities awaiting your discovery.
Whether you're traveling with a group, family, partner, or as a solo adventurer, rest assured that our LGBTQ+-friendly atmosphere guarantees a memorable stay immersed in stunning surroundings.
Complimentary during your visit:
Award-winning Blue Flag beach for sunbathing and water activities

Splendid pool area with Lazy River for leisurely floating

Heated indoor pool available during cooler months

Sunbeds, towels, and umbrellas provided at pool and beach

Sumptuous breakfast buffet with Greek and international options

Dedicated healthy corner and fresh orange juice

Grill Station with Greek souvlaki and grilled delights

Authentic Greek cuisine at Kafenion with meze and ouzo/wine

Fresh and homemade pizzas at Pizza Station

Themed evenings showcasing flavors from around the world

Show cooking for interactive dining experiences
Casino Bar offering exotic cocktails, drinks, and Greek wine

Pool Bar with refreshing drinks, cocktails, and ice cream

Spacious terraces for enjoying cocktails with fresh air

Close to local attractions, including UNESCO-listed Medieval Town

Easy transportation via local buses

Car and moto rentals available for island exploration

Water Park across the street for family fun and thrills

Sports activities, yoga sessions, and water gymnastics

Sunset yoga in serene garden fitness area

Daily activities and evening entertainment, including live music and Greek nights

Additional recreational activities like tennis, mini-golf, and garden chess
Book Your All-Inclusive Getaway with Guide Me Away!
Each of these destinations exemplifies a steadfast commitment to cultivating a secure and joyful haven for travelers from the LGBTQ+ community. Whether you're envisioning a romantic retreat or an intrepid solo expedition, these resorts seamlessly cater to your desires.
So, secure your spot at these remarkable havens, where relaxation, connection, and celebration intertwine in an extraordinary symphony. Reach out to a travel expert at Guide Me Away to begin planning your journey!
Lia, who proudly identifies as a member of the LGBTQ+ community, leads Guide Me Away as its CEO. She ensures that these all-embracing principles resonate through every step of your travel planning. Along with Lia, other GMA team members are members of the LGBTQ+ community or allies. Opt for a group of adept travel experts who possess the skill to meticulously tailor your itinerary to perfectly align with your preferences.
Travel with an agency that understands your needs.
Get the latest travel information for the LGBTQ+ community sent right to your inbox.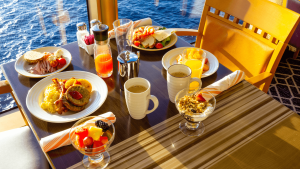 From delectable Michelin-starred cuisine to immersive cooking classes and unique dining experiences, these cruises are meticulously designed to exceed the expectations of foodies everywhere. 
Read More »
Paris is known for its rich culinary culture and its love for good food. From traditional French cuisine to modern gastronomic creations, the city has
Read More »
Several nations have a reputation for great food, and France is definitely among the best in that list. Their cuisine is rich, varied, and it has
Read More »