Have you ever wanted to create a bucket list? Or maybe you have a bucket list that needs more added to it? Have no fear! We are here to help! Here are ten of the most adventurous, bucket list-worthy trips you need to do before you die! Take a chance, live life adventurously, and take the leap and do it!
Standing at a whopping 5,895 meters (19,341 feet) is the beautiful Mount Kilimanjaro in Tanzania. The highest point of this beauty is called Uhuru Point, and it proves to be quite the challenge for hikers. The mountain is known for consistently having snow, which is predicted to be no more in the future. So if you want to go take in the beautiful scenery, you need to book this trip SOONER RATHER THAN LATER!
Fun Fact: The oldest person to ever climb Mount Kilimanjaro was 87 years old, Valtee Daniel. (This proves you can climb it at any age!)
Want to go on another crazy trip?! Head to Iceland, where you can immerse yourself in a volcano. The Thrihnukagigur volcano, to be exact! The tour takes approximately 5-6 hours, but you'll only be inside the volcano for about 35-40 minutes. You'll be lowered into the volcano by an open-air elevator. You'll go 120 meters (400 feet) inside the volcano and get to take in the spectacular reds, purples, and yellows of the inside of the volcano.
Fun Fact: The Thrihnukagigur Volcano is dormant and last erupted over 4,000 years ago. To some, it's like somebody put a hole in the volcano, and all the magma was drained.
Oh, Animal lovers!! We have something that you need to add to that bucket list of yours! Take a trip to Baja California, Mexico, and hug a whale! As crazy as that sounds, it is possible! Baja California is known to have encounters with more giant mammals, but Grey Whales are known to come to San Ignacio Lagoon to mate, care for their young, and enjoy time with humans. These creatures love to come up to boats and tap or hit them and expect to get some pats, almost like a dog or cat demanding your attention.
Fun Fact: The best time to partake in your whale hugging is from December to April. February is where you find adults breaching, and March to April is when the young become more comfortable with humans.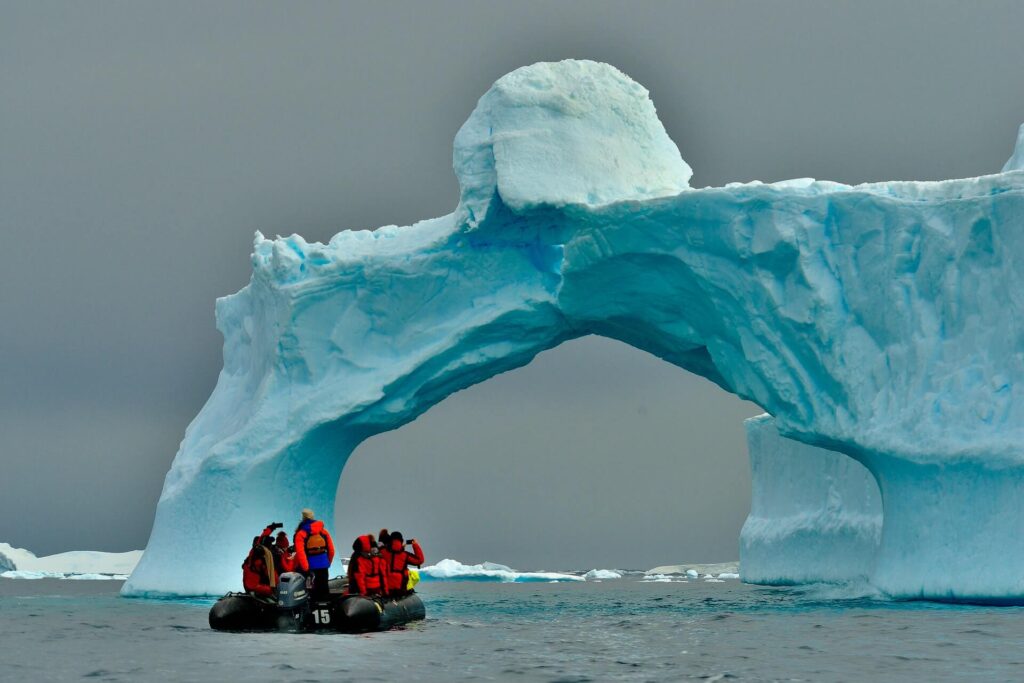 Antarctica is probably not something you've even considered visiting for a vacation. But, trust us! You will want to! Very few people have visited this country, which may be why it appears on your bucket list so you can be one of those few people! Take a cruise on the Weddell Sea. During your cruise, you will find beautiful icebergs, ice floes, and changing weather conditions that'll give you a true adventure. You may also embark on some stunning wildlife like penguins and baleen whales. We should also tell you that Weddell Sea Voyages are EXTREMELY limited. There are only a few each year, so you will need to plan.
Fun Fact: Antarctica is a desert and holds most of the water's freshwater.
Sure, everyone dreams of VISTING the Grand Canyon in Arizona, USA. Instead, we think you should add RAFTING the Grand Canyon to your bucket list! You'll take a ride on the Colorado River and get a completely different view of the Grand Canyon than the typical views you'd get from visiting it. The launch site is Lees Ferry, located northeast of Grand Canyon National Park. You'll pass by beautiful geological phenomenons, swimming holes, other canyons, sandy beaches, and have some wild waters!
Fun Fact: The river can reach as much as 85 feet deep and contains over 160 rapids.
Sleep on a Private Island
You ever dreamed about owning a private island, even if it's for only a day? Well, we have something close to that just for you! Take a trip to Scotland and sleep on your private isle. Scotland consists of nearly 800 islands, and some are inhabited, but you may come face-to-face with seals or sheep taken there to graze. You can take a sea kayak from the mainland, head over to Tanera Beag, climb to the top of the island, set up your tent, and enjoy a night on your island!
Fun Fact: Scotland has 760 islands, and Scotland's national animal is the Unicorn.
Add the Milford Track and New Zealand to your bucket list! You'll want to spend an entire week here with four of those days trekking the Milford Track! You'll start from Lake Te Anau and end at Milford Sounds. This four-day adventure takes you through Fiordland National Park, where you'll find lakes, waterfalls, astounding ice fields, plenty of forests, and a great deal of pioneer history. You'll want to get your camera ready and take pictures of the beautiful Mackinnon Pass that offers panoramic views.
Fun Fact: People think Milford Sound is a sound. It's not. It's a fiord and the only fiord that's accessible by road.
Here we are again with getting close and comfortable with mammals! Add swimming with turtles to your bucket list. Head to Western Australia and explore the Ningaloo Reef. Why the Ningaloo Reef, you may ask? It's full of endangered species, and you can find yourself immersed with over 500 species of fish. It's a great area to go snorkeling, too! Three turtles species visit this area every year between November and April to nest. The green turtle is the first turtle you can swim with, and it's considered an endangered species. The second is the hawksbill turtle which is critically endangered, and finally, the loggerhead turtle is the last turtle to swim with and is considered vulnerable.
Fun Fact: Snorkeling can be done all year round at the Ningaloo Reef. The temperature is between 22 and 26 degrees Celsius (71 and 78 degrees Fahrenheit).
Have you ever wanted to take a relaxing train ride to get away and explore? We know a train that's meant for you. Take your journey on the Trans-Siberian train and take in the views of Moscow to Beijing. This bucket list addition is a six-day event and involves a relaxing slow-moving train. You could find yourself sitting next to a Buddhist Monk or a Russian businessman. Vodka flows freely, and hot water samovar is at the ready for you to enjoy an excellent hot coffee.
Fun Fact: The Trans-Siberian Railway is the longest globally and covers 9,258 km (6,152 miles).
Ever picture yourself riding around in a classic hot rod or muscle car? Do you want to make that dream a reality? We know a place! Head to Cuba and take a tour of the beautiful Havana in a classic car. The cars are getting ready to be used for scrap, and you can get hitch a ride with a tour guide. Cuba is known for being unique and has a strong motif of culture and classic cars. A guide will give you a tour of the beautiful capital, and you'll enjoy the roar of the retro car while gliding down a backstreet.
Fun Fact: Havana may be the country's capital, but it is also the leading commercial center, major port, and largest city in Cuba.
Contact Us Today to Start Tackling that Bucket List!
More Travel Inspirations
Pride Celebrations for 2021 You Don't Want to Miss!
Canadian Rockies: A Guide On What to Do While You're There
All-Inclusive Greece Hotels for Your Next Adventure
Luxury Hotels Around the World for You & Your Pets