Going on a family cruise is an experience like no other, creating lasting memories that will be treasured for a lifetime. At Guide Me Away, we understand the importance of family vacations, which is why our recommendations are meticulously designed to cater to the needs and desires of every family member. Whether it's exploring exotic destinations, enjoying world-class entertainment, indulging in delicious cuisine, or participating in exciting onboard activities, these unforgettable family cruises offer something for everyone.
Embark on a journey that will bring your family closer, while exploring some of the world's most breathtaking destinations.
Popular Cruise Lines Among Families
When it comes to family cruises, there is a wide variety of options to choose from.
Carnival Cruise Line
Here are just a few of the reasons why Carnival cruises are good for families:
Kid-friendly activities
Carnival ships offer a wide range of kid-friendly activities, including water slides, splash pads, mini golf, arcades, and laser tag. There are also several age-appropriate youth programs, such as Camp Ocean for kids ages 2-11, Circle "C" for 12-14 year olds, and Club O2 for 15-17 year olds.
Family-friendly dining
Carnival offers a variety of family-friendly dining options, including buffets, casual restaurants, and specialty restaurants. There are also many restaurants that offer kids' menus and high chairs.
Entertainment for all ages
Carnival ships offer a variety of entertainment options for all ages, including Broadway shows, comedy shows, and live music. There are also many activities that families can enjoy together, such as game shows, karaoke, and trivia nights.
Itineraries for all interests
Carnival offers a variety of itineraries that appeal to families, including cruises to the Caribbean, Europe, and Alaska. There are also cruises that are specifically designed for families, such as the Seuss at Sea cruises.
Affordable pricing
Carnival cruises are known for their affordable pricing, making them a great option for families on a budget.
Family-friendly accommodations
Carnival offers a variety of family-friendly accommodations, including connecting staterooms and suites with multiple bedrooms.
Safe and secure environment
Carnival ships are very safe and secure. There are security cameras and personnel throughout the ship, and all guests are required to wear identification wristbands.
Royal Caribbean International Cruises
Royal Caribbean cruises are a great option for families because they offer a wide variety of activities and amenities that appeal to all ages. Here are just a few of the reasons why:
Thrilling water parks
Royal Caribbean ships are known for their amazing water parks, with slides, splash pads, and pools for all ages. Some of the most popular water parks include Perfect Day at CocoCay, Typhoon Lagoon, and Cyclone Reef.
Award-winning youth programs
Royal Caribbean's Adventure Ocean youth program is one of the best in the industry, with a variety of activities for kids ages 3-17. There are also programs for younger children, such as the Royal Babies and Tots program.
Broadway shows and other entertainment
Royal Caribbean ships offer a variety of Broadway shows and other entertainment options for all ages. Some popular shows include Mamma Mia!, Cats, and The Perfect Storm.
All-inclusive pricing
Royal Caribbean cruises are all-inclusive, which means that your cruise fare covers most of your expenses, including meals, activities, and entertainment. This can make budgeting for your cruise much easier.
Family-friendly accommodations
Royal Caribbean offers a variety of family-friendly accommodations, including connecting staterooms and suites with multiple bedrooms.
Early boarding for families
Families with young children can board the ship early, so they can start their vacation sooner.
Kids Cruise Free
Sometimes Royal Caribbean runs promotions where children 12 and under are offered a free fare. Be the first to know when these promotions are running when you sign up for the Guide Me Away newsletter. 
Norwegian Cruise Line
If you are looking for a more elevated cruising experience that still can accommodate the whole family, Norwegian Cruise Line may be perfect for you!
Entertainment
Norwegian Cruise Line ships are known for their amazing entertainment, including Broadway-style shows, live bands, magicians, comedians, and illusionists. The shows are visually stunning and feature top-notch talent. In addition, there are always a variety of shows and musical performances happening in the evenings, so you'll never get bored.
Free at Sea
With Free at Sea, you can get a free beverage package, free specialty dining, free wifi (not unlimited), free shore excursion credits, and discounts on 3rd and 4th passengers (on select sailings). Additionally, sometimes they even offer free airfare for a second guest when you purchase one air ticket. This can save you a lot of money on your cruise, especially if you have a large family.
Beautiful Ship Design
The interior is decorated tastefully and there are many lounge areas, bar areas, and activities on the upper decks. This means that there is always something to do for everyone, regardless of age.
Flexible Dining
Norwegian Cruise Line was an innovator in flexible dining, with its Freestyle cruising concept. With Norwegian, you don't have traditional early or late seating in a main dining room. Instead, you can choose which dining room you would like to eat at, whether it's included or has an extra charge. This gives you the flexibility to eat on your own schedule and choose the type of dining experience you're in the mood for.
Variety of Activities
Norwegian Cruise Line offers a variety of activities for all ages, from poolside games and trivia to karaoke and themed parties. For those who like thrills, Norwegian has some of the best waterslides at sea, as well as ropes courses and virtual reality games. On select Norwegian ships, there is laser tag, go-karting, and escape rooms.
Choosing the Right Cruise Line for Your Family
When selecting a cruise line for your family, it's important to consider various factors to ensure the best possible experience. Firstly, assess the age range of your children and their interests. Some cruise lines cater more to younger children with dedicated play areas and activities, while others may be better suited for teenagers with teen clubs and adrenaline-pumping attractions.
It's also essential to consider the size and amenities of the ship. Larger ships often have more extensive facilities and a wider variety of entertainment options, while smaller ships may provide a more intimate and personalized experience. Consider whether your family prefers a bustling and lively atmosphere or a more relaxed and serene setting.
Additionally, research the cruise line's reputation for safety and cleanliness. Look for cruise lines that prioritize the well-being of their passengers and have rigorous health and safety protocols in place. Read reviews and consult with travel agents to gather insights from other families who have sailed with the cruise line you are considering.
Lastly, consider the destinations and itineraries offered by each cruise line. Some cruise lines specialize in specific regions, such as the Caribbean or Alaska, while others offer a more diverse range of destinations. Think about the type of experiences and activities your family enjoys and choose a cruise line that aligns with your preferences.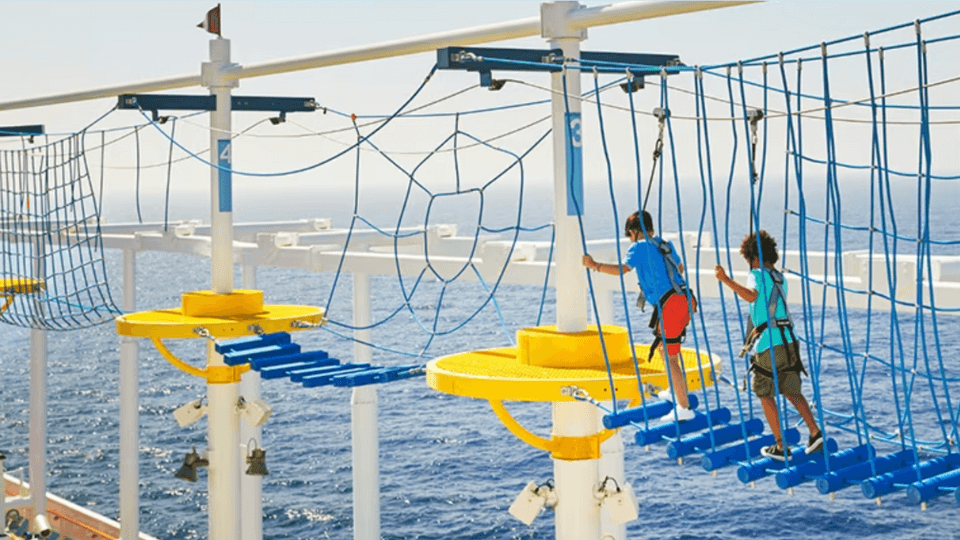 Planning Your Family Cruise Itinerary
Planning a family cruise itinerary involves careful consideration of both onboard and onshore activities.
Onshore Activities
Start by researching the ports of call and identifying family-friendly excursions and attractions. Look for destinations that offer a mix of educational and recreational activities to cater to the interests of every family member.
Onboard Activities
One of the most popular onboard attractions for families is a water park. With thrilling water slides, splash zones, and lazy rivers, these water parks provide endless hours of fun and laughter.
Many cruise lines even have dedicated Kids' Clubs that offer age-appropriate activities and entertainment. Also, often these Kids' Clubs offer you the opportunity to venture out on your own, knowing that your little ones are being well taken care of. 
For those seeking adventure, many cruise ships offer rock climbing walls, zip lines, and even skydiving simulators. These adrenaline-pumping activities are sure to get the whole family's heart racing and create unforgettable memories. Mini-golf courses, sports courts, and jogging tracks are also available for families looking to stay active during their cruise.
In the evening, families can come together to enjoy captivating Broadway-style shows, comedy performances, and live music.  Some ships even offer outdoor movie screens where families can snuggle up under the stars and enjoy a cinematic experience.
Check the daily schedule for family-friendly shows, movies, and interactive games that you can enjoy together.
Popular Family Cruise Destinations
When it comes to family cruises, there is no shortage of amazing destinations to choose from. Whether you're looking for sun-soaked beaches, cultural immersion, or breathtaking natural landscapes, there is a family cruise destination that will suit your preferences.
Here are some of the most popular family cruise destinations that are sure to create unforgettable memories for your family.
Caribbean
The Caribbean is a perennial favorite among families looking for a tropical getaway. With its crystal-clear waters, white sandy beaches, and vibrant culture, the Caribbean offers something for everyone. 
Alaska
For families looking to experience the wonders of nature, an Alaskan cruise is the perfect choice. Cruise through the majestic glaciers, spot whales and eagles, and marvel at the stunning landscapes of Alaska. This destination offers a unique combination of natural beauty and wildlife, making it a truly unforgettable experience for the whole family.
Mediterranean
If you're looking for a blend of history, culture, and breathtaking scenery, a Mediterranean cruise is the way to go. Explore ancient ruins in Rome, visit picturesque Greek islands, and indulge in the delicious cuisine of Spain and Italy. The Mediterranean offers a diverse range of experiences that will captivate both young and old, making it an ideal destination for a family cruise.
Hawaii
With its lush landscapes, stunning beaches, and welcoming aloha spirit, Hawaii is a dream destination for many families. A cruise around the Hawaiian Islands allows you to explore multiple islands in one trip, each offering its own unique charm and beauty. From snorkeling in crystal-clear waters to experiencing traditional Polynesian culture, Hawaii has something for every member of the family.
Norwegian Fjords
For families seeking a truly awe-inspiring adventure, a cruise through the Norwegian Fjords is a must. Sail through breathtaking fjords, marvel at cascading waterfalls, and witness the beauty of the Northern Lights. This destination offers a unique blend of natural wonders and cultural experiences that will leave a lasting impression on the whole family.
Tips for Traveling with Children on a Cruise
Traveling with children on a cruise requires some additional planning and preparation.
Here are some tips to ensure a smooth and enjoyable experience for the whole family:
Pack Essentials
Be sure to pack all necessary items for your children, such as diapers, formula, medications, and favorite comfort items. Check the cruise line's policies regarding baby supplies and equipment rental, as some may offer these amenities onboard.
Stay Organized
Keep important documents, passports, and cruise tickets easily accessible. Create a schedule or itinerary for your family to ensure that everyone is aware of the day's activities and meeting points.
Utilize Kids' Clubs
Take advantage of the onboard Kids' Clubs, where trained staff members organize age-appropriate activities and entertainment. It's a great opportunity for children to make new friends and enjoy supervised fun while parents have some time to relax.
Establish Ground Rules
Set clear expectations and rules for your children while onboard the cruise ship. Discuss safety guidelines, appropriate behavior, and designated meeting points in case anyone gets separated.
Plan For Downtime
While there are plenty of activities and entertainment options onboard, it's important to schedule downtime for your children. Allow for naps, quiet time, and relaxation to prevent overstimulation and fatigue.
Stay

Connected
Consider purchasing walkie-talkies or using the onboard messaging system to stay connected with your children, especially if they are old enough to explore the ship independently.
Be Mindful Of Safety
Familiarize yourself and your family with the ship's safety procedures and emergency exits. Encourage your children to wear their life jackets during safety drills and ensure they know where to go and who to contact in case of an emergency.
Booking Your Unforgettable Family Cruise
As you prepare for your family cruise, keep the travel experts at Guide Me Away in mind. We can take care of all the details of your booking, ensuring your family vacation is truly unforgettable while keeping the planning process stress-free.
Cruise with the experts at
Guide Me Away!
Get the latest info on cruises sent right to your inbox.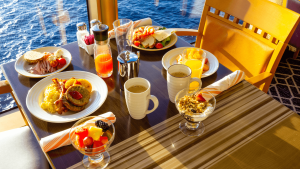 From delectable Michelin-starred cuisine to immersive cooking classes and unique dining experiences, these cruises are meticulously designed to exceed the expectations of foodies everywhere. 
Read More »
Paris is known for its rich culinary culture and its love for good food. From traditional French cuisine to modern gastronomic creations, the city has
Read More »
Several nations have a reputation for great food, and France is definitely among the best in that list. Their cuisine is rich, varied, and it has
Read More »