Whether you're dreaming of sailing through the Mediterranean, exploring the wonders of the Caribbean, or embarking on an epic adventure to the far corners of the world, look no further than Seabourn, Regent Seven Seas, Celebrity, or Silversea.  These cruise lines have something for everyone, making them the top world cruises you should know about.
Image Source: seabourn.com
Seabourn, a jewel in the crown of luxury cruising, distinguishes itself with its intimate ship sizes, personalized service, and all-inclusive fares. Embarking on a Seabourn voyage means immersing yourself in a world of refined elegance, where every detail is meticulously crafted to create an unforgettable experience.
With a maximum capacity of 600 guests, Seabourn's vessels exude an air of exclusivity, fostering a relaxed and convivial atmosphere. The generous crew-to-passenger ratio ensures that every guest receives attentive, personalized service, catering to their every whim. In addition to their luxurious appeal, Seabourn offers immersive excursions, great for those who do not want to sacrifice amenities for a taste of adventure.
Seabourn's all-inclusive fares eliminate any concerns about hidden costs, allowing guests to fully embrace the journey without the burden of nickel-and-diming. Meals, drinks, gratuities, and shore excursions are all encompassed within the fare, ensuring a seamless and worry-free experience.
Right now when you book a Seabourn cruise, you are eligible for a reduced deposit and an air credit up to a $2000. This offer is available for select voyages like the one below.
14-Day Exotic Caribbean Isles
January 7 – 21, 2024
Bookings begin at $6,199USD
Explore vibrant coral reefs and serene bays with powdery white sand. Glide through the rainforest canopy in an open-air gondola, marvel at artisans crafting exquisite batiks, savor authentic West Indian cuisine, and set sail on an exhilarating America's Cup regatta.
Round-Trip out of Bridgetown, Barbados
Ports:
Port Elizabeth, Bequia, St. Vincent and the Grenadines
Saint Pierre, Martinique
Point-a-Pitre, Guadeloupe
St. Johns, Antigua and Barbuda
Carambola Beach, Saint Kitts and Nevis
Philipsburg, Sint Maarten
Sopers Hole (Frenchmans Cay), BVI
Roseau, Dominica
Terre-de-Haut, Iles des Saintes, Guadeloupe
Fort-De-France, Martinique
Here is a sneak peak of what to expect on shore.
Saint-Pierre has a lively daily market, numerous hiking trails in the lush surrounding forests, and an attractive black sand beach at Anse Couleuvre. Here, you can take excursions to Le Morne-Rouge to ascend Mount Pelée or visit the old military battery at Vierge des Marins, which offers panoramic views. Also, the town is home to the volcanological Museum Franck Perret, a modern Center of Science and Discovery, and several popular rum distilleries.
Carambola Beach is home to the island's most luxurious beach clubs and restaurants. Umbrellas, loungers, and water sports are available for those looking to relax on the beach. Otherwise, there are other attractions. These include the UNESCO World Heritage Site of Brimstone Hill Fortress, and a scenic narrow gauge sugarcane railway.
Click here to see the full-itinerary. 
Cruise on the Seabourn Ovation, a 690ft vessel accommodating 300 guests.
Amenities
Caviar in the Surf
Seabourn's signature "Caviar in the Surf" beach barbecue is among their most popular events. Uniformed staff wade into the water to offer iced champagne and caviar at a surfboard bar, while guests enjoy a lavish barbecue lunch, water sports, music, and time to relax on the white-sand beach.
Earth & Ocean
Enjoy fresh, creative dishes from around the world, served in a relaxed setting under the stars.
The Colonnade
Here, there's casual breakfasts and lunches, with regionally-themed dinners served nightly.
Fitness Center
Take advantage of the state-of-the-art treadmills, elliptical trainers, stationary bikes, and weight machines overlooking the ocean.
The Grill by Thomas Keller
Taste updated versions of classic American dishes from the 50s and 60s.
Observation Bar
Relax in the panoramic lounge with a bar and stunning views, serving coffee and tea in the morning and drinks before or after dinner.
The Patio
A casual dining option with buffets, salads, soups, and freshly-baked pizza for lunch. For dinner, there's a full menu and al fresco dining.
The 
Restaurant
A more upscale dining option with open-seating dining with exquisite cuisine and flawless service.
The Retreat 
A tranquil setting where guests can mingle under a distinctive flower-shaped canopy that protects from the sun and wind.
The Sky Bar
A great place to enjoy a refreshing tropical beverage during the day or an evening cocktail under the stars.
The Spa
For an extra-fee you can pamper yourself at the Spa. Seabourn has partnered with Dr. Weil, a visionary pioneer in integrative medicine, to create this first-of-a-kind program at sea.
In-Suite Amenities 
Private veranda
Walk-in closet
Fully stocked bar and refrigerator
Spacious bathroom with separate tub and shower
Plush robes and slippers
Regent Seven Seas Cruises
Regent Seven Seas Cruises, a name synonymous with unparalleled luxury, sets itself apart with its all-inclusive fares and an array of lavish amenities. Stepping aboard a Regent vessel is akin to entering a realm of extravagance, where every desire is anticipated and fulfilled.
Regent's intimate ships, accommodating a maximum of 750 guests, provide an ambiance of exclusivity and personalized attention. The line's commitment to all-inclusive fares ensures that guests can indulge in every aspect of their voyage without hesitation.
From fine dining experiences that tantalize the taste buds to the rejuvenating treatments at the Canyon Ranch SpaClub, Regent's amenities are designed to pamper and delight. The onboard casino adds a touch of excitement and entertainment, catering to those seeking a touch of thrill.
Regent is currently offering a variety of offers. From free Business Class Airfare to a $1,000 Shipboard Credit on Grand Voyages.
What does a Grand Voyage look like? Check out this eligible itinerary.
83-Night Grand Arctic Adventure
June 2 – August 24, 2024
Although this may seem like a ways away, these itineraries book up fast!
Regent's 2 for 1 All-Inclusive fares start at $65,499USD and come with so many perks, including:
Free First Class Air on Domestic Flights
Free Business Class Air on All Intercontinental Flights
Free Pre-Cruise 1-Night Hotel Stay and Dinner
Free Exclusive Shoreside Experience
Free Unlimited Shore Excursions
Free Unlimited Beverages, Including Fine Wines and Premium Spirits
Free Open Bars and Lounges Plus In-Suite Mini-Bar Replenished Daily
Free Pre-Paid Gratuities
Free Specialty Restaurants
Free 24-Hour Room Service
Free Transfers Between Airport and Ship
Free Unlimited WiFi
Free Door to Door Luggage Service
Free Comprehensive Visa Package
Free Unlimited Laundry including Dry Cleaning and Pressing
Free Phone Time Per Suite
Free Onboard Medical Service
Free Commemorative Gift
This itinerary departs from New York, New York and disembarks in Barcelona, Spain.
Multiple ports in the following locations:
Massachusetts
Maine
New Brunswick
Nova Scotia
Newfoundland
Greenland
Iceland
Denmark
Scotland
Ireland
Isle of Man
England
Wales
France
Belgium
Netherlands
Sweden
Germany
Poland
Lithuania
Finland
Estonia
Norway
Spain
Portugal
This voyage is packed-full of exciting and educational shore excursions, 386 to be exact!
Enter your email and we will send you a detailed list of available excursions.
Board the Seven Seas Mariner®, a 709ft vessel that accommodates 696 guests.
Amenities
Cuisine
Regent Seven Seas Cruises® offers seven on board eateries , from elegant to casual, with an emphasis on fresh, seasonal ingredients. Guests can enjoy succulent lobster, perfectly cooked burgers, and classic American milkshakes, as well as dishes inspired from around the world.
Shows
Enjoy lavishly produced musical productions, from dueling piano shows to romantic comedies to thrillers. Guests can also enjoy cabaret shows, karaoke, and live music in the lounges.
Daytime Enrichment
When you're not exploring ashore, you can relax by the pool, compete in a friendly game of trivia or bocce ball, and indulge in treats at afternoon tea.
Evening Entertainment
In the evenings, enjoy a variety of entertainment options, including cabaret shows, casino gambling, karaoke, and live music. There are also a number of lounges and bars where guests can relax and socialize.
Spa & Fitness
Serene Spa & Wellness™ offers a variety of restorative treatments and services, including massages, facials, and body wraps. Guests can also enjoy the state-of-the-art fitness center, which offers a variety of cardio and weight machines.
Boutique & More
Indulge in a shopping spree at the onboard boutiques, offering a well-curated selection of duty-free designer clothes, jewelry, and perfume. Then, refuel with an espresso from a cozy café or unwind at a wine tasting in a sophisticated lounge.
Celebrity Cruises, a contemporary cruise line, captivates travelers with its diverse range of itineraries, spanning short getaways to extended voyages around the globe. Celebrity's ships are masterpieces of modern design, boasting innovative amenities and a symphony of dining options.
From Broadway shows that captivate the senses to live music performances that set the mood, Celebrity's entertainment options cater to every taste. The onboard casino adds an element of excitement, offering a chance to test one's luck amidst the vibrant atmosphere.
Fly for free and save 20% on your cruise when you visit the Galapagos!
Here is one of the many eligible itineraries currently offered by Celebrity Cruises.
10-Day Quinto & Galapagos Southern Loop
Dates for this itinerary range throughout 2024.
Bookings begin at $7,139USD
Round-Trip out of Baltra Island, Galapagos
Ports:
Quinto, Ecuador
North Seymour Island
South Plaza (Santa Cruz Island)
Santa Fe Island
Punta Pitt, San Cristobal Island
Puerto Baquerizo Moreno, San Cristobal Island
Post Office Bay, Floreana Island
Cormorant Point, Floreana Island
Elizabeth Bay
Moreno Point, Isabela Island
Puerto Ayora, Santa Cruz Island
Gardner Bay (Espanola)
Baltra Island, Galapagos
Punta Suarez
Here is an overview of what to expect on shore.
Enjoy a guided tour of Quinto, the capital of Ecuador. Here you can stand on the equatorial line at the Half of the World Park and Museum.
Further along your journey, take a scenic zodiac tour along the coast of North Seymour Island as well as in South Plaza.
Then, observe wildlife as you hike Santa Fe Island.
Later, take in breathtaking views on San Cristobal Island.
Stop for some shopping or particulate in a scenic hike of Puerto Baquerizo.
Learn about the mangrove ecosystem on a zodiac ride at Elizabeth Bay.
Witness marine iguanas, sea turtles, stingrays, sharks, penguins, and the flightless cormorant on Isabela Island.
At Puerto Ayora, visit the tortoise-breeding center and walk through the Charles Darwin Research Station.
Nearing the end of your trip, unwind on the white beaches of Gardner Bay.
Lastly, a hike along the cliffs of Punta Suarez leads to a natural lava fissure that shoots water into the air like a towering geyser.
There's so much more to see and do on your journey! Click here for more information about this itinerary.
Board the Celebrity Xpedition, an intimate 296ft, 48-passenger vessel.
Amenities
Darwin's Restaurant
Casual dining with open seating lets you choose your own company, whether it's new friends or your favorite naturalist guide. You'll enjoy fresh, local produce and seafood caught by Galapagos fishermen.
Discovery

Lounge
Enjoy live music and refreshing drinks after an exciting day of exploration.
Panorama Deck
Experience unparalleled views of the sunrise and sunset.
Sunrise Deck
Here, you can unwind while you bask in the sun or take a dip in the hot tub.
In-Suite Amenities 
Personal Suite Attendant
Private Veranda
In-suite room service
Locally sourced and organic bathroom amenities
Full in-suite dinner service
Complimentary laundry service
Image Source: silversea.com
Silversea Cruises, a name synonymous with luxury and refinement, takes guests on voyages of discovery to the world's most captivating destinations, including the Arctic and Antarctica. Silversea's vessels, epitomes of elegance, provide a haven of personalized service and all-inclusive indulgence.
Dining aboard a Silversea vessel is a culinary adventure, with specialty restaurants showcasing global flavors and a caviar and champagne bar catering to refined palates. The line's all-inclusive fares ensure that guests can savor every gastronomic delight without hesitation.
Book your Silversea Cruise by November 30, 2023 to take advantage of a 2-category suite upgrade on Ocean-going voyages or one-category suite upgrade on Expedition cruises, $1,000 shipboard credit and 15% off your refundable deposit.
This offer is available for select voyages like the one below.
16-Day Voyage from Dubai to Mumbai
January 26 – February 11, 2024
Bookings begin at $6,250USD
Departs from Dubai, United Arab Emirates and disembarks in Mumbai, India.
Ports:
Abu Dhabi, United Arab Emirates
Dammam, Saudi Arabia
Al Manama, Bahrain
Doha,Qatar
Sir Bani Yas, United Arab Emirates
Khasab,Oman
Khor Fakkan, United Arab Emirates
Muscat, Oman
Mumbai, India
What to expect at the port.
At each of these ports, Silversea offers multiple excursions included in your cruise fair so you can choose the perfect activities for you. In addition to included excursions, there are a handful of  tours you can add-on to your trip. Even better, you will be spending two days at multiple ports so you have the opportunity to experience an array of excursions.
For example, in Abu Dhabi, select either a scenic tour of the cities landmarks, an off-road dune safari, a tour of the new and unique, Qasr Al Watan, or explore the iconic museums Louvre Abu Dhabi Museum and Qasar Al Hosn. 
In Muscat, experience its vibrant atmosphere and rich heritage of Oman's capital city on a guided tour, cruise on a traditional dhow boat, take part in dolphin watching and snorkeling, explore Muttrah Souq and the National Museum or go on a architecture walking tour.   
This is just the beginning of the immersive experiences to anticipate when embarking on your journey. Click here for the full-itinerary.
Board the Silver Moon, a 698ft ship accommodating 596 passengers.
Amenities
Eight Restaurants
Each restaurant has unique offerings like classic American dishes, authentic Italian recipes, tapas plates and mouthwatering Japanese cuisine.
Three Bars
Enjoy a quality cocktail at the panorama lounge, S.A.L.T. Bar and Dolce Vita Bar.
Fitness Center
State-of-the-art Technogym® equipment, free weights, and specialty classes tailored to your individual needs are available. Also, you can schedule a one-on-one session with a personal trainer, making it easy to achieve your fitness goals.
Casino
Try your luck at a variety of table games, including American Roulette, Blackjack, and Ocean Poker. Or, enjoy the assortment of multi-game, multi-denominational reel and video slot machines.
Zagara Beauty Spa
The spa is equipped with nine treatment rooms, an acupuncture suite, relaxation areas, and a dedicated outdoor whirlpool. Invigorate your body and mind with facials, body wraps, and massages, or relax in the men's or women's saunas and steam rooms.
S.A.L.T. Lab
This is an interactive space where guests can deep-dive into local culinary heritage and techniques. 
Pool Deck & Jacuzzi Area
Cool off in the pool, unwind in a whirlpool, or simply bask in the sun on a sun-bed, while your attentive pool attendant caters to your every need.
The Arts Cafe
This space showcases paintings and sculptures from a broad range of talent.
Venetian Lounge
In the evening, enjoy full-scale productions and feature films from belle-époque style cabaret seating.
Connoisseur's Corner
Silver Moon's newest smoking lounge is the perfect place for cigar lovers to purchase and sample the world's finest Havanas, Cohibas, Partagás, Montecristos, Ramón Allones, and Bolívars. The lounge offers an elegant indoor space and a stylish terrace, where aficionados can gather to share their passion for cigars.
In-Suite Amenities 
Butler services
Champagne on arrival
Plush bathrobe & slippers
Luxury bath amenities
Full-size bath and separate shower
Walk-in wardrobe with personal safe
24-hour dining service
Let's Book Your World Cruise!
Need some help choosing the right itinerary for you? You're in luck! The travel experts at Guide Me Away are here to understand your travel goals and hand pick a selection of cruises best suited for your needs. Schedule a free consultation today!
Cruise with the experts at
Guide Me Away!
Get the best cruise deals sent right to your inbox.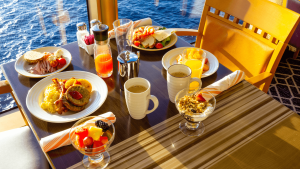 From delectable Michelin-starred cuisine to immersive cooking classes and unique dining experiences, these cruises are meticulously designed to exceed the expectations of foodies everywhere. 
Read More »
Paris is known for its rich culinary culture and its love for good food. From traditional French cuisine to modern gastronomic creations, the city has
Read More »
Several nations have a reputation for great food, and France is definitely among the best in that list. Their cuisine is rich, varied, and it has
Read More »