Join us as we explore 5 surprising LGBTQ+-friendly travel destinations. Beyond the well-known hotspots, you'll find tropical islands and historic cities. Likewise, offering an inviting embrace to travelers of all sexual orientations and gender identities. Uncover these unexpected havens, welcoming the LGBTQ+ community with warmth and inclusivity.
Claiming its position as the Gay Capital of Africa, this city exudes a captivating charm. Furthermore, the vibrant landscapes, gastronomic delights, and thrilling escapades, make it a true paradise for LGBTQ+ travelers. Moreover, Cape Town offers an array of enthralling experiences. Anticipate grand pride parades and lively drag shows. Also, sun-drenched beaches and welcoming LGBTQ+ nightlife venues. Embracing both excitement and inclusivity, this enchanting destination promises to sweep you off your feet. So, get ready to explore the magic of Cape Town. Every moment is a celebration of love and acceptance.
LGBTQ+-Friendly Social Scenes in Cape Town
Zer021 Social Club
The club hosts a variety of events and themed parties. Furthermore, it is a hub for socializing, dancing, and celebrating. Whether you're in the mood for a casual night out or looking to party until the early hours, Zer021 has something to offer for everyone. Additionally, a mix of chart-topping music and dance beats promises an electric atmosphere that keeps the dance floor alive. Moreover, the club also serves as a platform for local drag performers and entertainers. They regularly host drag shows and cabaret performances that add a touch of glamour and excitement to the nights. 
Beefcakes
Get ready to indulge your taste buds in a delectable feast while being mesmerized by drag and cabaret shows. Additionally, the ambiance at Beefcakes effortlessly combines comedy, entertainment, and exceptional dining. You can expect a night of laughter and culinary delights. 
Cafe Manhattan
Situated in Cape Town's vibrant and gay-friendly neighborhood, De Waterkant, this well-known establishment provides a laid-back and welcoming ambiance. Furthermore, it is ideal for delightful conversations and savoring delectable cuisine.
The Pink Panther Night Club
Prepare to dance the night away in an oasis of self-expression. Here, people from diverse backgrounds unite to celebrate their authentic selves in an accepting setting. With a blend of chart-toppers, iconic anthems, and infectious beats skillfully played by DJs, you'll be moving and grooving until dawn. So, get ready to immerse yourself in this vibrant atmosphere and let the music guide you on a journey of liberation.
Honey & Dora
This establishment thrives as a bustling hub of social engagement. They host a variety of events such as quiz nights, drag brunches, live performances, and more. Also, Honey & Dora emphasizes social responsibility. They have established a support fund aimed at empowering and assisting the LGBTQ+ community. With a strong commitment to inclusivity and support, Honey & Dora creates a welcoming space where people can come together, celebrate, and uplift one another.
Tel Aviv is often referred to as the "Gay Capital" of the Middle East. Moreover, the city has a vibrant LGBTQ+ scene, with numerous gay bars, clubs, and events. Additionally, Tel Aviv Pride, held annually in June, is one of the largest and most famous Pride events in the region.
During the summer months, Tel Aviv's beautiful beaches transform into party hotspots, with beach parties attracting LGBTQ+ revelers from around the world. Notably, Hilton Beach is known as the city's LGBTQ+ beach and a gathering place for beach parties.
Popular LGBTQ+ bars in Tel Aviv
Shpagat
Shpagat offers a distinctive and chic ambiance with indoor and outdoor seating, providing a cozy setting for patrons to mingle, savor beverages, and have a great time. Moreover, the bar hosts a variety of themed nights, such as drag shows, karaoke evenings, DJ sets, and special parties, which attract a diverse crowd and foster an inclusive and accepting atmosphere for people of all sexual orientations and gender identities. On weekends, Shpagat becomes a lively hub with a vibrant mix of LGBTQ+ individuals and allies. Consequently, it presents an excellent opportunity to make new connections, immerse yourself in Tel Aviv's LGBTQ+ culture, and enjoy a spirited night out in the city.
Lima Lima Bar
Lima Lima Bar is a cozy and welcoming gay bar in the city. It offers a diverse crowd, great music, and a relaxed environment to enjoy drinks with friends. Be sure to stop by for gay hip-hop night every Monday. 
La Boheme
Israel's first-of-its-kind LGBTQ+ cocktail bar is a refreshing addition to the scene. This venue promises a daily and top-notch entertainment experience for the LGBTQ+ community. Moreover, from regular "hangouts" featuring Arab Electro and Haus to live jam sessions and soulful Kabbalat Shabbat performances on Friday afternoons, the bar caters to diverse tastes and creates a welcoming space for all. With a unique blend of music and events, this new establishment is poised to become a vibrant hub for the LGBTQ+ community in Tel Aviv.
San Juan stands out as a lively and all-embracing hotspot for LGBTQ+ tourists. With its rich historical background, mesmerizing architecture, picturesque beaches, and flourishing nightlife that extends a warm welcome, San Juan has emerged as a favored choice for LGBTQ+ travelers.
Puerto Rico has laws that protect individuals from discrimination based on sexual orientation and gender identity.  San Juan holds a significant LGBTQ+ legacy and has served as a center for LGBTQ+ activism in the Caribbean. The local LGBTQ+ community has been instrumental in advocating for equal rights and promoting awareness about LGBTQ+ matters. With the legalization of same-sex marriage in 2015, Puerto Rico further solidified its reputation as an inclusive and hospitable destination for LGBTQ+ individuals.
LGBTQ+ Approved Spots in San Juan
Condado Beach
Condado Beach is a popular LGBTQ+-friendly beach destination in San Juan. It's known for its beautiful white sand, clear waters, and lively atmosphere. The beach area attracts a diverse crowd, including LGBTQ+ travelers, and there are several LGBTQ+-friendly hotels, bars, and restaurants nearby.
Atlantic Beach
Another LGBTQ+-friendly beach option in San Juan is Atlantic Beach, located near Condado. It's a quieter and less crowded beach, perfect for relaxation and soaking up the sun.
La Placita de Santurce
La Placita is a vibrant and colorful square in the Santurce neighborhood. It comes to life in the evenings with a mix of locals and tourists enjoying drinks, music, and dancing. Several bars and clubs in this area are LGBTQ+-friendly and host special events and parties.
Kweens Klub
It quickly emerged as one of the top LGBTQ+ nightclubs in the region. Renowned for its delectable cocktails and weekly drag shows, the club showcases internationally recognized celebrity guests who grace the main stage alongside the finest and most talented local queens. With a winning combination of sensational performances and mouthwatering drinks, Kweens Klub has become a must-visit destination for LGBTQ+ nightlife enthusiasts.
Underground Nightlife
San Juan's underground LGBTQ+ nightlife scene stands out as one of the most vibrant, diverse, and artistic in the Caribbean. In Santurce, the area is buzzing with mid-sized underground venues such as El Local, El Hangar, and La Respuesta, which serve as hotspots for DJs and performers. Additionally, just a stone's throw away in Río Piedras, Club 77 is another beloved underground gem.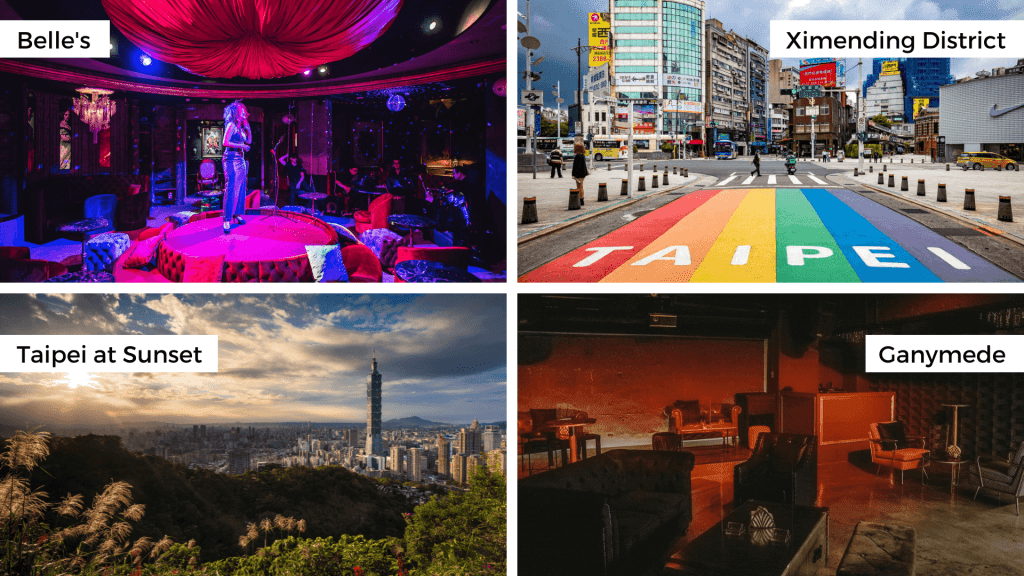 Taipei, Taiwan's LGBTQ+ scene has evolved significantly over the past few decades, making it one of the most progressive and LGBTQ+-friendly destinations in Asia. The Taiwanese LGBTQ+ community has achieved several milestones in terms of rights, visibility, and social acceptance.
Legalization of Same-Sex Marriage: In May 2019, Taiwan became the first country in Asia to legalize same-sex marriage. This landmark decision marked a significant step forward for LGBTQ+ rights in the region and garnered international attention. The legalization came after years of activism and public support for equal rights.
The annual Taipei Pride Parade is one of the largest LGBTQ+ pride events in Asia, attracting tens of thousands of participants from around the world. The event takes place in October and features vibrant parades, performances, and celebrations throughout the city. It serves as a powerful platform for the LGBTQ+ community to raise awareness and celebrate their identities.
LGBTQ+-friendly places to explore in Taipei
Ximending District
Ximending is often considered Taipei's "gay village" and is a popular LGBTQ+ neighborhood. Furthermore, the area is known for its lively atmosphere, trendy shops, restaurants, and nightlife. You'll find a concentration of LGBTQ+-friendly bars, clubs, and cafes here, making it a great place to socialize and meet new people.
Red House Theater
The Red House Theater, located in Ximending, is a historic and cultural landmark. Moreover, it serves as a hub for LGBTQ+ events, exhibitions, and performances. Also, the surrounding Red House Square hosts various LGBTQ+ gatherings and markets, and it's a fantastic spot to experience the city's LGBTQ+ culture.
Belle's
Belle's relocated from Yanji Street to the Xinyi District's ATT area at the end of 2022. Moreover, the bar now features a glamorous and magical theme, where the carousel-like bar creates an atmosphere reminiscent of an adult amusement park. Also, the main stage is strategically placed at the center, offering everyone an excellent view of the mesmerizing dance performances from any angle. On weekends, Belle's comes alive with drag queens, hunks, and sizzling dance acts, making it an absolute must-visit bar for anyone in Taipei!
Ganymade
The bar takes its name from Greek mythology, where Ganymede was the favored male lover of Zeus. Despite being a recent addition to the scene, this LGBTQ+ bar has quickly gained popularity, partly due to its co-creator, the renowned LGBTQ+ YouTuber FJ234. Additionally, Live music performances grace the bar every Thursday, while Fridays and Saturdays are reserved for exciting drag shows and dance performances, making Ganymade a well-known and vibrant hotspot for LGBTQ+ entertainment.
Rainbow Bridge Pedestrian Zone
Situated near Taipei 101, the Rainbow Bridge Pedestrian Zone is a colorful and LGBTQ+-friendly area with rainbow-colored decorations and installations. Additionally, it's a popular spot for photos and selfies and a visible symbol of Taipei's LGBTQ+ acceptance.
In 2016, Colombia's Constitutional Court ruled in favor of legalizing same-sex marriage, affirming equal rights for same-sex couples. Moreover, this landmark decision made Colombia one of the most LGBTQ+ progressive countries in Latin America.
Colombia has a vibrant LGBTQ+ rights movement that continues to advocate for equality and social acceptance. The community's activism has contributed to positive changes in attitudes and legal protections.
LGBTQ+-friendly destinations in Bogotá
Chapinero
Chapinero is the main LGBTQ+ neighborhood in Bogotá and is known for its lively gay bars, clubs, and restaurants. Also, the area is particularly vibrant on weekends and is a popular spot for LGBTQ+ locals and visitors to socialize and enjoy the nightlife.
Theatron
Theatron is one of the largest gay clubs in Latin America and is an iconic LGBTQ+ venue in Bogotá. Additionally, this mega-club consists of 13 different rooms, each with its theme and music genre. It attracts a diverse crowd and offers a memorable party experience.
Disco Jaguar
An LGBTQ+ friendly nightclub in Chapinero. This venue features 2 different dance rooms featuring electronic and more traditional music. 
Usaquén
The Usaquén neighborhood has a more bohemian and artsy vibe and is also home to LGBTQ+-friendly bars, cafes, and cultural spaces. Moreover, it's a great area to explore during the day and evening.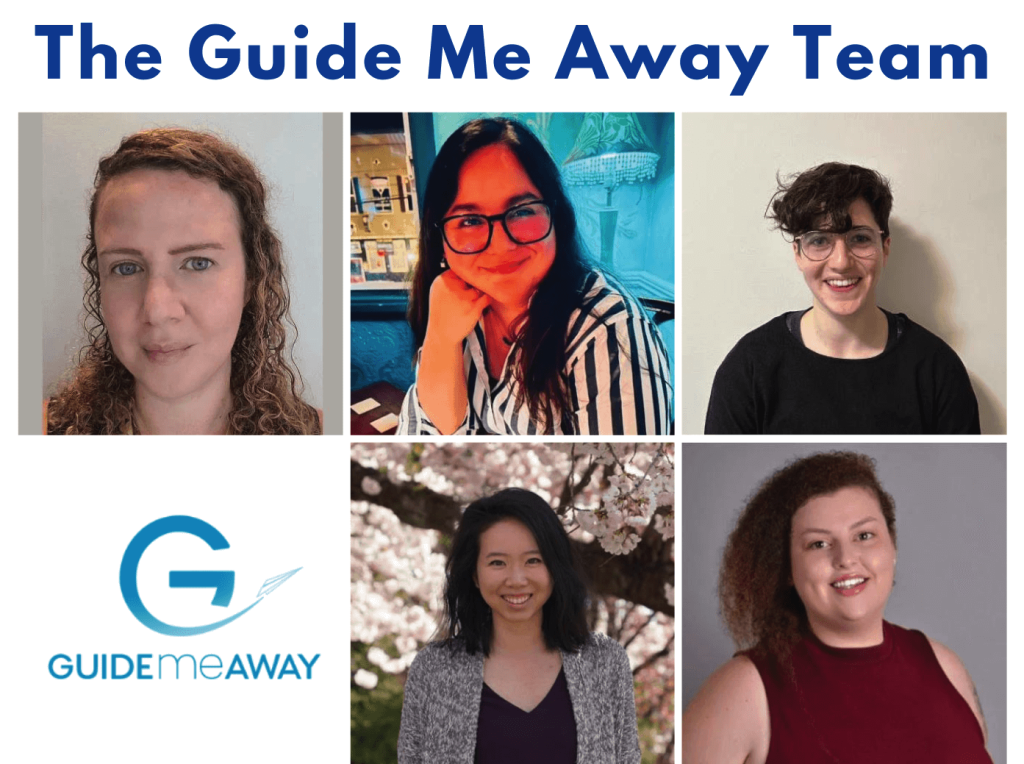 Your LGBTQ+ Travel Experts
Whether you're seeking adventure, relaxation, or a chance to immerse yourself in a thriving LGBTQ+ scene, these hidden gems offer unforgettable experiences that go beyond the traditional tourist spots.
Lia, the CEO of Guide Me Away is a proud member of the LGBTQ+ community and upholds those inclusive values when planning your getaway. Choose a team of travel experts that can fine-tune your itinerary to fit your needs.
When you book with Guide Me Away, LGBTQ+-friendly
travel accommodations
are guaranteed!
Get the latest information on the best LGBTQ+-friendly destinations sent right to your inbox.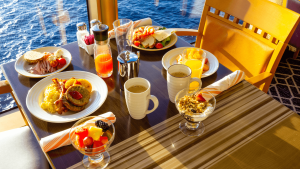 From delectable Michelin-starred cuisine to immersive cooking classes and unique dining experiences, these cruises are meticulously designed to exceed the expectations of foodies everywhere. 
Read More »
Paris is known for its rich culinary culture and its love for good food. From traditional French cuisine to modern gastronomic creations, the city has
Read More »
Several nations have a reputation for great food, and France is definitely among the best in that list. Their cuisine is rich, varied, and it has
Read More »