Finest Winter Getaways in the U.S.
Some of us are in love with the winter season others are eager to escape cold weather and find a warmer place. Here we have gathered some of the best local destinations to satisfy any preferences that you can try this winter in the U.S. Check below some of the finest winter getaways in the U.S.
1. Lake Tahoe (Nevada)
Lake Tahoe is famous for its crystal blue water, legend hiking, and beautiful mountains. Visitors come to the lake and at all times of the year. Lake Tahoe is home to some of the most famous ski resorts. Its amazing views, slopes, and mild winter temperatures make it the perfect destination for winter sports. On top of that, you can go tubing, ice skating, snowshoeing, taking horse-drawn sleigh rides, dog sledding, and much more.
2. U.S. Virgin Islands
The United States Virgin Islands, a leader in sustainable tourism that protects and preserves the natural environment and cultural heritage. Each island has its unique character and charm. It's known for white-sand beaches, reefs, and blooming hills. The U.S. Virgin Islands has a rich cultural legacy that lives on today. You can take a stroll back in time through one or all of the historic towns or visit the 17th and 18th-century forts, museums, and historic sites.
3. Jackson Hole Grand Teton (Wyoming)
This place is an outdoor paradise, where you can enjoy winter sports and cozy lodges. Firstly, you can hit the slopes for an afternoon of skiing and snowboarding or book a guided snowshoe excursion through Grand Teton National Park. Secondly, you can take a dog sled tour to The Granite Hot Springs. There you can plunge into the warm, steamy thermal pools and relax. On top of this, you can appreciate breathtaking views of the Teton Mountains from Jackson Hole's Aerial Tram. 
4. Breckenridge (Colorado)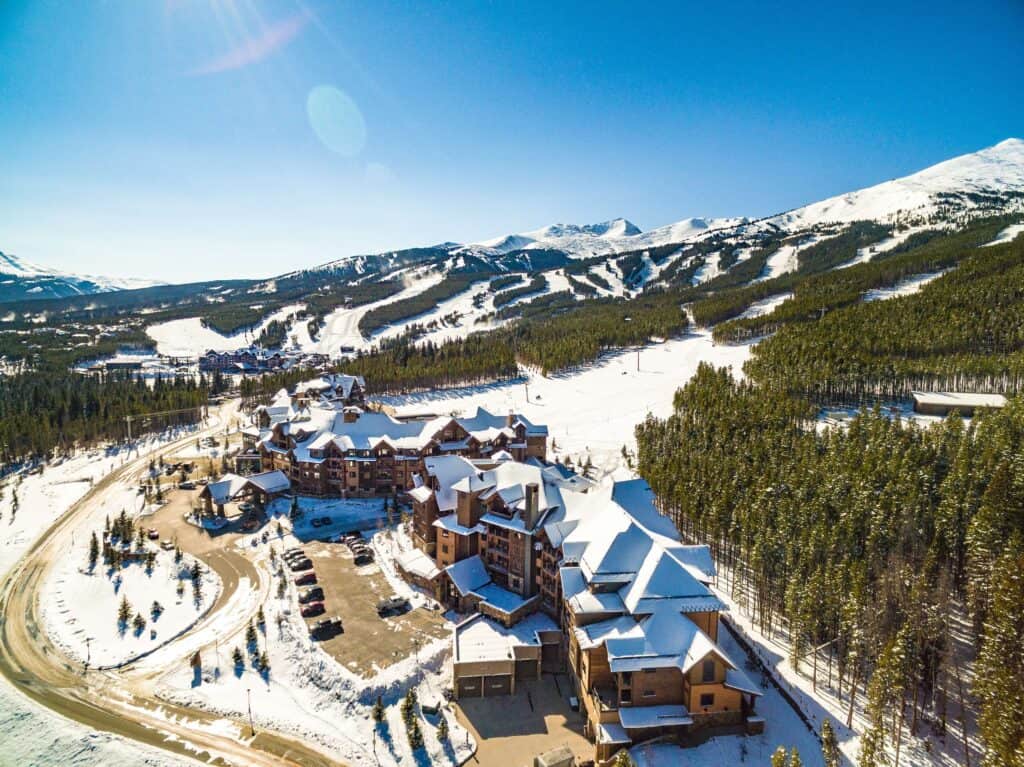 Breckenridge is known for its ski resort, year-round alpine activities, and Gold Rush history, as well as great hiking and biking trails. But it's not only about skiing, snowboarding, and other outdoor activities. Besides all that, Breckenridge is a lovely town with its history and culture. Here you can enjoy great shopping and dining options, and be sure that you won't get bored at this place.
5. Joshua Tree National Park (California)
Joshua Tree National Park is most known for its namesake Joshua Trees. These prickly trees are cousins of the agave, most often found in the Mojave Desert. They can live well over 150 years, particularly in protected areas like the national park. But the park has more to see than just Joshua Trees. Amongst the densely packed trees, you'll find giant, lava-formed rocks, gathered and stacked high above the ground. These unique rock formations draw climbers from all over the world. If you choose to camp in Joshua Tree in the winter, bring warm layers, as overnight temperatures will be near freezing from December to February.
6. San Diego (California)
With plenty of sunshine and a temperate climate, San Diego makes a great year-round destination. This city offers a wealth of activities, sights, and stunning scenery. There are some that you can only do in winter, such as going to December Nights at Balboa Park or spotting gray whales off San Diego's coast as they migrate north. There is also an outdoor skating rink located on the beautiful island of Coronado. Its beachside location gives you breathtaking views of the Pacific ocean. The rink is open between late November and early January.
7. Oahu (Hawaii)
Oahu is one of the centers of Hawaii's arts and culture scene. Therefore, the island has a plethora of music and dance festivals, including the Honolulu Festival and the Aloha Festivals. Here you can find and enjoy cultural and historic sites, from the ornate Iolani Palace to the austere USS Arizona Memorial at the Pearl Harbor National Memorial. Not to mention, here, you'll also find crystal-clear waters and twisting hikes. What's more to wish?
To conclude, the U.S. offers a wide range of climatic conditions, from chilly winter to warm beaches that you can enjoy without leaving the country. We hope that the places we've covered here will inspire you to visit them and explore them in the nearest future. Book with Guide Me Away, and we will help you choose from countless destinations for the best pricing. Adventure awaits!