8 All-Inclusive hotels where you can eat, sleep, and play - Gluten Free!
Being gluten-free and traveling can be a challenge. You want to make sure you're eating safe, healthy food while also enjoying your vacation. But luckily, there are plenty of all-inclusive resorts that cater to people with dietary restrictions like celiac disease or food allergies! 
Here's our list of all-inclusive resorts that cater to a gluten-free lifestyle:
Dreams
Dreams Resort & Spas is an all-inclusive resort with luxurious beachfront settings across Mexico, the Caribbean, Central America and Europe, that caters to those with specific dietary needs. The resort offers accommodations for individuals with celiac disease and other gluten intolerances.
Relax in any of their luxurious rooms. Enjoy family-connecting suites and villas, private swim-up pools, and gorgeous accommodations with terraces, hot tubs, and incredible views.
Why not enjoy the gluten free options while dining at the À la carte French cuisine in a romantic atmosphere while visiting Bordeaux Restaurant at the Dreams Riviera Cancun Resort and Spa.
Dreams offers something special for everyone, turning every dream into a lasting memory you'll never forget.
Grand Velas 
Grand Velas Resorts is a luxury resort chain with five resorts in Mexico. All of their resorts are gluten free and all inclusive, meaning that you don't have to worry about packing any food if you're heading down to the beach—their chefs will be serving up delicious meals at every meal!
The resorts have dedicated gluten free menus, but if there's something specific you'd like that isn't included on the menu, just let them know beforehand so they can prepare it for you. They also have a dedicated chef for gluten free guests who can help answer any questions or concerns regarding your trip. 
The kitchens at all Grand Velas properties are also completely separate from their regular kitchens (meaning no cross-contamination!), which makes dining out even more enjoyable than usual!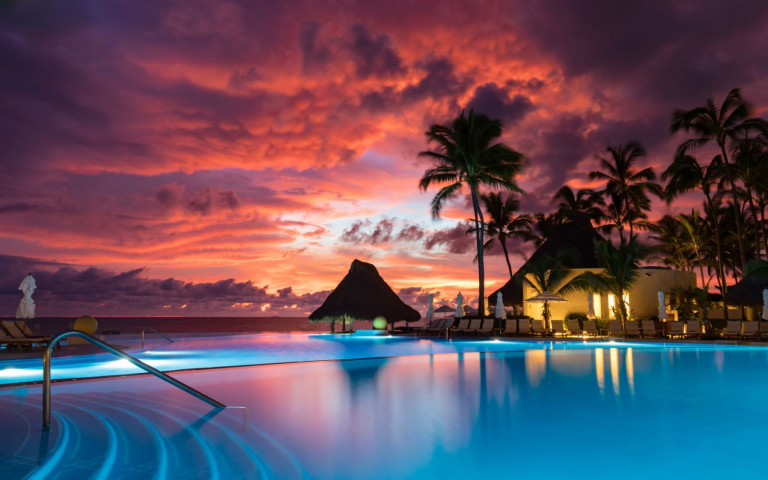 Secrets
Secrets Resorts has several resorts in Mexico and Jamaica, including the Secrets Diamond Resort in Riviera Maya and the Secrets Maroma Beach Riviera Cancun. All of their hotels are all-inclusive, meaning that food, drinks and activities are provided for your enjoyment.
Indulge in an expansive array of local and international cuisine with bold flavors at each venue, offering plenty of gluten-free options to choose from. You can also make a reservation at one of their specialty restaurants that feature delicious gluten-free cuisine!
The resorts have many organized activities for guests who want something fun to do during their stay—including yoga classes, water sports and more.
Excellence
The Excellence Resorts are located in some incredible destinations. You'll find them in Cancun, Riviera Maya and Punta Cana, which are all popular tourist destinations.
The resorts are all-inclusive, which means that your meals and drinks are included in your package. Did we mention they also have a gluten free menu that can be ordered at any restaurant. So while visiting, make sure to indulge in the authentic techniques of Mexican cuisine.
The Excellence Resorts are great for families because they have something to do for everyone. There is an adults only pool and section of the resort as well as other activities that children can enjoy.
Sandals
Sandals Resorts is a chain of all-inclusive resorts that are known for their luxury brand, friendly staff, and many locations worldwide. Sandals has resorts in Jamaica, St. Lucia, Antigua and Grenada.
The Sandals resorts provide a luxurious, all-inclusive experience for their guests. The resorts feature everything from gourmet food to room service and even in-room massages.
With an amazing variety of choice from 11 restaurants in Sandals Barbedos alone, with each restaurant featuring their very own chefs dedicated to every authentic detail you are sure to find something delicious.
From their amazing services they have become one of the most popular destinations in the Caribbean. The Sandals Resorts chain has grown to include nine locations worldwide, with seven existing in Jamaica alone.
El Dorado
El Dorado Resorts in Mexico offer gluten-free options, with separate kitchens for guests with special dietary needs. Catering to those with celiac disease by offering a separate menu that features a variety of delicious food items made specifically for those who cannot consume gluten or wheat products. 
This includes fresh seafood, grilled chicken and beef dishes, vegetarian options such as tofu stir fry or eggplant parmigiana, salads and fresh fruits. The dedicated staff goes to great lengths to ensure that you enjoy your vacation every step of the way.
Barcelo
Barcelo Hotels, an all-inclusive, gluten free hotel chain with many locations, offering a one-of-a-kind experience.
These hotels have everything you need for an unforgettable stay: luxurious rooms with breathtaking views, an array of dining options, and plenty of activities to keep you busy during your stay.
Barcelo Hotels also have a dedicated gluten-free kitchen and offers various gluten-free options at all of their restaurants. They also offer specialized menus for those with other food allergies, such as dairy allergies or lactose intolerance.
If you're looking for an all-inclusive gluten-free vacation, there are many resorts and hotels to choose from. Many of them offer a wide range of gluten free food options and don't require you to make any reservations ahead of time.
So if you're planning a trip anywhere, there's no reason not to enjoy yourself and indulge in delicious food while on vacation.
Make your all inclusive, gluten free vacation a reality by booking with us today!