10 Greek travel tips You Must Know !
If someone says Greece, what are the first things that come to mind? For most, it's sunbathing on the beautiful beaches in Santorini or Mykonos, while others think of Acropolis and the Parthenon. But, would it shock you if we told you there are over 200 islands that make up the beautiful country of Greece? And even better, each island holds the same immaculate beauty and history as Santorini, Mykonos, and Athens giving you all the more reason to consider island hopping on your next Greek vacation. Keep reading to see our list of ten things you must know before you go!
Island Hopping in Greece: 10 Things You Must Know
Santorini, Greece
1: The best time to visit
Every season is the best time to go island hopping in Greece. However, we have found that May to mid – July and the entire month of September is the very best time to plan a vacation to Greece. The end of July and August attracts summer vacationers from all over, including locally. Everything is busy, lines are long, beaches are crowded, and it's extremely hot. All of which can be the downfall of an otherwise perfect vacation. These times are considered to be Greece's low season, and therefore ferries are less frequent and there is the added potential risk of windy/rainy days. Just something to keep in mind! But let's face it, a rainy day in Greece is WAY better than one at home!
Zakinthos, Greece
2: Buy your plane and ferry tickets in advance and with enough time in between
The most popular way to travel between the islands in Greece is by ferry, but the quickest way is definitely by plane. Greeks are very well known for their laid-back persona, and this is just as accurate for the ferry boats. It's not uncommon for a ferry to cancel a trip last minute, and there's always the possibility of running late. Cruising between the islands is one of the most beautiful experiences you can take as you will get stunning views of the Mediterranean Sea! However, if you are on a time crunch, you can always opt to travel via plane.
Oia, Santorini, Greece
3: Bring sea sickness medication
If you plan to island hop by the ferry, make sure you bring sea sickness medication. You never know how you will start feeling being out in the middle of the Mediterranean Sea, so having some on hand might come in handy. We have seen many travelers wearing a sea sickness band as an alternative to carrying around medication, so that can be an option for you as well. But still, referring to the previous statement, it's always best to carry sea sickness medication on you just in case!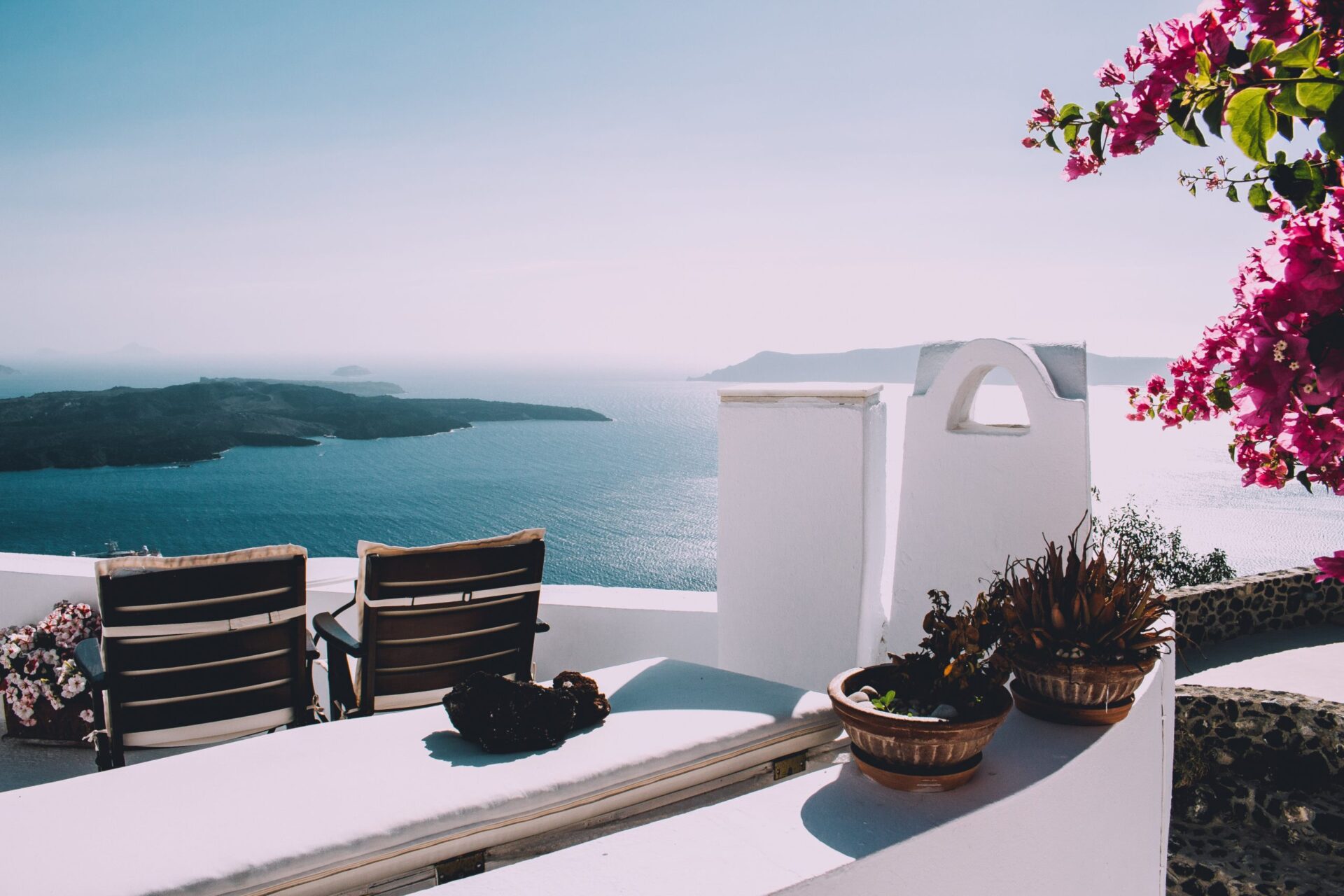 Santorini. Greece
4: Rent an ATV 
The easiest way to navigate through the islands of Greece is by ATV. Many of the islands have unpaved roads that are extremely bumpy and can become quite difficult to travel on in a regular car. Also, many of the paths that lead to the beach are very narrow and only reachable by foot or ATV, so by renting one you won't have to worry about parking! It is required to wear a helmet, but you'll see many of the locals choosing not to do so. Whether you wear one or not is your choice, but just know that you do run the risk of getting fined!
Kerkira, Greece
5: Always know where your gas stations are
Your options to explore are limitless with an ATV, however they do require gas. It's important to always know where your gas stations are so that you don't end up stranded in the middle of nowhere. Many of the gas stations are located downtown, so if you decide to venture out, make sure you plan to have enough gas to make it back! It's also important to take in to consideration uphill slopes, as they do require more gas. Our experts at Guide Me Away highly recommend renting an ATV when island hopping in Greece to maximize your vacation!
Kokkari, Greece
6: Keep a map in your backpack
Many people nowadays are relying on their cell phones to get them from point A to point B, but in Greece the cell signal isn't always the strongest. Adding to that, a lot of the unpaved roads do not show up on a GPS, which can make it super difficult to navigate through the islands. You can find a map almost anywhere on the island, just ask a local to point you in the right direction!
Kissamos, Greece
7: Bring cash with you
It's no surprise that many travelers would rather pay for things on their credit cards. This is not only convenient, but it can give you many perks from your credit card company, such as points or airline miles. However, paying by credit card in Greece isn't the most popular option. While some of the restaurants and shops will accept credit cards, many of them do not. You can obtain foreign currency from your local bank prior to leaving for our trip, but if you happen to forget, you can visit a local currency exchange once you arrive. We don't recommend exchanging your currency at the airport as the rates are higher!
Acropolis of Athens, Athens, Greece
8: Don't overpack
Face it, you'll most likely be in a swimsuit most of the time you are in Greece, so you don't need a months worth of clothes. When deciding what to bring to Greece with you, we recommend bringing a few swimsuits, a couple of sundresses, a pair of shorts, two blouses, sandals, sunscreen, and sunglasses. These are the essentials you will most likely need/use on your trip to Greece. Anything else is added baggage that you don't need! Also, make sure you pack a nice pair of walking around shoes. The streets of Greece are made of cobblestone and can be rough on your feet without the right shoes. You don't want to waste your day away in your room because you have to soak your feet!
Naxos, Greece
9: Don't forget to bring a pair of water shoes
Okay, so adding to our list of things to pack, we HIGHLY recommend investing in a pair of good water shoes. Not only do water shoes protect your feet as your walking and swimming at the beach, but they can double as a good pair of walking shoes. The beaches in Greece aren't all made of sand. Kamari Beach on Santorini island is made of tiny rocks and pebbles. You can imagine how tough this can be on your feet, so water shoes will definitely come in handy!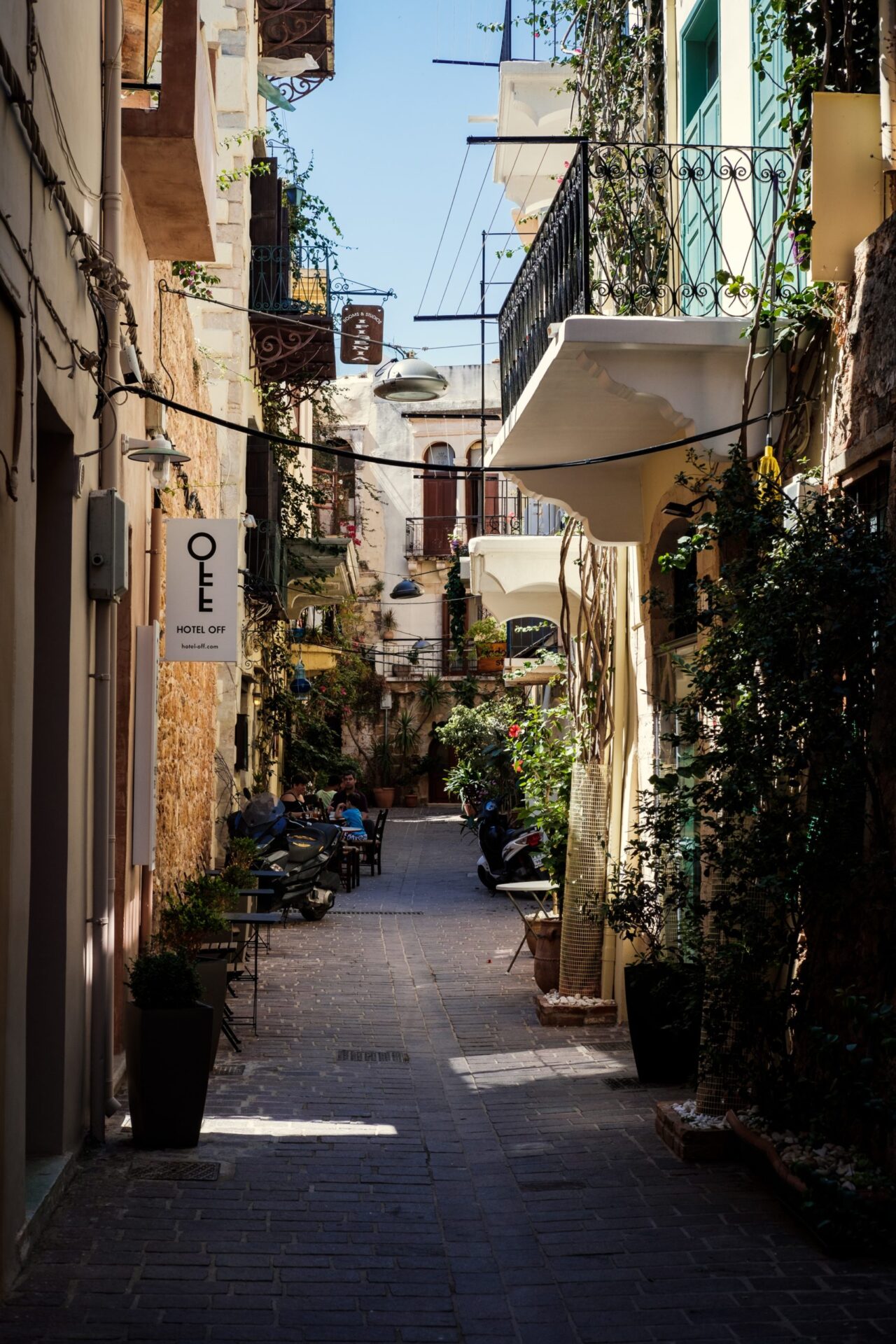 Chania, Greece
10: Bring something to capture your memories!
This goes without saying. From the white washed buildings to the crystal blue waters, it's no wonder Greece is one of the most picturesque countries in the Mediterranean region of the world. Many of the islands in Greece offer snorkeling and/or scuba diving excursions, so make sure whatever equipment you decide to bring, make sure it's waterproof! You won't want to miss out on capturing any moment!
Mykonos, Greece
If you are planning on going on an island hopping adventure in Greece, our travel experts here at Guide Me Away are trained to deliver the most unforgettable and stress-free experience! What are you waiting for? Contact one of our professionals today to start planning your island hopping adventure!