For many of us, when we think of visiting Auckland, New Zealand we envision rolling green pastures, home to 5 times more sheep than people. Or perhaps you imagine hearing two Kiwis conversing over "fush and chups" in that tell-tale accent. For those more interested in the civil and political scene, New Zealand likely stands out in your mind for its recently-resigned Prime Minister, Jacinda Ardern, a recognized world leader and feminist icon.
New Zealand offers all of this and more, and Auckland, situated among 2 large harbors on the North Island, is its hub.
The "City of Sails" is New Zealand's economic powerhouse, and while it doesn't lack for that big-city character. It also offers unique charm due to not only its geographic location, but also the general ease of its island culture.
If you're going to be visiting Auckland, check out this guide as you prepare for you trip:
Places to Stay in Auckland
Auckland offers a little something for everybody! With accommodation ranging from motorhome rental (or "hire," as the Kiwis say) to 5-star hotels with skyline views, and everything in between. Here a is a round up of our top recommendations when visiting Auckland, and some of the perks of each:
Hotels 
If you're looking for luxury, the Fable Auckland, MGallery, situated inside the historic Windsor House, is notorious for its traditional charm. It's also centrally located, making for a quick, convenient walk to shopping and dining.
The Park Hyatt Auckland is another wonderful choice. Known as the city's "coolest" option, this prestigious waterfront hotel offers views spanning The Wynyard Quarter's Lighter Basin to Waitematā Harbour, as well as reputable eateries and a full spa.
AirBnB's
For those who'd prefer something a bit more quaint, there are numerous homeshare options tucked away into the surrounding neighborhoods.  Many for under $100 USD per night!
One popular visitor destination is the hip, inner-city suburb of Ponsonby. Situated 10 minutes from the city center, this quirky area is known for its trendy boutiques and cafes, independent bookshops, and first-class dining scene.
Rent an RV
Another option is to move your accommodations every night by renting a motorhome and "Freedom Camping,". Enjoy both throughout the city, and in the amazing remote locations surrounding it. As crazy as it may sound, this is a popular solution as it allows for the most flexible experience at a fairly affordable rate.
In addition to the numerous RV rental companies through Auckland, you can actually rent directly from the airport so you don't even have to bother planning a ride! Just be sure if you go this route to look closely at the insurance policy, take proper safety precautions, and ensure you're camping where it's legal to do so. 
Things to Do in Auckland
Whether you want to see world-famous attractions, or escape into what feels like another world, visiting Auckland allows you to do just that!
The Sky Tower
One of the tallest man-made structures in the Southern Hemisphere, the Sky Tower (which stands at 328 meters or 1,075 feet tall) offers stunning 360 degree views of Auckland. Whether you just want to take it all in from the the Sky Deck, or make an event of it with a meal at the Sky Cafe. You can't go wrong with a stop at this iconic destination.
Waiheke Island's "Vineyard Walking Trail" 
This little-known gem checks all the boxes; beautiful scenery, some light exercise, and all the delicious New Zealand wine you can handle (plus "just one more glass" if you're anything like us!) Due to its uniquely isolated and condensed nature, Waiheke Island allows for this one-of-a-kind, Instagram-worthy tour experience you absolutely cannot miss.
West Coast Beaches
The black sand of the North Island's west coast makes for near sci-fi feeling beach destinations. Piha, Karekare and Muriwai are most popular, but if in doubt, pop into a cafe and ask a local where they'd recommend you go. You might just stumble upon something fantastical!
The Otara Markets
Given that Auckland is home to the largest Polynesian population in the world at 28% of their 1.3 million residents, this Saturday ritual at Otara Markets combining food, live music, and traditional crafts of the Polynesian people offers a unique opportunity to immerse yourself in an authentic cultural experience. 
COVID-19 Updates and Protocols 
New Zealand has been notoriously successful in their handling of COVID-19. Their initial "elimination strategy" (now turned "mitigation strategy") kept the spread hugely contained, and with the availability of vaccines, they've since been able to relax control measures.
The New Zealand government recommends checking your eligibility, taking an (optional) pre-departure test, and securing medical and travel insurance prior to traveling. Upon arrival, you'll be encouraged to take the free rapid they provided to all entering visitors, and to otherwise follow standard COVID-19 safety practices.
There's not a lot that Auckland doesn't offer. While a voyage to get to from pretty much anywhere but Australia, this lively city, situated on the beautiful North Island of this totally unique country is well worth the trek, sheeps and all.
About Amanda Grindele:
Amanda is an aspiring digital marketing professional with an 8 year tech sales career at global online advertising and customer experience companies. Born a small-town Texan, Amanda's love of travel was sparked by her first international trip to Europe with her best friend in her mid-twenties. She's since traveled to 9 different countries, and spent a year and a half living and working in Sydney, Australia. Amanda is a dog mom, a home-owner, and a proud member of the LGBTQ+ community.
Are you ready to experience the breathtaking beauty of New Zealand for yourself?
Don't wait any longer to make your dream a reality. Contact us at Guide Me Away today to start planning your personalized New Zealand adventure.
Our knowledgeable travel agents will ensure that your trip is unforgettable, from start to finish. Don't miss out on the chance to explore this incredible country.
Are you a travel blogger and want to be featured on our platform? Simply send us an email at info@guidemeaway.com with the link to your article and we'll take a look. We look forward to potentially showcasing your work and inspiring others to travel!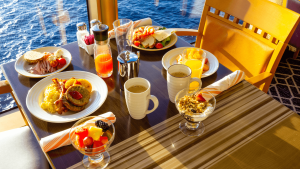 From delectable Michelin-starred cuisine to immersive cooking classes and unique dining experiences, these cruises are meticulously designed to exceed the expectations of foodies everywhere. 
Read More »
Working with a travel agency provides many benefits that travel platforms such as Expedia, Orbitz, and Travelocity do not.
Read More »
Paris is known for its rich culinary culture and its love for good food. From traditional French cuisine to modern gastronomic creations, the city has
Read More »