Whether you're an adventurous safari enthusiast or a culture-seeking explorer, Kenya has something to offer. Kenya is a country in East Africa with a coastline on the Indian Ocean. It encompasses savannah, lakes, the dramatic Great Rift Valley, and mountain highlands. It's also home to wildlife like lions, elephants, and rhinos. When you visit Kenya, you will be treated to a wide array of attractions. You can follow safari tours at Nairobi National Park or head to Fort Jesus near the port of Mombasa.
When departing from Toronto to visit Kenya, there are several flight options for every budget. We will link some of those below.
1. KLM
2. Air Canada
Tourist Attractions in Kenya
1. National parks
Visit the Maasai Mara Reserve, known for its annual wildebeest migrations, and Amboseli National Park, which views Tanzania's 5,895m Mt. Kilimanjaro.  
2. Mountain peaks 
3. Deserts 
4. Sandy beaches 
5. Safaris
When you visit Kenya, it is a very pocket-friendly destination. For a minimum of CAD 10,000 and up to the most you can imagine spending, there is something for everyone. Most accommodation options range from as low as CAD 40 to CAD 500. 
 The price range also depends on the part of Kenya you visit. Typically hotels on the coast are more pricey.
Nairobi National Park is a must when you visit Kenya. Despite its proximity to the city and its relatively small size, it boasts a large and varied wildlife population and is one of Kenya's most successful rhinoceros sanctuaries.
You will be amazed by the attractions at Nairobi National Park like the Ivory Burning Site Monument, walking trails at hippo pools, Nairobi Safari Walk and the Orphanage, and spacious accommodating picnic areas. This makes Kenya safaris and Kenya tours a must-see experience for many tourists visiting Nairobi National Park. 
It consists partly of thick woods near the city outskirts, partly of rolling plains and valleys, and partly of the wooded confluence of several rivers, its vegetation is of the dry transitional savanna type. Acacias and other thorny varieties, Muhuhu, Cape chestnut, and Kenya olive are the most important trees that act as a habitat for the wildlife in the park.
Nairobi National Park is the major rhino sanctuary for breeding and restocking other parks. The park is home to over 100 mammal species, having four of the Big Five (lion, buffalo, leopard, rhino). Other animal species include the zebra, black rhinoceros, giraffe, various species of antelope well as numerous reptiles. They are a thrill to view while on Kenya wildlife tours. Also, the park has a spectacular wildebeest and zebra migration.
Nairobi National Park has over 500 recorded bird species at least 20 of which are seasonal European migrants. Included in the bird species found in the park are the Secretary bird, Lesser kestrel, Martial eagle, Pallid harrier, Sooty falcon, White-bellied bustard, Grey crowned crane, Corncrake, and many others. 
Also located inside the park is the Nairobi Animal Orphanage, founded in 1963. The orphanage serves as a rehabilitation center, providing treatments for wild animals like lions, cheetahs, hyenas, jackals, servals, and various bird species. These include parrots, guinea fowls, crowned cranes, ostriches, and many others.
The distance between Nairobi and Nairobi National Park is 15.6km through the A104 road which takes about 28 minutes.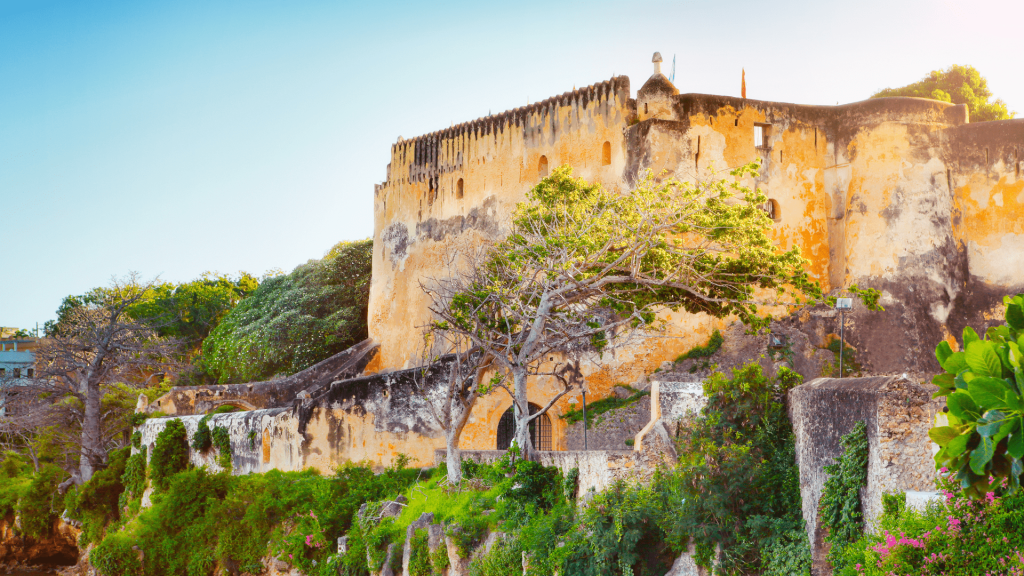 Fort Jesus, built by the Portuguese from 1593 to 1596 was designed by Giovanni Battista Cairati to protect the port of Mombasa. It is one of the most outstanding and well-preserved examples of 16th Portuguese military fortification and a landmark in the history of this type of construction. You don't want to miss this when you visit Kenya.
The Fort's layout and form reflected the Renaissance ideal that perfect proportions and geometric harmony are to be found in the human body. At the same time, the structure meets the functional needs of a modern and well-defended fortification. The property covers an area of 2.36 hectares and includes the fort's moat and immediate surroundings. 
Fort Jesus bears testimony to the first successful attempt by Western civilization to rule the Indian Ocean trade routes, which, until then had remained under Eastern influence. The design of the fort, with its proportions, its imposing walls, and five bastions, reflects the military architectural theory of the Renaissance. 
Built and occupied first by the Portuguese, Fort Jesus, changed hands many times throughout its history, coming under Arab, Swahili, and English control. The original layout of the Fort, despite several changes, has survived during centuries of continued occupations and reoccupation. 
It was constructed in a period and region that was at the center of emerging political, commercial, and cultural globalization. Fort Jesus bears physical witness in its structures and subsequent transformations, to the interchange of cultural values and influences between and among peoples of African, Arab, Turkish, Persian, and European origin. These people fought to gain and maintain their control over this strategic port. 
Planning Your Trip To Kenya
Kenya is a captivating destination that offers a unique blend of wildlife, culture, and breathtaking landscapes. From the magnificent Maasai Mara to the pristine beaches of Mombasa, this East African gem promises an unforgettable experience for travelers of all kinds.
To make the most of your journey and ensure a seamless travel experience, reach out to a travel expert at Guide Me Away. Our knowledgeable team is dedicated to crafting personalized itineraries and ensuring every detail of your trip when you visit Kenya is taken care of. Contact us today to book your dream vacation to Kenya and embark on an extraordinary adventure in this beautiful country.
Make Your Trip To Kenya Unforgettable!
Get Trending Destinations Sent Right To Your Inbox.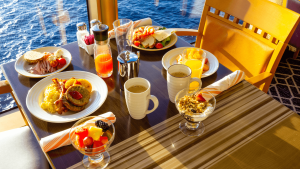 From delectable Michelin-starred cuisine to immersive cooking classes and unique dining experiences, these cruises are meticulously designed to exceed the expectations of foodies everywhere. 
Read More »
Paris is known for its rich culinary culture and its love for good food. From traditional French cuisine to modern gastronomic creations, the city has
Read More »
Several nations have a reputation for great food, and France is definitely among the best in that list. Their cuisine is rich, varied, and it has
Read More »