Golf can be a family affair, a solo act, or just some competitive fun against you and your friends. These are the six top all-inclusive golf resorts for both new and experienced golfers. Read on to find out more about them!
Olympic Lagoon Resort Agnia Napa is located off the coast of Cyprus. The hotel is the first all-inclusive resort on the island. This resort is perfect for families and couples, and one won't find themselves bored during the entire stay. You better come to the resort and expect to be sun-kissed by the sun as you take in the sunshine, landscaped gardens, and numerous water features. You'll enjoy international gourmet dining when you dine at any of their restaurants.
While the hotel does not have a golf course on-site, there are four golf courses nearby in their Golf Holiday Packages. These are all-inclusive, and you'll get the luxury of gourmet dining when you enjoy their restaurants. You'll have the option to play four or five rounds, complimentary round-trip access to all four golf courses to and from the resort, a golf planner who will assist you before and during your stay, and access to tee times at all four golf courses.
Cornelia Diamond Golf Resort is located in Belek, Turkey. It's about a half-hour from the Antalya International Airport and is situated on the Mediterranean Coast. This all-inclusive golf resort has plenty to do for all ages. The resort also offers the Cornie Club, where there are rooms and activities for babies ages 0-3 years old. There are activities and facilities for children and teenagers, too.
Now, let's talk about golf while at the Resort. There is a golf course on-site called the Faldo Course. The course is a championship golf course with 27 holes for you to partake in. Holes 1-18 are considered the King Course, followed by the Queen Course, which is holes 10-27, and then there's the Prince Course which is holes 1-9 & 19-27. The course gives way to stunning landscape views of Turkey while you enjoy the Meditterean breeze. In addition, this course is sure to provide you with quite a challenge!
Casa de Campo is located in scenic La Romana, Dominican Republic. This all-inclusive resort offers your standard all-inclusive package called the 'Casa Inclusive Package,' and there are also all-inclusive packages for golfers. When you stay at this resort, you'll find that there's fun for the whole family. Kids activities are supervised, a spa, and even an equestrian center, to name a few things you can do while enjoying your stay here.
Also, did we mention golf? There are THREE golf courses you can enjoy while you stay here. Here, you'll be surrounded by the beautiful Caribbean Sea. The resort's 'Teeth of the Dog' golf course is rated #1 in the Caribbean and #27 in the world. If you're looking for some training, you can take some time to train with the pros at the resort's world-class Golf Training Center. You can also take a practice swing at the resort's TrackMan Simulator.
Ideally, this resort is for couples. However, this resort is exclusively for adults only. Therefore, you won't have to worry about the kids! This resort is located in the beautiful Exumas in the Bahamas. You'll find white sandy beaches with crystal clear water. You'll have access to seven gourmet dining options, as well as access to nightly entertainment and other activities the resort offers.
For the golfers out there, this hotel comes with an 18-hole golf course. Golf fees are included, but it depends on how extended your stay is. If you stay at least three nights, all category rooms will receive two free rounds. If you stay at least four nights and are in the Butler Suites, you will access unlimited rounds. For those of you who are looking to stay seven nights or more and are in any category room, you'll enjoy endless rounds.
If you're looking to travel kid-free, then Bavaro in the Dominican Republic is meant for you. This all-inclusive golf resort is perfect for couples or even for a group of golfers looking to have a little competition with one another. During your stay, a butler will be there for your every need. There's a jacuzzi in every room, so no need to worry about finding a room with one. If you stay a minimum of three nights, you'll have access to SPA sensations wet areas and receive a complimentary round of golf.
Speaking of golf, you probably want to know what Iberostar has to offer in that aspect. This 18-hole golf course is one for the views! Golfers will find several beautiful natural views like lakes, streams, desert-like areas, and a waterfall. The golf course also offers a training area where amateurs can learn from professional golfers. There's also a practice course, chipping green and putting green for even more practice.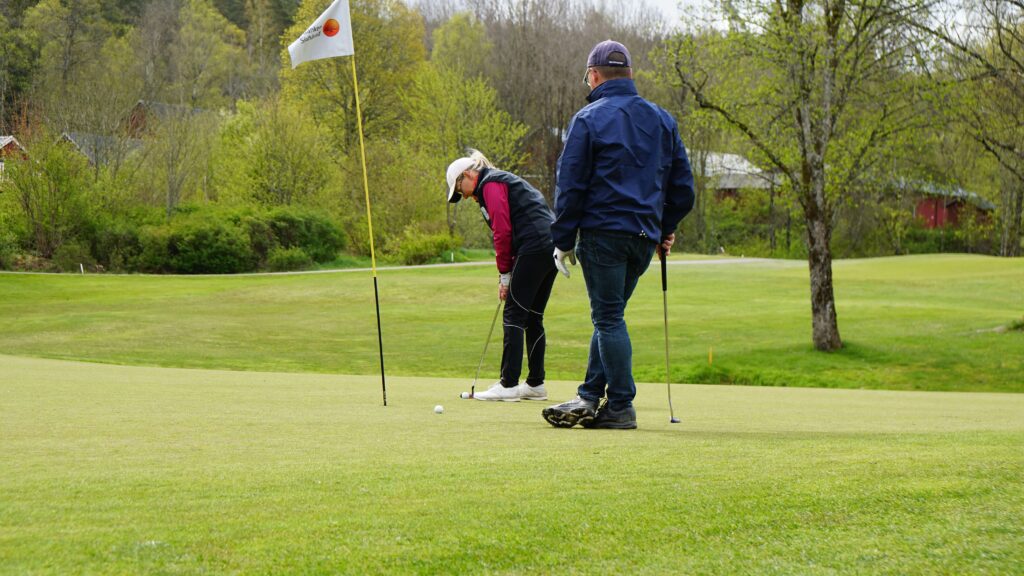 Paradisus Palma Real Golf & Spa Resort is an excellent place for golfers new and experienced. Located in beautiful Punta Cana, you'll be greeted with beautiful foliage and white sandy beaches. This all-inclusive golf resort offers fun for both couples and families alike. You can experience fine dining, fun water sports, and suites-only accommodations. If you're looking for some fun, you can try out some beach volleyball, tennis, bicycle tours, and bocce ball, and the main reason you're here: is golf!
Paradisus offers significant challenges with its 27-hole golf course called Cocotal. The hotel also provides some help to practice your skillset. This all-inclusive resort for golfers has trained professional golfers in their staff ready to match you and test your skills. If you're looking to get a large group together for a golf match, you will need to make reservations three months before your arrival to ensure that the course will be available to you. The golf course also includes a driving range and golf carts that are required.
CONTACT US TO BOOK YOUR GOLFING HOLIDAY TODAY!
Other Travel Inspirations
Must-See Travel Destinations in the World for 2021