Indulge your taste buds in a world of gastronomic delights as you sail through crystal-clear waters, surrounded by breathtaking landscapes. From delectable Michelin-starred cuisine to immersive cooking classes and unique dining experiences, these cruises are meticulously designed to exceed the expectations of foodies everywhere. 
Seabourn has long deserved its superb reputation for quality cuisine at sea and that holds true aboard the Odyssey. Further enhancing the gastronomy is Seabourn's partnership with Thomas Keller, one of America's most influential chefs. He is well known for his eateries French Laundry and Per Se. Keller's food appears in nearly every venue, not just his infamous grill restaurant.
Furthermore, the menus note vegetarian, gluten-free, and heart-healthy dishes. Also, if there is something you want that isn't on the menu, the kitchen is happy to accommodate a la minute orders (not prepared in advance), particularly in the Restaurant.
Also, wine is poured at all venues with lunch and dinner. Although there are selected bottles of the day, wine waiters are very happy to find alternatives if presented choices don't suit your taste. 
Offerings Onboard
At dinner, "The Restaurant" shines. The "Today's Inspirations" menu changes nightly and includes:
Four appetizers – some example offerings are grilled figs, veal sweetbreads, eggplant soup, and marinated vegetables

Four entrees – featured options may include grilled tuna, prosciutto-wrapped shrimp, prime rib, and gnocchi primavera

As well as, four desserts
Continuing on, the "Seabourn Classics" menu is the same each night and offers more traditional options, such as chilled shrimp, chicken or tomato soup, pasta with a choice of sauces, and Caesar salad to start. Entrees are salmon filet, chicken breast, beef tenderloin, New York strip, and lamb chops.
Moreover, to enhance your experience, opt for the specially designed Thomas Keller set menu that is available every two nights. Previously, a memorable meal for foodies aboard the Seabourn Oddesy was a three-course dinner focused on ingredients sourced via California purveyors. Among showcased dishes were a salad of blistered heirloom carrots, a choice of Sonoma duck breast or roasted heart of romaine and, for dessert, a chocolate ganache tart. 
Added May 2017 is The Grill by Thomas Keller.
The Grill features six starters, nine mains and six desserts with a daily special of each. Furthermore, the food is typical grill fare taken to new heights of deliciousness. Offerings include a scrumptious crabcake on top of a rich aioli, super-moist roast chicken, and lobster thermidor which guests raved about for days.
Starters include Caesar salad prepared tableside and New England clam chowder.

Mains are rib eye of Snake River Farms beef, Dover sole, eggplant Parmesan and the aforementioned lobster.

Sides include garlicky spinach, a rich mac 'n' cheese, steak fries and glazed carrots.

Make sure you save room for dessert, which includes a seven-layer coconut cake, lemon meringue pie, and a decadent ice cream sundae.
Overall, when you opt to set sail on any of the Oddessy cruises, you can expect a mouthwatering experience.
Virgin Voyages offers a unique and innovative dining experience that focuses on fresh, high-quality ingredients. Furthermore, this is while offering a range of culinary styles. They offer more than 20+ distinctive and delicious specialty restaurants that bring fresh ingredients and made-to-order dishes. All foodies will be overjoyed with dining aboard any Virgin vessel. 
Onboard Dining
The main dining venue is called The Wake, which serves a modern steakhouse menu featuring a selection of steaks, seafood, and creative appetizers. The menu is designed to be shared, encouraging a social dining experience.

Razzle Dazzle is a vegetarian-forward restaurant that offers a mix of small plates, salads, and comfort food classics with a plant-based twist. The menu features dishes made from locally sourced ingredients, and it is designed to accommodate a variety of dietary preferences.

Gunbae is a Korean BBQ restaurant that combines traditional Korean flavors with a fun and interactive dining experience. Guests can grill their own meats and enjoy a selection of banchan (side dishes) and Korean-inspired cocktails.

Pink Agave is a Mexican restaurant that serves a range of dishes inspired by the flavors of Mexico. The menu includes tacos, ceviche, and other Mexican favorites, accompanied by a selection of tequila and mezcal-based cocktails.

Extra Virgin is an Italian-inspired restaurant that offers a variety of pasta dishes, antipasti, and wood-fired pizzas. The menu focuses on simple and fresh ingredients, and guests can enjoy their meals in a vibrant and lively atmosphere.

The Dock House is a beach club-inspired restaurant that serves a selection of seafood, burgers, and light bites. Guests can relax and enjoy their meals with ocean views in a casual and laid-back setting.
In addition to these dining venues,
Virgin Voyages
also offers a range of bars and lounges.
Additionally, these feature unique themes and designs, creating a vibrant and energetic atmosphere.
Overall, Virgin Voyages provides a diverse and exciting experience for foodies. Furthermore, they have a strong focus on quality, creativity, and social dining. With that, guests can explore a variety of culinary styles and enjoy a memorable dining experience during their voyage.
3. Regent Seven Seas Cruises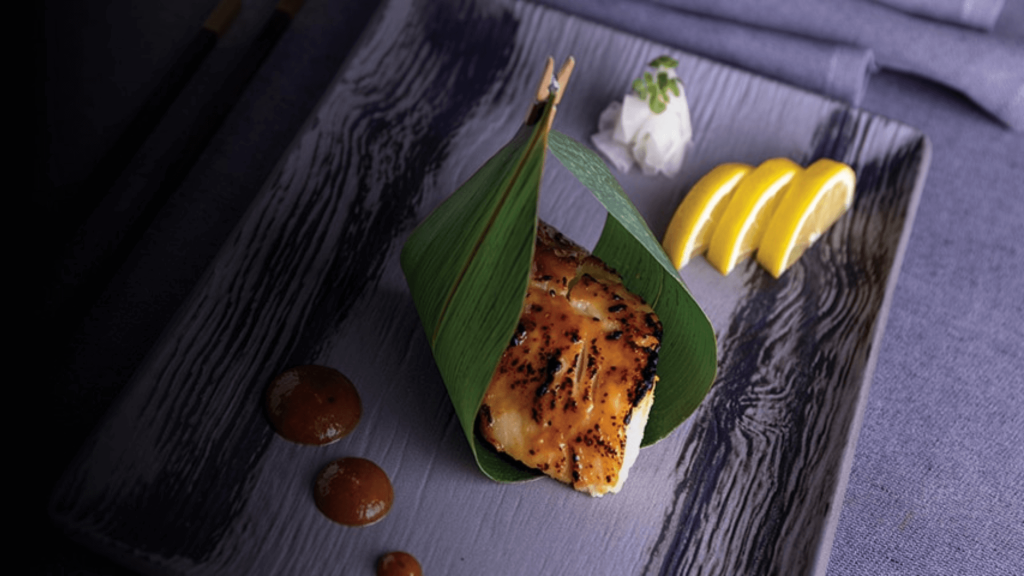 Regent Seven Seas Cruises prides itself on delivering an extraordinary epicurean experience. They specialize in carefully curated menus and the use of the finest and freshest ingredients. Moreover, the onboard dining experience is characterized by exceptional attention to detail. Boasting a variety of options ranging from elegant gourmet restaurants to casual eateries, the cruise line offers a diverse range of dining options. Additionally, these are designed to satisfy even the most discerning palates. 
For the ultimate dining experience, choose to set sail on Seven Seas Grandeur™, Seven Seas Splendor®, Seven Seas Explorer®, Seven Seas Voyager®, or Seven Seas Mariner®. These vessels offer the largest array of restaurant choices.
Foodies will be wowed by the delicious offerings.
Onboard, you can enjoy:
Classic French cuisine at Chartreuse where menu items include:
Duck Foie Gras Terrine

Escargot

Steak Tartare et Caviar

Roasted Milk-Fed Veal Fillet

Seared Barbary Duck Breast

Baked Lobster Tail & Scallop Mousse
Asian-inspired creations at Pacific Rim such as:
Dim Sum

Sushi

Classic Soups

Korean Style Barbecue Lamb Chops

Chinese Barbecue Pork Ribs

Pad Thai

Seafood Laksa
Authentic Italian specialties at Sette Mari at La Veranda like:
An array of Antipasti

Gorgonzola-Crusted Black Angus Beef Tenderloin

Thinly Sliced Veal Scaloppini

Grilled Swordfish

Seafood Risotto 

Grilled Lamb Chops

Sliced Veal Shank
Complementing the amazing cuisine is a broad wine collection.
Additionally, it is carefully curated to offer the perfect pairing for every meal. Also, knowledgeable sommeliers are on hand to assist guests in selecting the ideal wine to enhance their dining experience. Whether it's a rich and bold red or a crisp and refreshing white, the wine list features a diverse selection from renowned vineyards around the world.
Additionally, foodies can participate in cooking demonstrations and workshops led by expert chefs, where they can learn new techniques and recipes to recreate at home. Moreover, culinary-themed shore excursions provide opportunities to explore local markets, visit wineries and indulge in authentic regional cuisine, adding an extra layer of culinary discovery to the overall travel experience.
Whether exploring international flavors, enjoying gourmet creations, or embarking on culinary adventures ashore, guests can expect a tasty journey that delights the senses. 
Exceeding Foodies Expectations 
Prepare to embark on a sensational voyage where every meal is a masterpiece, every ingredient is carefully sourced, and every bite is a revelation. Get ready for a gastronomic adventure of a lifetime when you set sail on any of these cruises.
At Guide Me Away, we specialize in selecting the best voyages and vessels for your needs. Just tell us where you want to go as well as any dietary preferences you have, and we will find the best cruise for you!
Let Our Experts Plan
Your Dream Cruise!
Get Top Cruises For Foodies Sent Right To Your Inbox.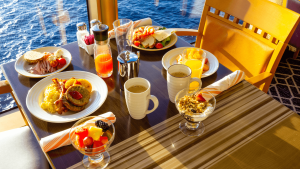 From delectable Michelin-starred cuisine to immersive cooking classes and unique dining experiences, these cruises are meticulously designed to exceed the expectations of foodies everywhere. 
Read More »
Paris is known for its rich culinary culture and its love for good food. From traditional French cuisine to modern gastronomic creations, the city has
Read More »
Several nations have a reputation for great food, and France is definitely among the best in that list. Their cuisine is rich, varied, and it has
Read More »