Traveling is an amazing experience, full of unlimited possibilities and the promise of great memories. However, being well-prepared is vital for a pleasant and fulfilling journey. We In this post, we'll look at six must-know travel tips for a successful adventure. These insights can help you navigate the unknown, make informed decisions, and make the best use of your time and resources. 
So, let's get started! 
1. The Power of Learning Basic Phrases
Immersing yourself in the local culture when visiting a new place can enrich your experience and help you make lasting connections. Learning basic words in the local language is a great way to break down barriers and show respect for the locals.
While should not expect to achieve fluency in a short period of time, mastering simple pleasantries and expressions such as "Hello," "Goodbye," "Thank you!" and "Where's the bathroom?" can go a long way toward developing positive encounters with the local population.
2. Seize The Moment
Waiting for the "perfect" time to travel is a frequent mistake aspiring globetrotters make. We tend to believe that all of the stars must align before we can begin pursuing our goals. With that said, a great travel tip is, the perfect moment never ever arrives.
Financial restrictions, obligations, and competing events will always exist. Instead of dwelling on an unknown future, seize the opportunity to experience the now.
3. Embrace Slow Travel: Quality over Quantity 

In today's fast-paced world, it's tempting to try and experience everything within a limited time span. It's only natural to feel the urge to visit as many countries and cities as possible.
However, by slowing down and prioritizing quality over quantity, you may achieve a deeper understanding of the locations you visit. When you choose to embrace, slow travel, you have the opportunity to make significant connections and gain greater awareness throughout your journey.
4. Minimize Bank Fees

Unneeded bank fees can easily deplete your travel budget. It is essential to plan ahead of time in order to avoid these extra costs. Consider banks that are members of the global ATM alliance, as they frequently provide fee-free withdrawals internationally. Furthermore, if you are an American traveler, consider opening a Charles Schwab account, which reimburses ATM expenses. Remember to alert your bank of your vacation plans and to check about any overseas transaction fees associated with your credit or debit card.
Another option to avoid these fees is to apply for a travel credit card. Not only can you receive significant rewards when using the card for travel, but you also do not have to worry about these international transaction fees. Once you take these steps to save money, you can enjoy more immersive activities and remarkable excursions.
5. Budget For The Unexpected

Budgeting is an important skill for anyone who travels. Another travel tip is to complete comprehensive examination of expenses associated with your trip is recommended to avoid financial surprises. With that said, when you work with a travel expert, they take care of this step and present you with an itemized total of the cost of your vacation as well as what is included. However, when you choose to plan your trip on your own, set aside a significant amount of time to determine the cost of lodging, transportation, meals, activities, and any other expenses unique to your trip. 
However, even with careful planning, unforeseen expenses can come up during your travel adventure. These could be both positive or negative. It could be for medical emergencies, lost belongings, or changes in itinerary due to weather. On the other hand, maybe you stumble upon an amazing restaurant or tour that you must experience. To plan for unexpected surprises, allocate a buffer amount in your budget. By having a financial safety net, you'll have peace of mind knowing that you're ready to embrace the unexpected.
6. Protect Yourself and Your Adventure with Travel Insurance

Obtaining comprehensive travel insurance is one area of vacation preparation that should never be overlooked. Travel insurance protects you against a wide range of potential dangers, providing you with peace of mind throughout your trip. While health insurance is essential, travel insurance goes above and beyond, covering things like trip cancellation, delays, lost or stolen items of value, and emergency medical evacuation.
Picture being in another country with a medical emergency or being forced to cancel your trip due to unanticipated events. Travel insurance operates as a safety net, offering financial aid and support when you need it the most. Examine the coverage specifics, including exclusions and deductibles, carefully before purchasing insurance. When you purchase travel insurance through Guide Me Away, you can rest assured you are receiving premium coverage. We offer insurance through Manulife and their partner company John Hancock, two of the most respected names in the insurance industry.
Your Travel Adventure
Traveling is a fantastic opportunity for personal development, cultural immersion, and amazing encounters. You can improve your travel experience when you plan ahead of time, push yourself outside of your comfort zone, and go on your journey with confidence.
In addition to adopting these useful suggestions, consider working with the travel experts at Guide Me Away so you are even more prepared. We provide peace of mind every step of the way! 
Save time planning your trip when you book with GuideMeAway!
The latest information on airline statistics - Sent right to your inbox.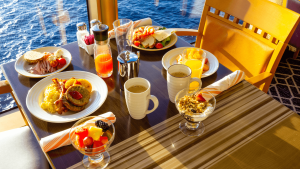 From delectable Michelin-starred cuisine to immersive cooking classes and unique dining experiences, these cruises are meticulously designed to exceed the expectations of foodies everywhere. 
Read More »
Paris is known for its rich culinary culture and its love for good food. From traditional French cuisine to modern gastronomic creations, the city has
Read More »
Several nations have a reputation for great food, and France is definitely among the best in that list. Their cuisine is rich, varied, and it has
Read More »