popular japanese food You Must Eat When In Japan!
Our list of Japanese foods takes you into a culinary delight of foods you can only have in Japan! Guide Me Away has compiled this exclusive list for you to explore on your next trip to Japan. Although Japanese food is available worldwide, there still exist many authentic dishes to try! Today we will show you some of the most popular Japanese dishes, luxury restaurants, street food desserts, and more! As we guide you on this list to an unforgettable culinary experience, we also hope to help you when it comes to booking your next flight. Whether you want to visit Japan, enjoy specialty Japanese cuisine, or look for another adventure, Guide Me Away can make your travel dreams come true, with deals you can't find anywhere else!
Let's Get Started!
1. Sushi
Firstly, let's start this list with one of the most traditional Japanese dishes, Sushi. Although this beautiful dish is known worldwide, there is specialty restaurant like Ginza Kyubey. These long-standing restaurants focus on curating a unique experience for each individual while delivering premium fish selections without a traditional menu.
 This four-story restaurant offers restaurant-style seating, with a modern, classic, and bar approach. Ginza Kyubey is one of the best specialty food places to visit on your trip to Japan. Therefore if you are looking for one of the best sushi restaurants in Japan, Ginza Kyubey is the place to go!
2. Matcha
Secondly, when it comes to specialty Japanese cuisine, Matcha is one of the tops on our list! Matcha is available in two different forms- one in a powdered form of streamed green leaves, used as a flavoring for sweet treats. On the other hand, Matcha also exists as a bitter, frothy drink with hot water. 
Furthermore, some of Japan's sweets are considered an art because of the years of craftsmanship curators have taken to balance the relationship between taste, shape, and color. We are positive that you will find various places to enjoy Matcha during your trip to Japan.
3. Donburi
When it comes to specialty Japanese cuisine, Donburi is definitely on the list. This particular dish is a delicious yet straightforward lunchtime dish enjoyed throughout Japan. Moreover, this rice bowl includes just about any ingredient combination native to each region. 
This Japanese take on a classic stir fry consists of fish, meat, vegetables, chicken, egg, green onions, and simmered in a soy sauce glaze. The ingredient combinations are endless, so there is undoubtedly a Donburi dish in Japan that suits your tastebuds!
4. Purin
Another specialty Japanese cuisine exclusive to Japan is Purin. This delicious dessert is Japan's version of creme caramel. With this dessert, you can enjoy a perfect blend of rich and creamy textures impossible to resist! Its custard-like caramel glaze will leave you wanting more. 
Coated with bittersweet caramel against the custard's contrast, this is a must-try for when you visit Japan! Purin can be found throughout many districts in Japan. Whether you just finished diner, or are looking for a quick treat, then don't hesitate to pick one of these up.
5. Ramen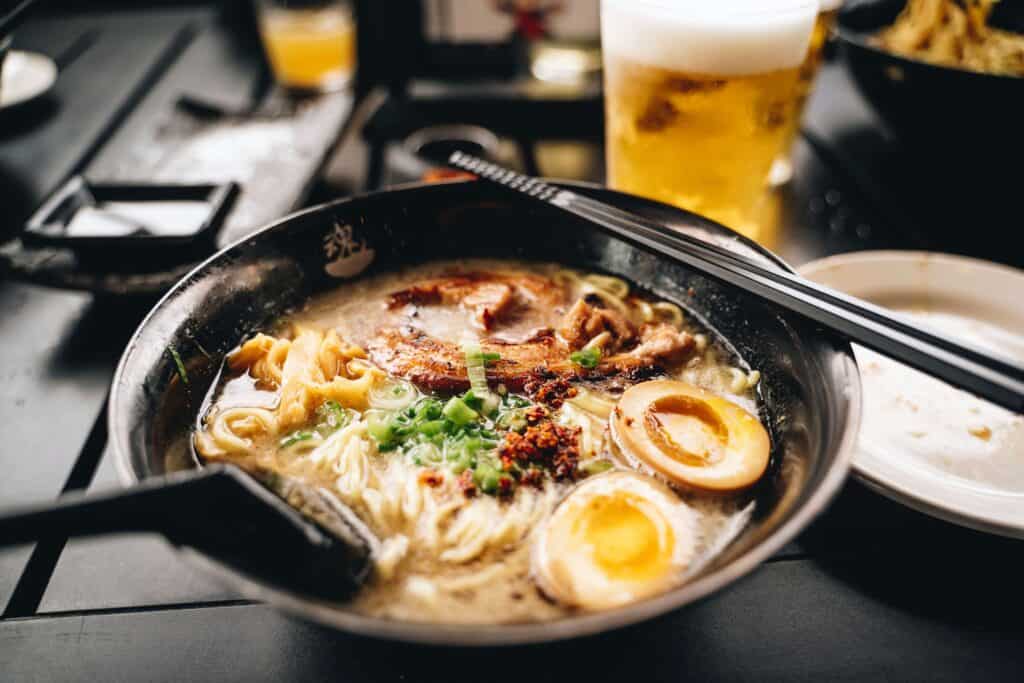 Next on our list is a dish you have heard of but might not have the chance to try in Japan yet. Ramen is a soup dish that consists of wheat noodles and a savory broth base. For those with celiac disease or who prefer gluten-free dishes, a handful of places offer noodle substitutes. In addition, this soup is accompanied by a variety of toppings which can include: green onions, seaweed, bamboo shoots, your choice of meat, and other variants depending on the recipe of each region. 
We are sure you will find a spot tailored to your preferences with many specialty Japanese ramen shops Japan has to offer. Some of which provide broth alternatives for vegetarians and vegans as well!
6. Japanese Beer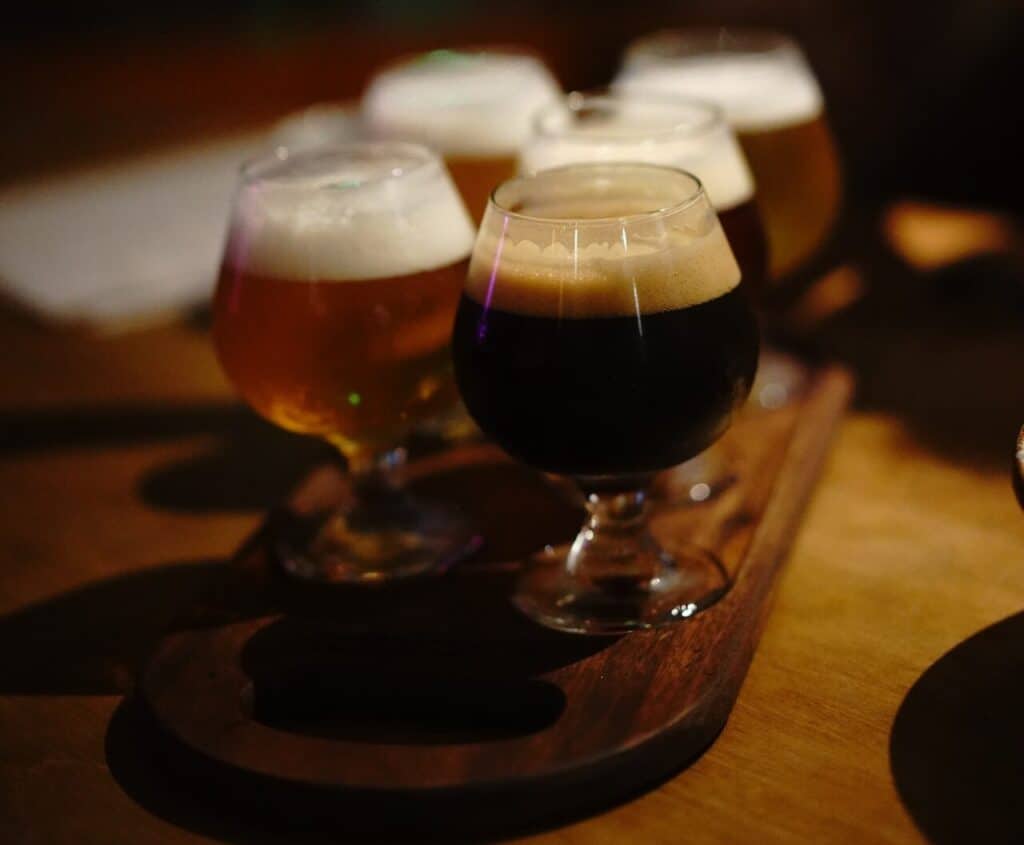 Let's look into Japan's craft beer industry, which is relatively young against competing brewers worldwide. With only 25 years of experience, Japan's reputation is quickly reaching highs within the industry. It's important to note that many craft beers factories in Japan offer free tours—even offering free beer taste testing. 
Take Orion Beer Brewery, for example, which began operations in early 2016. This place is located in Okinawa, Japan. Beer enthusiasts on this tour would be taken into the facilities to oversee operations. It is a unique experience to add to your itinerary when in Japan.
7. Natto
Upcoming on our list is a traditional dish that causes quite the stir—Natto, a traditional Japanese food made of fermented soybeans. However, people feel divided about whether they like this food or not. Its smiley consistency is what is off-putting to people who try it. 
So if you are not very picky about textures, it's definitely worth the try when you visit Japan. Besides being a controversial dish, Natto is a superfood that is packed with nutritional value. It's up to you to decide if it's worth going for seconds.
8. Sake
Next, this Japanese specialty is among one of its most well-known drinks, Sake. There are many ways you can enjoy this alcoholic beverage, such as wording it at a restaurant. On the other hand, if you want to dive deeper into its historical prevalence, consider taking a tour at Matsui Sake Brewery. Location is among the top three Sake brewery districts in Japan. The brewery offers 22 different Sake made in Kyoto. 
Throughout the tour, you will distinguish the differences in how each one is uniquely curated. Once you enter the museum, you will also get a chance to learn about the historical significance Sake has imprinted into Japan's rich culture. During the tour, you will be able to go through a step-by-step process of how Sake is made and packaged. Anyone under 20 years of age will not be permitted to taste test the Sake.
9. Japanese Curry
Another specialty Japanese cuisine exclusive to Japan is Kare Raisu, better known as Japanese Curry. This dish was initially introduced to Japan in the mid 18th century and has become a staple dish. This dish varies from its original India take, as it is sweeter, with a heavier consistency. It is prepared as a stew paired with meat and vegetables. Throughout Japan, you will often find that people also enjoy Kare Raisu with a fried pork cutlet. Which is also a trendy street food that can be eaten on the go!
10. Mentaiko
Finally, the last contender on our list welcomes all seafood lovers; Mentaiko is ideal for anyone looking for a perfect blend of salty seafood. This delicacy combines marinated fish eggs (roe) of pollock and cod into a savory and salty seasoning solution. Often, you can order this dish with a nice spicy kick to it! .
The most basic and traditional rendition of this dish is marinated in a salty solution. Recently, 'karashi mentaiko', a spicy version of it covered in chili peppers, is becoming increasingly popular among locals. Mentaiko served as a side dish, but it is quite an honorable mention to add to our list!
…
Now that we have finished exploring specialty Japanese cuisine, we hope to have inspired you for your next trip to Japan. We want to let you know that Guide Me Away is here to fulfill all of your travel needs at a premium. We have an exceptional offer to tour from G Adventures, touring around Japan for our clients that you wouldn't want to miss! Visit some of Japan's hidden gems, city life, sacred locations, and most importantly, enjoy specialty Japanese cuisine. Click the button below to book with us today to find what tour best accommodates your travel preferences.