Guide Me Away is dedicated to making your travel dreams come true, with deals you can't find anywhere else! It has never been easier to find and reserve luxury accommodation around the world. With thousands of luxury bed and breakfast, hotel, resort, and villa listings, we offer you a vast selection of luxury accommodations to suit every requirement. Below are some of the most luxurious hotels in the world that you must visit with restaurants, live events, amenities, location maps, and much more. Click on the hotels down below to find out more details. This luxury collection allows you to travel like a royal. Let us know which resort is number one on your list of the most luxurious hotels around the world today!
Aman Venice Luxury Hotel- Italy
First off for a truly exceptional travel experience, Aman Venice is a luxury hotel in the heart of Venice. An ideal location from which to experience what Italy has to offer. Built into a 16th-century palazzo on the Grand Canal, the hotel offers the rare privilege of space in this renowned, historic city. With fabulous views over the Grand Canal to Saint Mark's Square, Aman Venice epitomizes striking contemporary elegance. A stay in one of the 83 guest rooms and suites marks discovering a new form of personal luxury. Furthermore, the hotel is within walking distance of St. Mark's Square, enjoys views of the Grand Canal, and offers spectacular sunsets over Venice's rooftops. In addition, you can also enjoy a fine selection of restaurants, bars, and boutiques only a step away, as well as live performances throughout the neighborhood
Mándala A Ritz-Carlton Reserve- Bali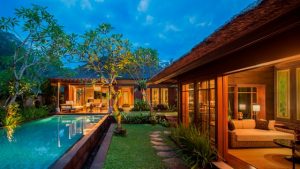 Secondly, open your door to a world of indulgent retreats inspired by the beautiful island of Bali. The Mandala at A Ritz-Carlton Reserve, Bali, is an exclusive private villa hotel replicating a traditional Balinese village. Above all, the open-air concept of the Mandala is modeled and completed with working rice paddies.
The surrounding architecture and craftsmanship of the area, each of the 60 luxury suites and villas, feature their own private outdoor space complete with a swimming pool. Some of the included amenities are spa programs, restaurants, and boutiques. The restaurants serve exceptional cuisine sourced from the organic garden and offer a varied menu. During your stay, you can also arrange a romantic dinner over the river or rice fields. A truly unforgettable experience!
Capella Luxury Hotel- Singapore
Third, this Singapore-based luxury hotel, Capella, has opened one of the cities most stunning hotels. It sits alongside the waterfront of the Chao Phraya, Bangkok's first-rate arterial river, the usage of the city's whole historical panorama in a manner that few others can. Most importantly, the rooms and suites function as huge balconies with enjoy a staycation at one of the most renowned luxury hotels today
whirlpool baths that experience like seats on the opera—with the river because of the stage. This luxurious hotel also includes seven lawn villas. Capella aims to create private surroundings, with sunlit open spaces, excellent tearooms and lounges, riverine parks, and grandiose reception areas. Even the outdoor pools become an immersive experience with the natural wildlife that inhabits the untouched areas.
Kensho Boutique Hotel & Suites- Mykonos
Next, we love this luxurious hotel for its covetable spot on a hill overlooking lovely Ornos beach. The refined interiors are equally stylish in a blend of bohemian and Cycladic chic, with wood-paneled walls filled with art, lit by stunning chandeliers. Furthermore, this luxurious hotel is sleek, with huge windows that offer views over the deep-blue sea. Above all, the infinity rooftop pool gives visitors a stunning overview of their stay. It features an on-site restaurant and bars with panoramic sea views, classic Kopanisti dishes with modern twists, an outdoor pool with jacuzzi, gymnasium, watermelon garden, and private beachfront residence with sunbeds, parasols, and deckchairs in the summer season. In addition, dining in this luxurious hotel is even extra of a stunner with its rose-gold cutlery and plate-glass tables. However, its chef George Stylianoudakis's takes on modern and ingenious cuisine offers a wagyu beef stifado or pink mullet with artichoke and dill that truly shines.
Grand Residences Riviera Cancun- Mexico
Moreover, the Grand Residences Riviera Cancun, a Registry Collection Hotel: Is located on a picture-perfect seashore south of the fishing village of Puerto Morelos. Also, relatively close to the gateway along the Riviera Maya and a quick 20 mins from Cancun International Airport. The hacienda-fashion structure can pay tribute to the Mexican way of life, and the friendly and cozy hospitality of the hosts offers the lodge its welcoming personality. Grand Residences Riviera Cancun, a Registry Collection Hotel, gives brilliant services and world-magnificence carrier to meet the goals of the maximum discerning travelers. From their connoisseur restaurants, spa, and fitness center to an oceanfront infinity pool, excellence is in each element to make sure that the lodge is a unique location to revel in a vacation withinside the Caribbean, a sanctuary from the pressure of each day life.
Hotel Le St James- Canada
Now, let us dive into a historical take; Hotel Le St James is renowned for its heat expert service, glossy interiors, and avant-garde style. Remarkably, this grand lodge has become the hospitality benchmark in Canada. This historic superbly restored former Merchants' Bank building, relationship from 1870, is preferably located in colorful Old Montréal with clean entry to buying areas, eating places, and the economic center. Montreal is one of Canada's oldest cities and the best places to experience French culture. This luxury hotel provides guests with comfortable, practical rooms that offer innovative entertainment solutions. The hotel has plenty of special perks and features customized for all generations and interests, from fireplaces to updated technology. Located near downtown and hiking paths, it also provides excellent access to major roadways and inter-city conduits so that you can explore more of Montreal on your trip. Take a look inside — we think you'll like what you find!
Palace Hotel- Tokyo
Now, lets take a look at an incomparable angle at the town and singular of the Imperial Palace gardens, this luxurious Palace Hotel in Tokyo is a haven of hospitality – serene and refined, imbued with understated luxury throughout. Furthermore, this elegant hotel has 278 rooms and 12 suites, located just steps away from the Imperial Palace gardens, shopping, nightlife, and entertainment. The Tokyo Station Hotel welcomes guests into a warm and calm environment that conveys a sense of peace. The luxurious and contemporary hotel takes inspiration from the Imperial Palace gardens just outside, giving it a feeling of spaciousness. Wake up to the sunlight filtering through the towering golden pines of Tokyo's Imperial Palace gardens. Escape the daily bustle of the city for a soft-lit sanctuary with subtle hues, curving lines, and ample amenities that help you unwind. Guests can enjoy authentic Japanese culinary experiences in Wadakura restaurant, Tatsumi tempura restaurant, and Kanesaka sushi restaurant. Crown offers exquisite French cuisine and city views, while Grand Kitchen serves international dishes throughout the day.
Hotel du Cap-Eden- Roc |Luxury Hotel- France
A getaway of magic and tranquillity awaits you on Cap d'Antibes with excellent dining, invigorating sports on land and sea, inspiring vistas, a perfect secluded escape! Enjoy all that beautiful Cap d'Antibes has to offer on land or sea, with a smiling team eager to make your stay unforgettable. The luxurious Cap d'Antibes hotel is perched on France's fabled Riviera's tip overlooking the Mediterranean Sea. Within sight of the glamorous, glittering villas, a stay in this finely appointed sanctuary of calm is the perfect prelude for new beginnings. Escape for your dream getaway at the five-star Hotel Byblos on Cap d'Antibe. This luxury hotel offers secluded views and the ultimate relaxation experience from two infinity pools to a private beach. Doted with gastronomic delights, this exquisite hotel is just steps from the famous pink sand beaches of the French Riviera. Step into a secret world of sumptuous culinary and style—a collection of peaceful hideaways on Cap d'Antibes, the ultimate destination for pleasure and indulgence.
Luxury Hotel Bel-Air- California
Lastly, let me introduce The Bel-Air luxury hotel. This tranquil sanctuary is the first luxury hotel in Bel-Air canyon and has remained untouched by the clamor of life beyond the gates for over 70 years. This hidden oasis benefits from breathtaking views across Los Angeles to the Pacific Ocean and provides serenity found nowhere else in the city. The Bel-Air Hotel offers tranquility and comfort in the hills of Los Angeles. An intimate hideaway with just 31 rooms, each impeccably styled in classic Bauhaus style. Marvel at modern features in a traditional setting, enjoying panoramic views from the rooftop courtyard and surrounding cottages. Swimming in our pool or created splashes in the mini-gym with our staff on notice to bring you any amenity you desire. The Bel-Air offers sophisticated luxury that is greater than anything you could ever imagine.
…
Whether it's a romantic sun-soaked luxury hotel or a cozy hideaway for two, I'm sure you have enjoyed reading our list of the most luxurious hotels in the world. Please choose from our collection of the most luxurious hotels in Europe, North America & South America, and Asia to find that perfect getaway. Guide Me Away maintains a list of the best luxury hotel rooms in top destinations around the world. These hotels represent the pinnacle of luxury hotel rooms – from different budgets to different countries. We believe every vacation should be as unique as you are and as comfortable as home. Let us know let us know which luxury hotel is your favorite. Click on our link below to book your next vacation with some of our best rates!
Checkout Our Other Blog Posts
10 Best Eco Luxury Resorts Around The World | Guide Me Away
Best Gluten-free Luxury Cruises | Guide Me Away
Best All-Inclusive Resorts for Foodies | Guide Me Away