For most newlyweds, the honeymoon is a much anticipated after-wedding ritual. While you might have taken trips in the past or will take some down the road in the future, the honeymoon is still considered a trip of a lifetime. Here are 10 honeymoon hot spots for your romantic getaway.
Honeymoon Option 1: El Dorado Palafitos, Maroma Beach, Mexico
Instagram user @haleydoutrich enjoys her stay at El Dorado Palafitos.
El Dorado Palafitos is located on Maroma Beach in Mexico. This is a game-changer for Mexico because it's the first overwater bungalow in Mexico, so you won't find them anywhere else in Mexico. This is the perfect honeymoon spot because the resort has a romantic feel and is an adult-only resort. 
You can enjoy showering in the buff outdoors with your outdoor shower. Need room service at 3 am? No worries, you'll have access to the 24-hour butler service. You'll have access to your infinity plunge pools which are private. If you decide you want to stay in, you can watch the fish swim below your bungalow through glass panels on the floor.
The design is another aspect that makes El Dorado so unique. You should find Aztec-styled furniture made of Zapote wood. You'll even find white granite throughout your bungalow.
El Dorado has been named one of the Top 10 Beaches in the World and includes thirty private bungalows. While enjoying your romantic getaway, you and your partner can spice things up with a private indoor hot tub that is meant for two. It makes for the perfect, romantic getaway ever!
Honeymoon Option 2: Sandals Royal Caribbean, Montego Bay, Jamaica
Sandals have luxurious resorts you can choose from: two are in Jamaica while the third is in St. Lucia. We will focus on Sandals Royal Caribbean in Jamaica. This honeymoon hot spot has five over-the-water bungalows located over Montego Bay. You'll find that you'll have a floating deck with a hammock just for you, and it's even over water! Maybe you want to spice things up with your new partner? Enjoy a soak with them in the soaking tub that is meant for two! You'll have infinity pools to enjoy the gorgeous views. 
If you need to leave your bungalow and make it back to dry land, you'll have your private water taxi. You'll be able to come and go as you please, without having the stress of worrying about the time that the taxi leaves. You'll get to enjoy watching sealife swim at your feet through glass panels located on the floor. Another fun fact, the water is lit at night, so you will be able to watch at night, and maybe even enjoy fun activities at night, too. Finally, you'll receive 24-hour butler service. These butlers have been trained by an elite company called the Guild of Professional Butlers.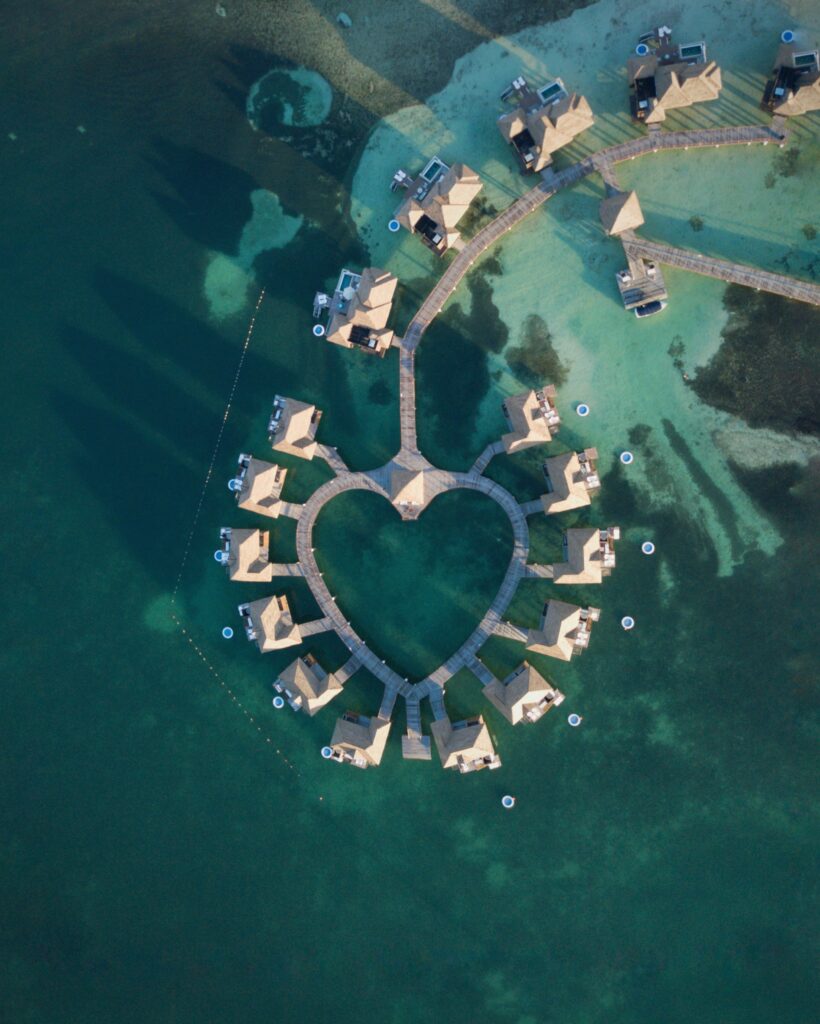 Honeymoon Option 3: Komandoo, Maldives
If you don't know, Maldives is a beautiful island you'll want to visit. The first honeymoon hot spot to talk about in the Maldives is Komandoo. This resort is located on the island and is for adults only. This means you and your newlywed can have fun, relax, and enjoy a kid-free environment. However, the villas don't provide privacy entirely. If you do want privacy, you'll want to stay in 'Jacuzzi Water Villas.' These villas include a private jacuzzi with water views. Your option could be an 'Ocean Jacuzzi Water Villa.' This option allows you a jacuzzi with views of the ocean.
During your romantic getaway, you can expect to find minibars, free WiFi, a sun lounger, an espresso machine, views of the sunrise, and a Bluetooth soundbar to stream you and your partner's favorite music, maybe even play the song you both shared your first dance as one?
Honeymoon Option 4: Constance Le Prince, Maurice, Mauritius
Constance Le Prince is a honeymoon hot spot located off the coast of Madagascar in Mauritius and is kid-friendly. You can choose from eight suites, but you'll most definitely want to stay in the over-the-water villas, and they only have THREE of them. You'll wish to book well in advance since you'll be limited to three. The suites are lovely; however, the villas include better options and are larger. Unfortunately, if you want to swim, you won't be able to go outside your door. The villas are located above a fish sanctuary, where you can find the fish swimming below your feet. Several spa facilities are located onsite. You and your partner can take a crack at either of the resort's two 18-hole golf courses. During your romantic getaway, you can expect exceptional customer service with the resort's 24-hour butler service.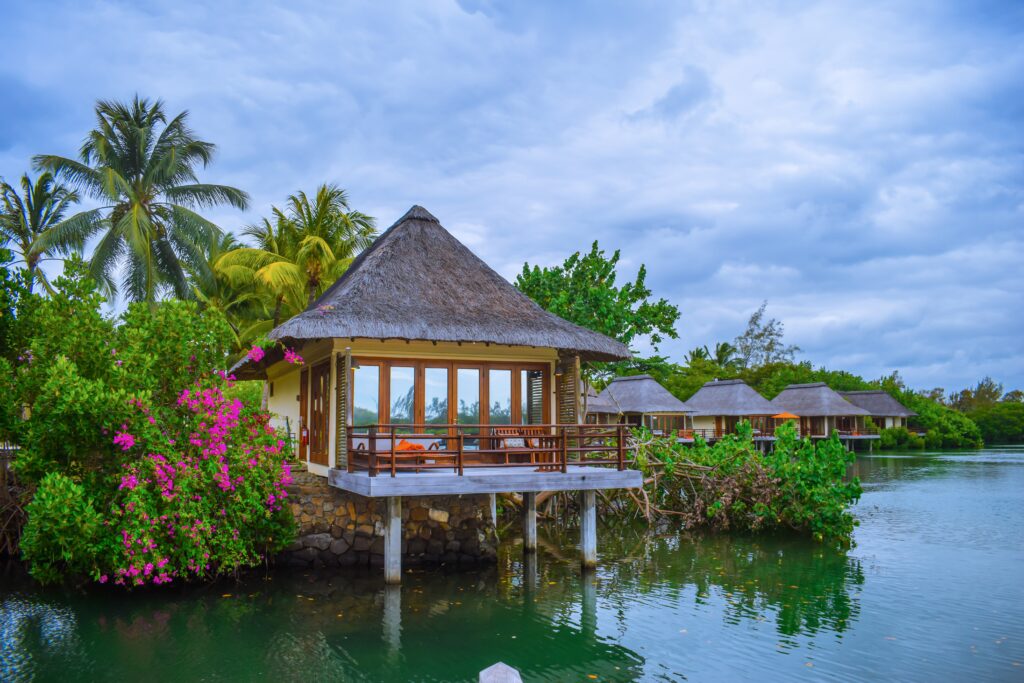 Honeymoon Option 5: Sun Siyam Uru Feshi, Maldives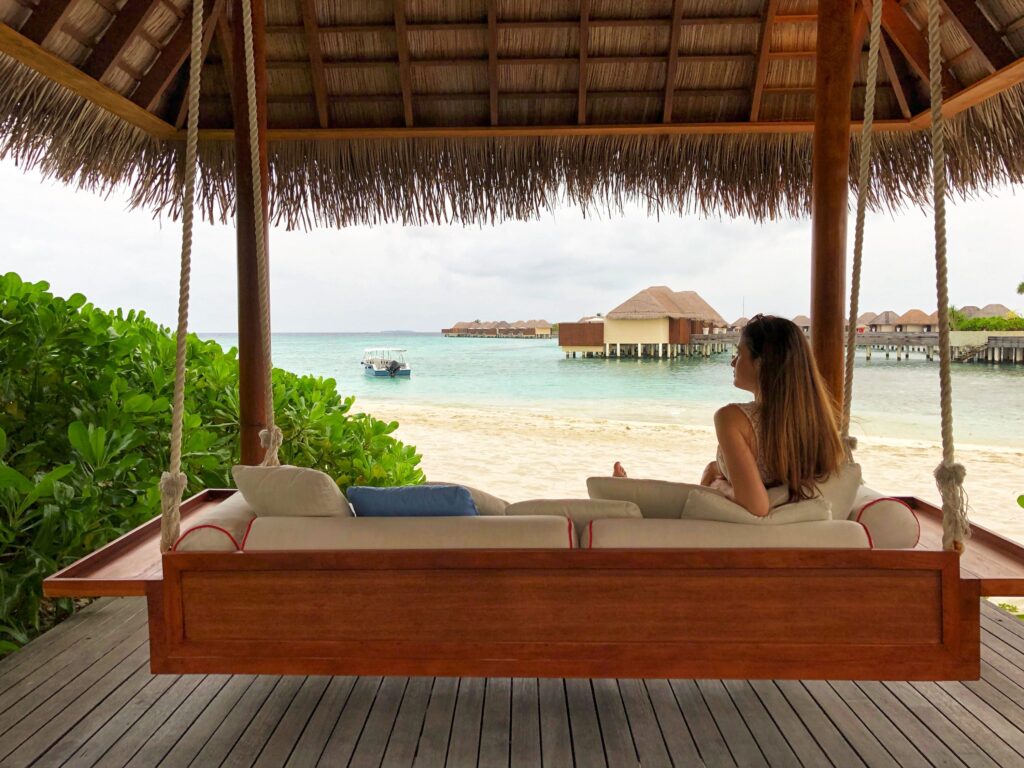 The Maldives has another over-the-water villa for you to choose from. This 52-acre private island is family-friendly, meaning kids will be around, and the resort is known for its spacious environment inside and outside of your villa. You'll observe glass floor panels to watch the sea life below your feet. You'll also have a personal butler and options to scuba dive, jet ski, snorkel, kayak, windsurf, kitesurf, and even go big game fishing. You and your special someone can have a romantic breakfast during your honeymoon every day with a floating breakfast. The floating breakfast includes breakfast options of your choice, delivered to your villa, but at your private pool. You can enjoy a relaxing swim or watch the sunrise and eat your breakfast at the same time.
We should also mention this honeymoon hot spot also has dryland where you will find a fitness center, mini-golf course, tennis court, and Thalgo spa facilities. Lastly, you'll have access to the resort's free WiFi throughout the entire resort.
Honeymoon Option 6: Royalton's Five Islands Village, Antigua
Located in Antigua, these over-the-water bungalows are the first and only of their kind in Antigua. You'll have access to your own private infinity plunge pool, jacuzzi, and glass floor viewing panels. Also, during your honeymoon, you'll have 24-hour room service and personal butlers catering to your needs. Your room will also have aromatherapy, satellite tv, and minibars that are restocked EVERY DAY, TWICE a day. One thing that will make your stay even more remarkable is the pillow menu. You get to choose the pillow that you would prefer while you sleep. These bungalows are adults-only, so no kids will bother you while you live your life in luxury. You'll also receive complimentary in-room private dinners and drinks. Also included is a luxurious spa with hydrotherapy circuits.
Honeymoon Option 7: Ozen Maadhoo, Maldives
Another Maldives honeymoon spot is the Ozen Maadhoo. Your ideal honeymoon should be longer than four nights. This resort also offers all-inclusive perks ONLY if it's four nights or longer. Therefore, we will only talk about all-inclusive stays.
There are complimentary spa treatments and scuba diving for guests. You'll also have direct access to the water outside your villa, front door. Maybe you don't want to swim with the fish? You can observe in your living room by looking through the glass panels located on the floor. Your bathroom will be met with an ellipse-shaped spa tub and will allow you to open a door so you'll be able to view the outside from the comfort of your tub. Another perk of this honeymoon hot spot that you'll receive is the 24-hour service provided by your personal butler. One more thing that we need to mention: M6m. M6m is a restaurant that is complimentary with a four-night stay, and it's unique. It's unique in the fact that you'll be dining with the fishes, literally. This restaurant is located underwater, and the best time to get these astounding views is during the day when it is light outside.
Honeymoon Option 8: Stella Island Resort, Analipsi, Greece
Moving to Analipsi, Greece, you'll be able to find the Stella Island Resort. This is exclusively an adults-only resort and is located on the Northern Coast of Crete. Spa facilities are offered for you and your significant other to relax and get the most out of your romantic getaway. Food is a big hit at this resort. Stella Island Resort is known to have the BEST food on the island. Sports are a popular commodity at the resort. You can have a competitive match of tennis with your other half or participate in various water sports. There are two types of over-the-water bungalow options you'll have to decide on. First is a bungalow with a shared pool. Your bungalow will be private, cozy, and romantic. You can find your way from your bungalow to a terrace to a shared lagoon pool.
Your second option is a bungalow with an outdoor jacuzzi which includes better perks. You'll have direct access to the water from your front deck. And your front deck will have furniture for you to sit out and take in the breeze. You will even have an overwater hammock to take an afternoon nap on. Finally, you will have a jacuzzi where you can encompass yourself in massaging jets and live your life blissfully with your better half.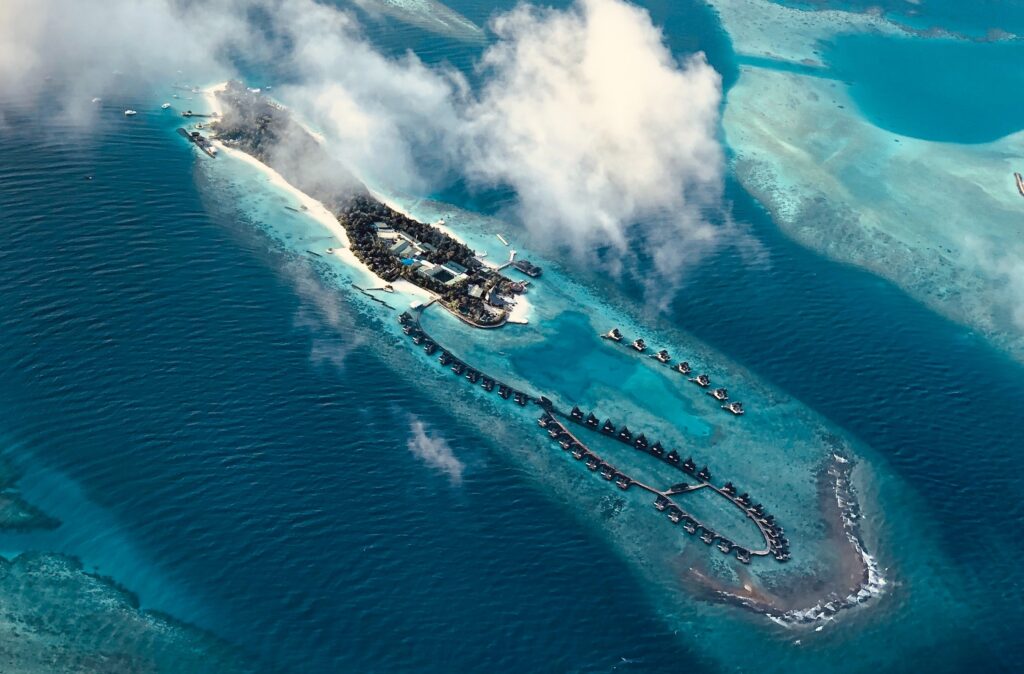 Honeymoon Option 9: Veligandu Island Resort & Spa, Maldives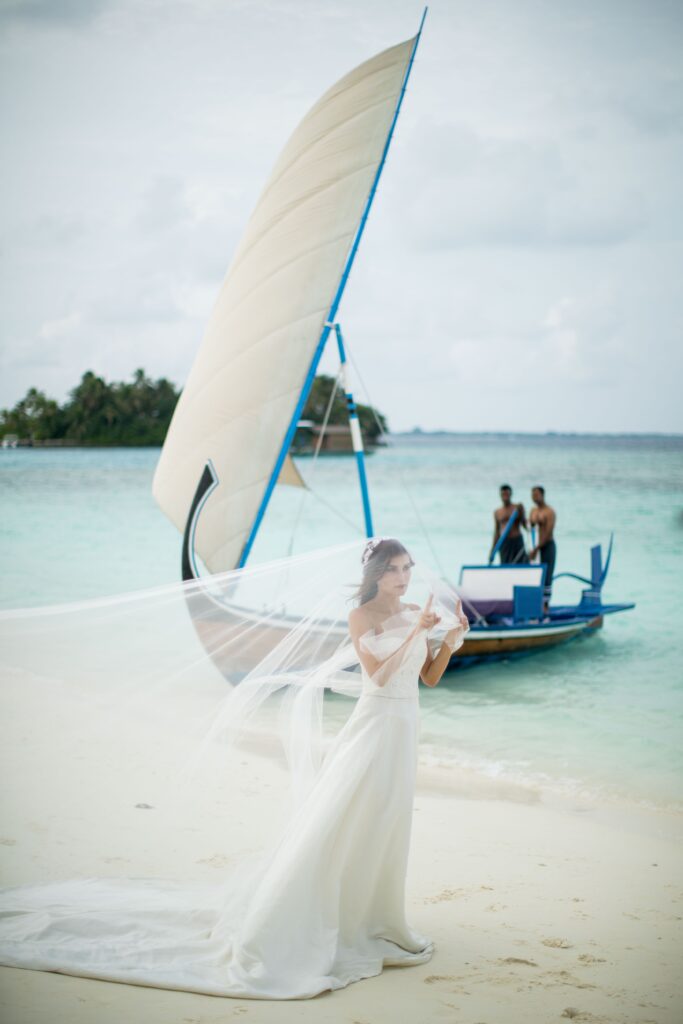 This resort is also located in the Maldives. Your villas will come equipped with satellite television, a Nespresso coffee machine, a minibar, and either a terrace jacuzzi or spa bathtub. You can enjoy your shower outdoors by using their outdoor rain shower showers. For added peace, while you and your honey enjoy relaxation, no children will be in the over-the-water villas, but there will be children on the resort's dry land. There are several dining options, including one formal dining option. If you're looking to stay in and enjoy your dinner, private dining is available.
Honeymoon Option 10: Lily Beach Resort, Maldives
Spend your romantic getaway at the Lily Beach Resort in the Maldives! There are two over-the-water villas for you to choose from! The first villa is the Deluxe Water Villas. These villas measure in at 1356 square feet, with a private outdoor deck and jacuzzi plunge pool.
Secondly, there is Sunset Water Villas, where you will get gorgeous views of the sunset. These villas measure 1960 square feet, so more extensive than the Deluxe Villas, and they also come with a private deck and pool to match the added space.
During your stay, you will have access to 24-hour service with a personal butler. Each villa is equipped with glass floor panels, a home theatre system, rainfall showers, and spa tubs. You'll also have access to water sports activities, excursions, and premium food and drink offerings when you book an all-inclusive stay. It is highly recommended to book in advance because this is a popular hot spot and reservations happen fast!
Related Articles: Read all about it!
Top Clothes-Optional Resorts in the Caribbean