Group tours are a rewarding experience that helps us to learn about various cultures, expand our minds, and make lifelong memories. If you are considering solo travel, joining a group tour can provide many benefits that will enhance your travel experience. 
Let's look at the multiple advantages of traveling with a group tour, including how expert guidance, convenience, safety, exclusive experiences, social interactions, and cost savings all add to a memorable trip.
One of the most notable benefits of group tours is having expert guides with in-depth knowledge about your destinations. These guides are eager to share their expertise and are very knowledgeable about local history, culture, and attractions. Furthermore, they provide key insights and captivating stories, turning each visit into a rich educational experience. As they share their insight, you can gain a deeper understanding of the destinations you visit, allowing you to make the most of your trip.
Additionally, these guides often take you off the beaten path to hidden gems that you likely would have missed exploring on your own. They can suggest authentic local restaurants, and lesser-known attractions, as well as provide insider tips that enrich your overall journey.
Planning a trip can be overwhelming. It involves research, itinerary creation, accommodation booking, and transportation arrangements. Group tours remove this burden by offering comprehensive packages that include all the essentials. From arranging accommodations and transportation to organizing activities and sightseeing, everything is taken care of, allowing you to relax and enjoy your trip free of stress surrounding planning.  
When you book a group tour, you don't have to worry about navigating public transportation systems, deciphering foreign languages, or handling unanticipated challenges. The tour operator handles all the logistics, ensuring a smooth and unproblematic experience. This amenity allows you to truly enjoy the destination and make the most of your time there.
Safety is of utmost importance, especially when visiting destinations you are unfamiliar with. Group tours provide additional protection, particularly in regions where language barriers or cultural differences may pose challenges. Venturing out in a group offers a sense of security as you explore new surroundings with others, reducing potential risks associated with solo travel.
Tour operators carefully select trusted accommodations and transportation services, assuring your safety throughout the journey. They have a local network and are knowledgeable of the safest routes and neighborhoods, minimizing the chances of facing any incidents. Additionally, in case of any unanticipated circumstances, such as natural disasters or medical emergencies, you can count on the support and guidance of the tour operator and fellow travelers.
4. Access to Exclusive Experiences
Sometimes, access to certain attractions is challenging when you coordinate your travel on your own. The connections made by group tour operators allow for admission to these attractions as well as additional exclusive experiences you likely would not have access to otherwise. Whether it's gaining entry to popular landmarks without waiting in long lines, visiting restricted sites, or engaging in special cultural activities, group tours provide opportunities for an upgraded experience.
For instance, there's potential to attend local festivals, take cooking classes, or interact with local communities. These unique perks can enhance your travel experience and create lasting memories that are only attainable through the tour. Group tours open doors to carefully curated opportunities that offer an immersive and authentic experience.
Going on excursions with like-minded people who share your passion for travel fosters a sense of camaraderie and provides opportunities for new friendships, especially when embarking on solo travel. Group tours gather people from various backgrounds and cultures, allowing connections with fellow travelers. Sharing experiences, swapping stories, and creating memories together can make your trip even more enjoyable and fulfilling. 
Group dynamics often lead to lively discussions, as you exchange perspectives and learn from each other. These interactions broaden your view of the world while offering insights into different cultures and lifestyles. It's not uncommon for lifelong friendships to form during group tours, leading to future travel companions and shared memories.
Contrary to popular belief, group tours can be cost-effective and offer amazing value. Tour operators often negotiate discounted rates for accommodations, transportation, and attractions due to the larger group size, resulting in savings for you! Furthermore, group tours provide transparent and all-inclusive pricing, so you can budget and plan your expenses more effectively.
Additionally, when you book a group tour, you no longer need to make multiple bookings, reducing the chances of oversights or hidden costs. Moreover, this provides you with a clear understanding of what is included in the tour package and avoids any unexpected expenses along the way. The tour operator's expertise in negotiating deals ensures that you receive the best value for your money, with access to high-quality services and experiences that might otherwise be costly or inaccessible. 
Book A Group Tour
While solo travel has its benefits, joining a group tour can be an incredible way to expand your travel experience. From expert guides and stress-free planning to safety, exclusive experiences, social interactions, and cost savings, the benefits of group tours are plentiful. So, the next time you embark on a new adventure, consider joining a group tour to make the most of your journey, create lasting connections, and immerse yourself in the wonders of the world.
At Guide Me Away, our travel experts have the experience to find the perfect tour for you. Reach out today to start planning your dream journey.
Let Our Experts Plan
Your Group Tour!
Get Top Tours Sent Right To Your Inbox.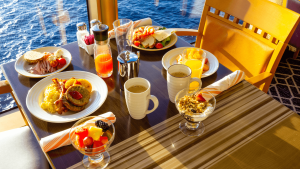 From delectable Michelin-starred cuisine to immersive cooking classes and unique dining experiences, these cruises are meticulously designed to exceed the expectations of foodies everywhere. 
Read More »
Paris is known for its rich culinary culture and its love for good food. From traditional French cuisine to modern gastronomic creations, the city has
Read More »
Several nations have a reputation for great food, and France is definitely among the best in that list. Their cuisine is rich, varied, and it has
Read More »