Safest Countries For LGBTQ+ Travelers In 2023
Now that holiday travels are coming up, it's challenging to decide what suitable and safe destinations for LGBTQ+ travelers. Today we will be exploring a list of the safest countries for LGBTQ+ travelers to fulfill your upcoming travel needs. From European countries, North American travel, and much more! Guide Me Away is sure you will find something that catches your eye. Our friendly travel experts are here to book your next vacation by offering the best deals you won't get anywhere else. Stay tuned for our list of the safest countries for LGBTQ+ travelers, and let us know which one is your favorite.
Let's Get Started!
1. Canada
We could not compline a list of LGBTQ and one of the best gay friendly travel destinations. Travelers without including Canada. This North American country is highly rated for its progressive ideals. Therefore they are very open and inclusive of all travelers alike. Specifically, Vancouver, Canada, is a powerhouse for LGBTQ+ travelers. The city has a wide range of activities with its perfect balance of nature and city life. From Vancouver to Ontario, there are many sights, city endeavors, and outdoor exploration to engage in. For more ideas on how to fill up your itinerary in Canada, check out Keep Exploring Canada.
Among the most iconic LGBTQ+ friendly places to visit in Toronto. In particular, there is a gay bar there called Black Eagle Toronto. This place has outdoor seating and employs a rather laid-back bar experience.
Another location you can unwind at is Complexe Sky, which is located in Montreal, Canada. this gay bar features a nightclub and a rooftop terrace. they also hold events like drag shows and special dance nights.
Most importantly, there is a fair share of attractions and entertainment for fully vaccinated travelers to explore. Furthermore, there are natural wonders to explore, cultural enrichment tours, and unforgettable cuisine in Canada.
2. Spain
Venture into one of Europe's top travel destinations for LGBTQ+ travelers. Spain is widely known to have a reputable size of the population that is part of the LGBTQ+ community. This country in southern Europe is undoubtedly one of the most culturally rich countries to visit. To obtain a good overview of LGBTQ+ friendly establishments throughout Spain, checkout Visit LGBTQ for more information.
Firstly, Madrid is ideal to explore the countries history, nightlife, and tourism. In particular, their annual pride parade is among the largest in Europe. Bringing in over 1 million travelers and locals each year.
Secondly, Sitges, Spain, is the perfect destination to get lost in the city and rediscover its historical significance. Depending on what time of the year you plan to travel there, you might find yourself taking part in the enormous annual Pride Parade. In addition, the city holds many pride events throughout the year to enjoy. Such as many beach parties that welcome all travelers! Also this beautiful city is located just 1 hour outside of Barcelona, which is also LQBTQ+ save and recommended.
Alongside Madrid, Barcelona is a city full of tourism, sports, and culture and one of the safest countries for LGBTQ+ travel. Moreover, this is where you'll find the many LGBTQ+ friendly bars, clubs, shops, and restaurants. If you look for a more robust party scene full of beautiful beaches and clubs, then Ibiza is the way to go!
3. Sweden
Sweden is such an attractive country to travel to for its rich landscapes and unforgettable food scene. Whether you are looking to stay in the beautiful countryside or venture into the winter wonderland of the north. We are more than sure you will not want to pass up a vacation in Sweden! If you are looking for what places to visit in Sweden click here for more. Sweden is among the most LGBTQ+ friendly places to visit.
Now that the holidays are coming up, Kiruna is one of the best vacation spots for winter. The countries most northern city has fun activities to enjoy in the snow.
Sweden holds more pride festivals per capita than any other country. Particularly in Stockholm, which attracts over 500,000 spectators, which is double the capital city's population.
If you are interested in visiting one of Sweden's gay bars and nightlife, SideTrack is a highly rated gay bar and restaurant. Located in Stockholm, this bar has drag queen nights, live music, and an excellent menu you can not miss out on!
4. Tel Aviv, Israel
Next on our list brings one of the most progressive cities in the Middle East. Although the Middle East is a strictly religious region, Israel is a significant exception. Specifically, Tel Aviv, Israel promotes LGBTQ+ friendly tourism. Tel Aviv is mainly known for its beautiful beaches, nightlife, and the LGBTQ+ community. This city is very open-minded even though it's in the surrounding region.
Since the city is one of the safest LGBTQ+ destinations to visit in the Middle East, one of the most exciting pride weeks takes place in Tel Aviv. In addition, there are many tours you can take to make the most out of the best sights in Tel Aviv. If you want to find out more about these tours, check out Tourist Israel.
Some of the gay bars you can find in Tel Aviv include DRECK at Jimmy Who, a bar for gay/mixed crowds. The entrance is free and features electronic music. This party place is a hotspot for concerts and a vibrant, youthful bar for locals/tourists alike.
5. Taipei, Taiwan
Now, what if you want to take a trip to Asia? Look no further than off the southeastern coast of mainland China. Taiwan is one of the most liberal counties in Asia. Most notably, it became the first country to legalize gay marriage. Although some parts of the island still have conservative ideals. LGBTQ+ travelers can still feel welcome to visit Taipei, Taiwan's largest city. Taipei is Taiwan's economic, political, and cultural center. Taipei invites travelers into a blend of modern and traditional vacationing.
In addition, there are plenty of gay bars within Taipei. Some of which include The Secret Garden and Hunt Taipei. Both of these places feature theme nights, live music, and good cocktails! If you want to dress the part, make sure you check out their Facebook pages before heading out. Elsewhere in Taipei, there are lots of smaller gay bars and clubs to enjoy. Our best advice is to head on over there and see what takes your fancy!
6. Montevideo, Uruguay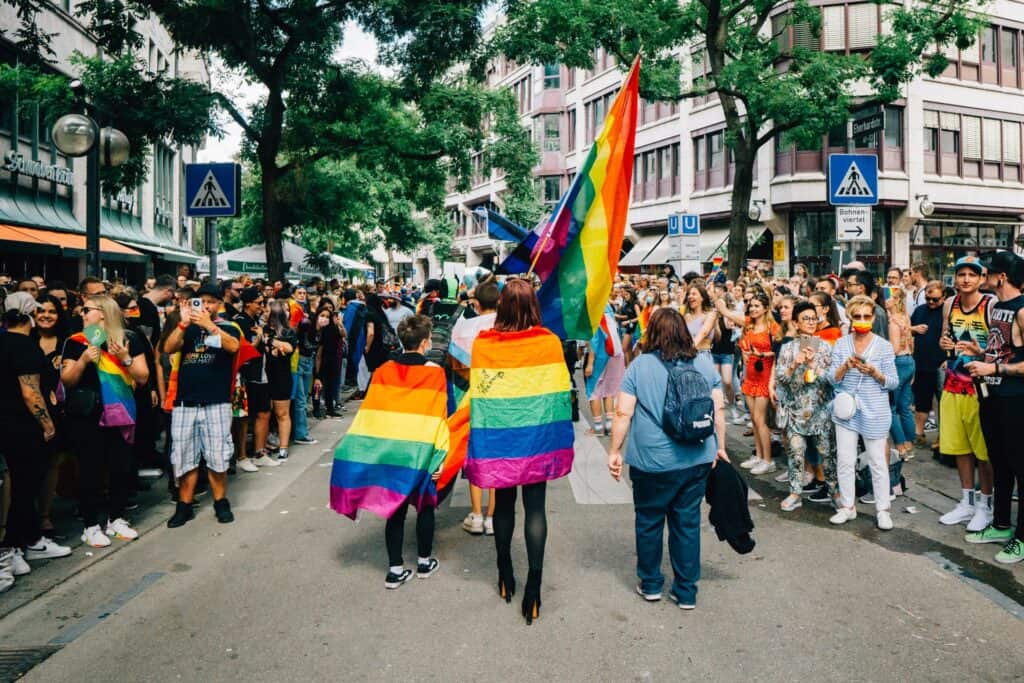 Next, we will look in between Brazil and Argentina. Uruguay stands as the smallest and most progressive country in South America. Which makes it a go-to travel destination for LGBTQ+ travelers. More specifically, Montevideo is a vibrant city with a rich cultural life. Between its Atlantic Ocean beaches and lively exploration to venture into the town. We are sure that you'll find something that catches your attention. Other notable cities to visit in the country include Site Colonia del Sacramento, Salto, and Paysandu. Uruguay offers a refreshing change of pace to all of its visitors. Local stomping-grounds of Montevideo and Punta del Este have a more relaxed or vibe. Also, there's no shortage of spots where you can truly escape the daily grind. Other activities to do in Uruguay include visiting wineries, horseback riding, or staying at authentic "gaucho" ranches.
One of the perfect stays in Uruguay has to be at Hotel Sofitel Montevideo Casino Carrasco and Spa. It is located in the Carrasco neighborhood as it overlooks the beach. Suppose you are looking for a mix of luxury and leisure that features bars and poolside relaxation. This first-class comfort is something you wouldn't want to miss!
7. San Diego, California
Next, this feature on our list highlights California as an LGBTQ+ friendly place to visit. Specifically San Diego, which has a large LGBTQ+ community. With an array of fun activities and attractions within the city, we are sure you will find ways to fill up your days. Certain parts of the United States are highly rated for being among the safest countries for LGBTQ+ travelers. Furthermore, San Diego embraces all visitors and encourages tourists to visit Downtown and explore the pubs, clubs, bars, and energy.
For instance, The Loft is one of San Diego's highly rated gay bars. In addition, they hold theme nights, monthly events, and great drink specials throughout the week. This bar has ample indoor seating and even features an outside space to mingle.
Second, Number 1 Fifth Ave is another gay bar which is located in Hillcrest. if you are looking for a more lively scene that has karaoke nights, Sunday funday specials, Latin Music Nights and hefty drinks!
8. Australia
Travelers usually visit Australia to enjoy the most famous city and its multicultural ambiance. What could be better than surfing on some of Australia's best beaches or admiring the iconic Opera House and Harbor Bridge? In Sydney and Australia in general, discrimination based on sexual orientation, gender identity, or expression is strictly prohibited. Thus making it highly unlikely that LGBTQ+ travelers will have any issues during their travels here. Over the past decades, Sydney has emerged as the de facto gay travel capital of the Southern Hemisphere. The city offers fantastic hospitality at bars and restaurants, unspoiled wilderness at nearby national parks, and some of Australia's oldest buildings. It's considered the last but one of the greatest places to visit if you're a lesbian
If you want to experience an extravagant night out in Australia, we recommend Sircuit Bar. This gay bar is located in Melbourne. Sircuit features pool tables, a dance area, plus a men-only floor with a movie lounge and private rooms. Check out their website for theme nights and more special events!
…
Now that we have finished exploring specialty Japanese cuisine, we hope to have inspired you for your next trip to Japan. We want to let you know that Guide Me Away is here to fulfill all of your travel needs at a premium. We have an exceptional offer to tour from G Adventures, touring around Japan for our clients that you wouldn't want to miss! Visit some of Japan's hidden gems, city life, sacred locations, and most importantly, enjoy specialty Japanese cuisine. Click the button below to book with us today to find what tour best accommodates your travel preferences.