Pride parades are vibrant expressions of love, inclusivity, and unity. While every pride parade is a unique experience, some cities stand out, not just for their scale, but for their exceptional ability to create an atmosphere of sheer celebration. So, let's explore the best pride parades worldwide – from the iconic streets of San Francisco to the lively canals of Amsterdam.
San Francisco, USA Pride Parade
San Francisco holds a special place in the heart of the LGBTQ+ community as the birthplace of the modern Pride movement. The annual San Francisco Pride Parade is a dazzling fusion of history and celebration.
As the famous Dykes on Bikes lead the parade, the streets ignite with an empowering spirit. Further along, the city transforms into a web of rainbow flags and energetic dance troupes.
Also, there are community organizations passionately advocating for LGBTQ+ rights. Beyond the parade, the Castro District emerges as a hub of events, including the Trans March, Pink Triangle Installation, and The Dyke March.
When: June
Madrid, Spain Pride Parade
Here, the LGBTQ+ community is embraced with a vibrant and lively celebration known as Orgullo. Moreover, the Madrid Pride Parade is a fusion of Spanish zest and global solidarity. The streets come alive with vibrant costumes, exciting performances, and an unwavering spirit of acceptance. Beyond the parade route, the Chueca neighborhood transforms into a buzzing hub of parties, concerts, and art exhibitions. This jubilant fiesta of freedom then spans into an entire week.
When: June – The weekend immediately after International Day of LGBTQ+ Pride
Vancouver, Canada Pride Parade
Nestled amid breathtaking natural beauty, Vancouver's Pride Parade captures the essence of the Pacific Northwest's open-minded spirit. Also, Vancouver's celebration is a family-friendly affair, focusing on unity, love, and acceptance.
Coinciding with the parade, The Sunset Beach Festival also takes place on Sunday. Conveniently, Sunset Beach is the end of the parade route. The festival includes a plethora of vendors, entertainment, family activities and beer gardens. Moreover, the city's commitment to inclusivity is evident through thoughtfully curated events.
When: August
São Paulo, Brazil Pride Parade
Boasting millions of attendees, one of the world's largest Pride Parades takes center stage. Here, there are lively samba dancers, musical performances, and intricately designed floats parading through the city's streets.
The festivities kick off three weeks earlier. Furthermore, featuring a wide array of activities such as discussions, theatrical performances, musical concerts, dance shows, cultural exhibitions, markets, and more.
São Paulo's Pride Parade is more than just a celebration; it's a powerful statement of resilience and courage in a country that continues to navigate the complexities of LGBTQ+ rights.
When: June
New York City, USA Pride Parade
The New York City Pride March is a beacon of progress and inclusivity. Furthermore, its roots trace back to the historic Stonewall Riots of 1969. This iconic parade winds its way through the bustling streets, passing monumental landmarks such as Greenwich Village and Times Square.
The sheer scale of the event is awe-inspiring. Here, eye-catching floats and exuberant marching bands create an explosion of color and sound.
Beyond the parade itself, NYC Pride offers a diverse array of events – from thought-provoking panel discussions to electrifying performances – making it a celebration that speaks to the very heart of diversity. 
When: June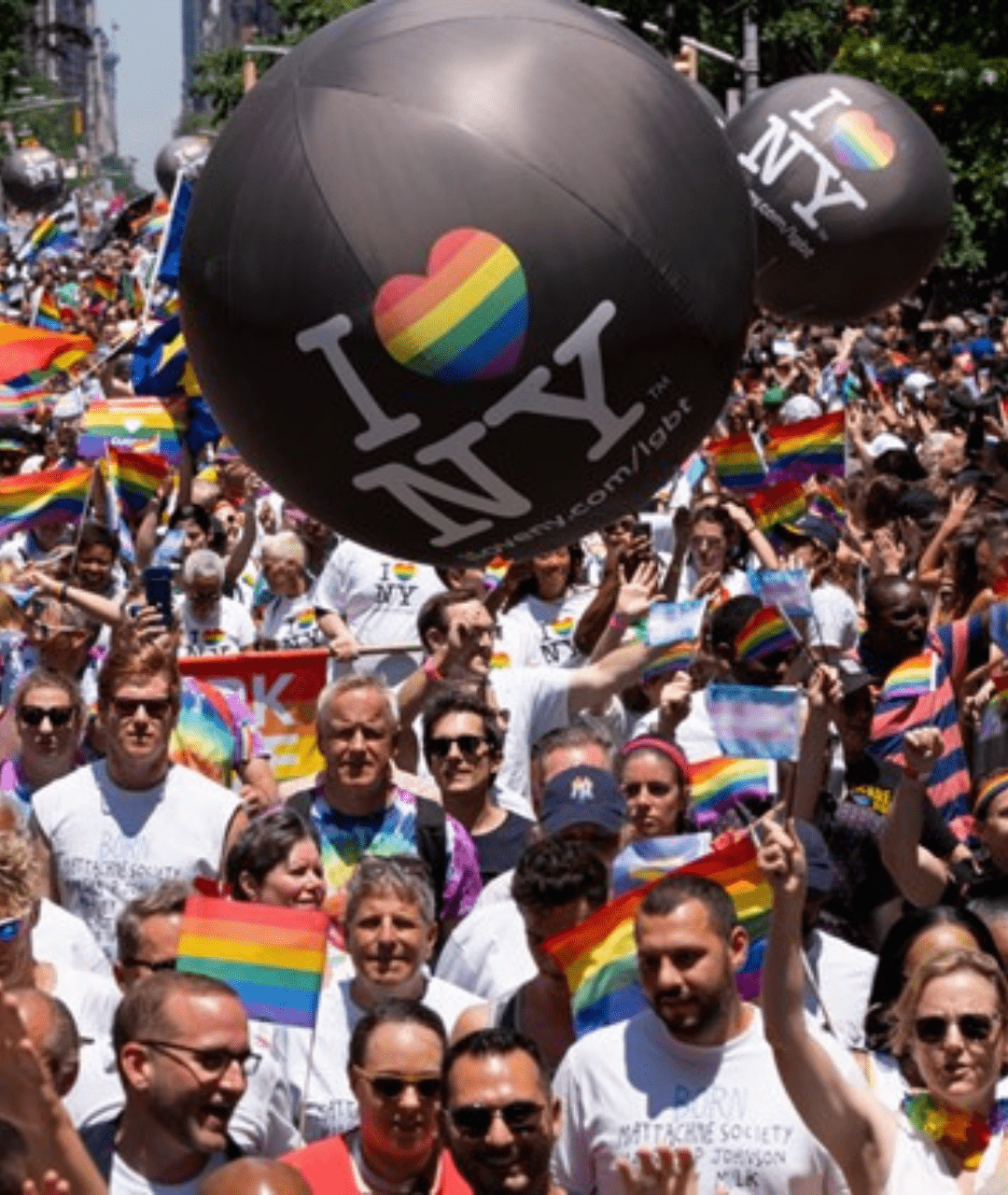 Amsterdam, Netherlands Pride Parade
Amsterdam's Pride Parade, known as Canal Parade, brings the celebration to the water. You can watch the colorful floats glide gracefully along the city's historic canals. The unique aquatic route offers a fresh backdrop for pride celebrations. Joyful participants wave to onlookers from boats adorned with colorful decorations.
Amsterdam's progressive values and picturesque setting create an atmosphere of both reverence and revelry, making the Canal Parade a truly unforgettable experience.
When: August 
Tel Aviv, Israel Pride Parade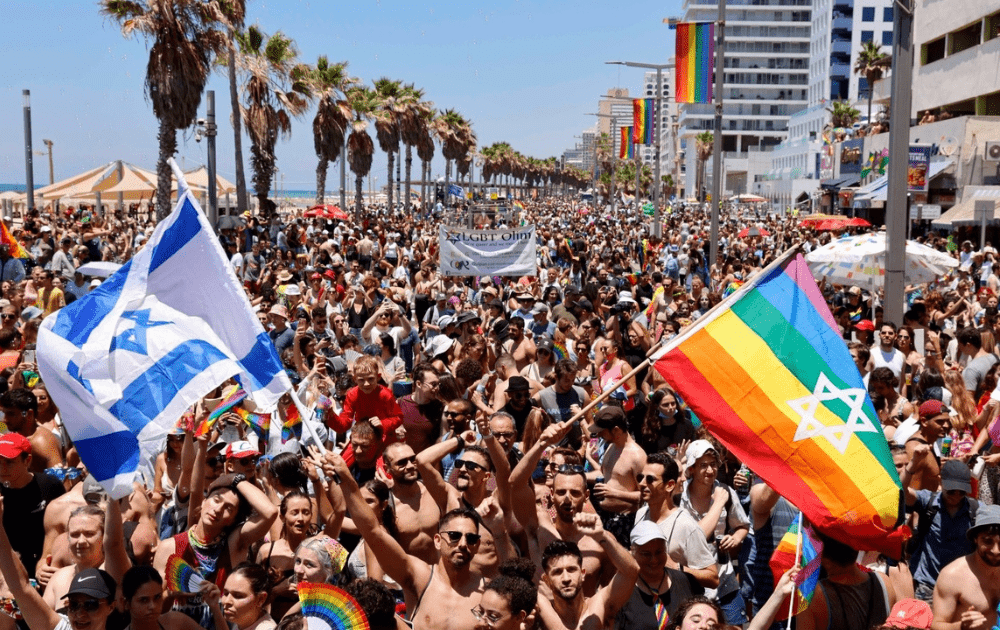 In this vibrant city on Israel's Mediterranean coast, the Tel Aviv Pride Parade radiates love, acceptance, and boundless joy. The city's stunning beachfront becomes a canvas of unity, where LGBTQ+ individuals and allies come together to celebrate life and love.
Along with the parade, is a week of lively parties. Starting Wednesday, join in on Crush Pride Festival which features a mix of global and regional performances, and extravagant drag presenters This three-day festival draws a youthful audience ready to party. For the entire month, Hilton Beach is booming with pride festivities. Come Thursday, enjoy a waterpark extravaganza. Spanning day to night, enjoy a huge stage show with DJs from around the world perform for a whopping 10 hours. Later on, there is a fantastic firework display to wrap up the festivities.
Tel Aviv Pride is not only a local celebration but also a testament to the city's commitment to LGBTQ+ rights in a region where acceptance can be hard-won. The event's electrifying energy, diverse programming, and unwavering support create an atmosphere where love truly knows no boundaries.
When: June
Travel For One Of Best Pride Parades Worldwide
From the historic streets of San Francisco to the lively waterways of Amsterdam, these pride parades offer a vibrant testament to the global LGBTQ+ movement. Attending these remarkable pride parades isn't just about witnessing the festivities; it's about becoming part of a worldwide family that stands proud and united. Mark your calendars and prepare to immerse yourself in the joyful embrace of these extraordinary cities and their exceptional pride celebrations.
Are you looking to attend one of the best pride parades worldwide? The travel experts at Guide Me Away can help make your journey a spectacular experience. As proud members and allies of the LGBTQ+ community, we will go above and beyond to make your trip safe and unforgettable. Reach out today to schedule a free consultation call!