Well, you just got married, CONGRATULATIONS!!! All the wedding hustle is over and now it's time to relax, recharge and make unforgettable memories with your partner. Your honeymoon destination will be one of the most memorable and fun times in your life. So instead of letting that once-in-a-lifetime memory pass you by. We're here to help you make this THE most beautiful experience of your life.
So you and your partner are looking forward to traveling and exploring new places together. As the world is full of beautiful places that you can visit for your honeymoon, there are some distinguished honeymoon destinations that are perfect for a romantic getaway with your loved one.
Here are some destinations that you should consider if you are looking for the best honeymoon destinations in 2022:
1. Maldives
The Maldives is one of the most beautiful islands in the world, and it is one of the most popular honeymoon destinations in 2022. If you want to relax on a tropical island, so the Maldives will be perfect for you and your partner. 
It's a series of picture-perfect islands. With extravagant resorts on their own private islands and accessible only by private sky plane, the Maldives are the epitome of a luxurious honeymoon.
The Maldives is one of the most sought after honeymoon destinations in Asia. Surrounded by the sparkling blue water of the Indian Ocean, this island paradise has everything you need for a perfect honeymoon. Whether you want to relax on your own private island or snorkel around coral reefs, there are plenty of options for you and your partner to enjoy your time together.
 2. Jamaica
Jamaica is a small island nation in the Caribbean with a big personality and vibrant culture. Its sunny, tropical climate and beautiful beaches make it a popular honeymoon destination for couples.
The Jamaican people are known for their warm hospitality and lively music. You will find this reflected in the country's cuisine, which includes jerk chicken, curried goat and other Caribbean specialties.
Jamaica boasts an impressive list of attractions to explore with your new spouse:
Negril Beach: This famous beach is located on the western edge of Jamaica's north coast. It's popular with tourists because of its great surfing waves, as well as its many water sports rentals and restaurants. You can also take advantage of Negril's many shopping opportunities and nightlife options. 
Turtle Bay Resort: This luxury resort features four-star accommodations and outstanding amenities such as an award-winning golf course designed by Arnold Palmer himself! If you're looking for a romantic getaway with an upscale feel, Turtle Bay Resort is definitely worth checking out!
3. Bora Bora
The tropical island of Bora Bora in the South Pacific is well-known for luxurious hotels, marine life, and dreamlike beaches of dazzling white sand and is an ideal honeymoon destination for people wanting to spend a bit of time having fun in the sun.
The beautiful beaches are surrounded by lush tropical vegetation, which makes it a great place for anyone who wants to explore some exotic destinations. The crystal clear waters are home to coral reefs, aquatic life and green turtles. There are also private motu (islands) available for rent if you want to get away from it all. The privacy that these islands offer makes them even more attractive for couples looking for an intimate setting for their honeymoon destination.
Bora Bora offers excellent diving, snorkeling, and fishing opportunities and has been recognized as one of the top dive sites in the world by PADI (Professional Association of Diving Instructors).
4. Bahamas
The Bahamas have long been a favorite destination for many travelers and are a popular stop on many cruise ship itineraries. The crystalline waters and wide, white-sand beaches make the Bahamas an island paradise and the perfect honeymoon destination for sun worshippers.  
With over 700 islands, the Bahamas packs in a wide variety of attractions and activities to suit everyone's tastes. The best time to visit The Bahamas is during the summer months (May through October), when temperatures are warm enough for swimming but not too hot that you need to stay indoors.
The most popular island in the Bahamas is Nassau, which has become a major tourist hub with its duty-free shopping and casinos. Other popular destinations include:
Paradise Island, where you can indulge in luxury spa treatments at Atlantis Resort.
Andros Island, home to one of the largest barrier reefs in the world.
Abaco Islands, home to stunning beaches like Sandy Cay Beach & Marsh Harbor Marina
Eleuthera Islands, a gorgeous nature reserve with miles of white-sand beaches and crystal-clear water…and many more amazing destinations
5. Last but definitely not least is Hawaii
The islands of Hawaii are breathtakingly beautiful and there is so much to see and do. The weather is perfect for year-round travel and the people are warm, friendly and welcoming. 
It feels like a different world. With stunning mountains, lush jungle, and exquisite beaches. Hawaii gives you everything that you could want for a romantic beach honeymoon without needing a passport.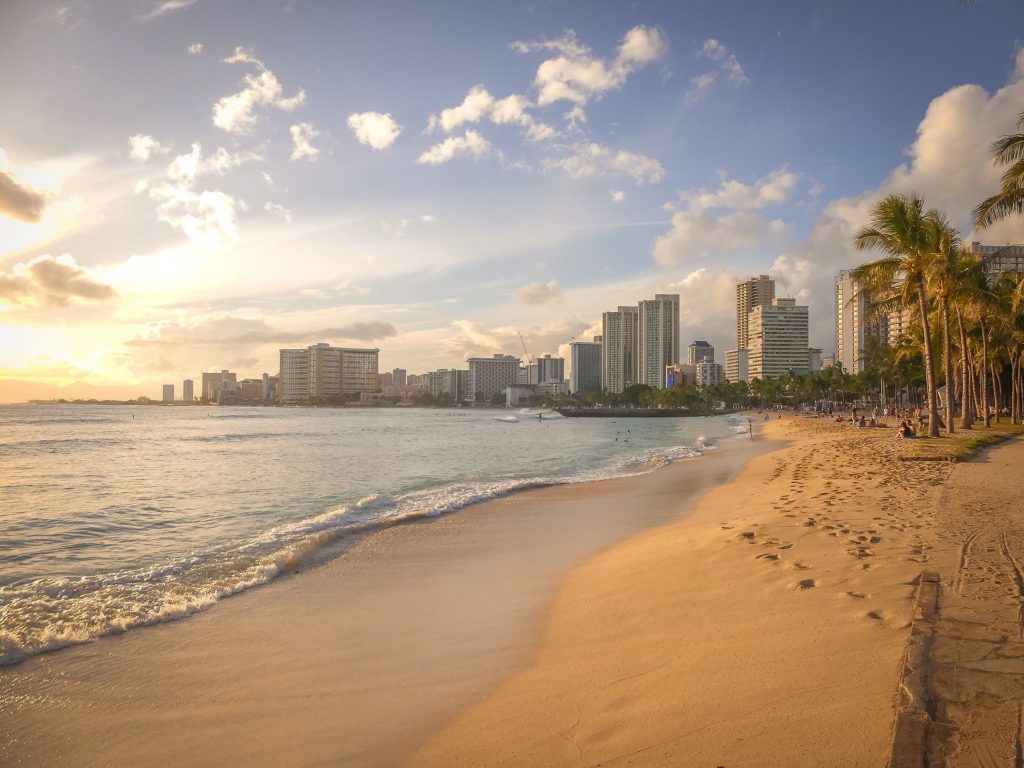 Honolulu, a relaxed and welcoming city, offers a variety of cultural activities and history lovers will love a trip to Pearl Harbor. Serene, restful, exciting, and exotic, Hawaii consistently ranks among the most desired honeymoon destinations on the planet. The state's six major islands offer heavenly Hawaiian experiences, but each island beats to the tune of its own drum.
So if you're looking for the perfect honeymoon destination, 2022 is shaping up to be a great year. As a honeymoon is a very special time for all couples. We want to help you create lasting memories for a lifetime. 
We want to take care of every detail for you so you won't need to worry about anything, so to stay up-to-date on the newest luxury travel destinations, we encourage you to subscribe to our newsletter. And if you have a question about our travel process, please give us a call today!