The world's best clothing-optional resorts are a great option for those seeking a luxurious and liberating holiday. Spend your vacation in style and comfort at these unique and exciting destinations. Additionally, you can experience the pleasure of being clothing-optional and embrace your natural self.
Here are the top five clothing-optional resorts in 2023:
Hedonism II is a legendary clothing-optional resort that has long been a favorite of daring travelers. As a couples-only resort, Hedonism II is an excellent choice for couples seeking a romantic and exciting getaway.
Located on Jamaica's picturesque Negril Beach, the resort has many unique offerings that encourage you to truly let your hair down.
The Playroom is a participatory environment for couples, single ladies, and invited single males. This space is intended to allow you to rediscover and explore yourself in a secure and nonjudgmental setting. Furthermore, there is also a small "Happening Hut" near the nude pool which is unmanned and open 24 hours.
Moreover, visit the Kama Sutra Palace or Hedonism's state-of-the-art fitness center and spa to experience ultimate relaxation.
Take advantage of nightly entertainment. Offerings include shows, a piano bar, a nightclub, and more. Additionally, themed parties and events, such as the infamous "Pajama Party" and "Anything Goes" parties, are not to be missed. 
This is a laid-back adults-only resort on the Caribbean island of Curacao. With breathtaking ocean views and a tranquil vibe, The Natural offers a clothing-optional experience in a magnificent location. 
Live in harmony with nature and yourself at The Natural. Focused on sustainability, the resort is powered by solar panels. Along with green energy, all of the water on the premises is recycled and used to water the plants.
Additionally, enjoy gentle and clean pool water that originates from their own well. If you need a break from the sun, hide away in the shaded sun beds that surround the pool.
Undoubtedly, there are endless things to do on Curaçao. Visit Willemstad, which is home to the iconic pontoon bridge, colorful residences, and a charming city center. Explore the island's many rural mansions or learn about the production of the famous liqueur Blue Curaçao.
The Natural Curaçao lies in the heart of one of the most picturesque areas of the island of Curaçao. There are beautiful beaches nearby, such as Porto Marie, Daaibooi, and Cas Abou, as well as excellent diving and snorkeling spots. Horseback riding, mountain biking, and hiking are also available on the island.
As an added bonus, you can also experience the stunning West Point of Curaçao, which offers beaches such as Playa Lagun, Kleine Knip, Grote Knip, and Playa Grandi. Christoffel Park and the rough north coast of Shete Boka are a must-see for nature enthusiasts.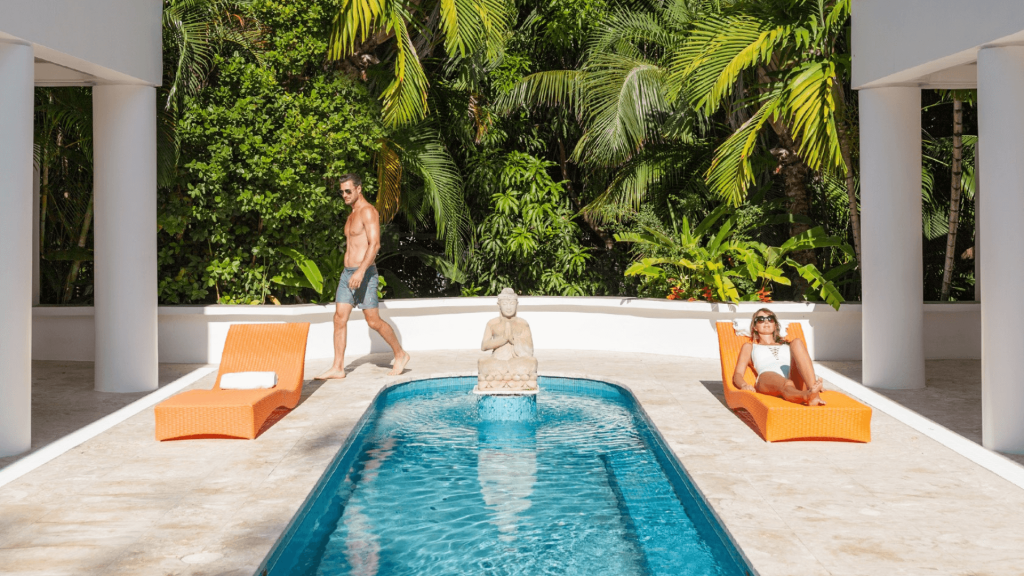 Couples Resort Tower Isle is a classy resort on a private island in Ochos Rios, Jamaica. Because it is an adults-only resort, it's an excellent choice for romantic getaways. Moreover, you have the option to stay in the "Au Naturel" or "Prude" sections of the resort, which are equally designed to provide the finest comfort and elegance. Relax at the clothing-optional beach or enjoy the various amenities and activities offered. 
For water enthusiasts, you can look forward to scuba diving, snorkeling, kayaking, and paddleboarding. Then, explore the tropics' natural beauty on a glass-bottom boat cruise or a catamaran cruise. Book an excursion to Dunn's River Falls, one of Jamaica's national treasures. Located near Ocho Rios, this complimentary off-property tour is definitely worth the time it takes to climb these amazing natural waterfalls. 
Take advantage of unlimited golf at Upton Golf & Country Club, one of Jamacia's premier championship golf courses. Then, unwind with a traditional Swedish massage, a stress-relieving Bamboo Fusion massage, or an individually tailored side-by-side couples massage with aromatherapy. Additionally, revitalizing facials and nourishing body treatments are offered at the spa. 
Located on Negril's famous Seven Mile Beach, the exclusive Grand Lido Negril is the embodiment of true luxury. This adults-only resort features a clothing-optional beach. 
Furthermore, there are 26 ocean-facing suites that are beautifully furnished and fitted with excellent amenities. For a truly unforgettable stay, book a luxury penthouse and take in ocean views from your private rooftop jacuzzi. 
Additionally, choose between the 12 restaurants and 9 bars at Grand Lido Negril. Their offerings range from Caribbean-inspired delicacies to exquisite French cuisine. Hang out poolside where hors d'oeuvres and snacks are served daily.
Scuba diving, snorkeling, and kayaking are among the activities available at the resort, as are fitness programs and spa services. You can also take advantage of full access to two nearby luxury resorts.
Situated on a private peninsula in Bermuda, you can expect a luxurious and serene clothing-optional experience at Cambridge Beaches. Choose from a variety of rooms, from cozy cottages to spacious suites with private balconies.
Explore the four private beaches and two private coves or enjoy the infinity-edge swimming pool overlooking Mangrove Bay. Head out in a kayak, paddleboard, sailboat, or motorboat to discover coral reefs and shipwrecks just offshore. 
Additionally, the resort has a reputation for outstanding dining experiences. They offer private dining options as well as a variety of restaurants, including:
Sunken Harbor Club – The Bermuda Chapter of St. John Frizell's cocktail bar takes shape at Cambridge Beaches as a dockside tavern and tropical cocktail bar with a one-of-a-kind dining experience. Chef Keith DeShields crafted a menu that embraces a unique combination of flavors with Caribbean and Portuguese influences and Bermudian specialties.
The Best Clothing-Optional Resorts 
All in all, these five clothing-optional resorts are the best option if you are looking for a luxurious and liberating getaway.
The unique and exciting amenities, activities, and dining options at these resorts ensure an amazing experience all while embracing your natural self in a fun and welcoming atmosphere.
Get the best rates
when you book
with GuideMeAway!
The latest information on the best resorts - Sent right to your inbox.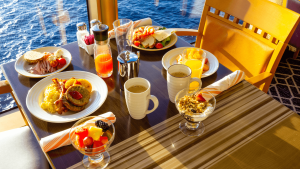 From delectable Michelin-starred cuisine to immersive cooking classes and unique dining experiences, these cruises are meticulously designed to exceed the expectations of foodies everywhere. 
Read More »
Paris is known for its rich culinary culture and its love for good food. From traditional French cuisine to modern gastronomic creations, the city has
Read More »
Several nations have a reputation for great food, and France is definitely among the best in that list. Their cuisine is rich, varied, and it has
Read More »