Step into a world of ultimate relaxation as we introduce you to the best all-inclusive adults-only resorts. These luxurious havens cater to your every need, offering serene settings, top-notch amenities, and a sense of exclusivity. Additionally, pristine beaches, world-class spas, gourmet dining, and rejuvenating activities await you. Unwind, recharge, and indulge in the ultimate relaxation experience at these top destinations. Join us as we explore the epitome of tranquility and pampering.
This luxurious resort offers a serene and rejuvenating environment that allows you to unwind and indulge in a truly pampering experience.
Gorgeous Grounds
The resort features 96 spacious suites that draw inspiration from nature and the indigenous Taino culture. Also, the suites have cane-thatched roofs (palapas), cathedral ceilings, teak furniture, and rich wood accents, creating an atmosphere of rustic elegance. Moreover, french doors on your private terrace or balcony open to reveal mesmerizing views of the azure sea and lush foliage surrounding the resort.
At Zoëtry Agua Punta Cana, you can enjoy a stunning 200-yard stretch of pristine beach along the shimmering Caribbean Sea. You will enjoy yourself lounging in a beachfront cabana or taking leisurely walks along the powder-white sands. Furthermore, there are enriching activities like horseback riding on the beach, kite surfing, and snorkeling. This resort offers a range of options to suit your relaxation preferences.
Zoëtry Spa
Indulge in a well-deserved spa escape at the Zoëtry Spa. Here, you can immerse yourself in pampering services that wash away the stresses of everyday life.  The spa provides a range of services tailored to your relaxation needs. Enjoy bamboo and sea mud treatments, couples massages and a variety of facial and body rituals. Leave feeling completely relaxed and refreshed after experiencing the spa's luxurious amenities. These include indoor pools, sensation showers, Finnish and steam saunas. Also, they use premium Natura Bissé spa products.
Zoëtry Agua Punta Cana is the ideal destination for an unforgettable adults-only, all-inclusive retreat focused on ultimate relaxation. From the nature-inspired suites to the pristine private beach and the indulgent spa experiences, every aspect of this resort is designed to provide you with the utmost relaxation and rejuvenation. Visit Zoëtry Agua Punta Cana and immerse yourself in a tranquil oasis that will leave you feeling refreshed and rejuvenated like never before.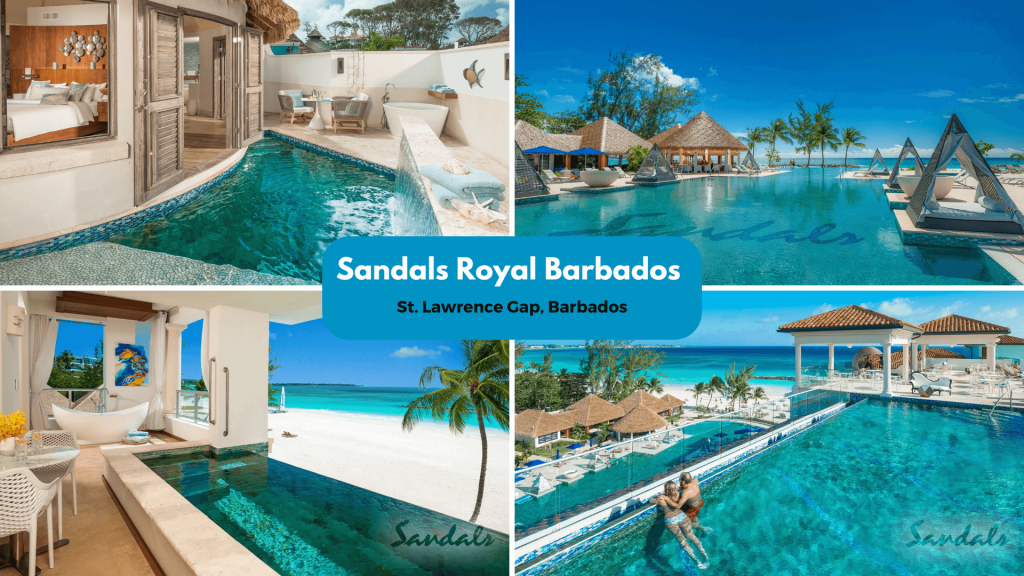 This exceptional resort combines sophistication with lavish amenities and exclusive services, ensuring an unforgettable all-inclusive adults-only retreat.
Indulge in All-Suite Luxury
Sandals Royal Barbados offers a selection of all-suite accommodations, where you can revel in the ultimate luxury experience. From the award-winning SkyPool Suites to the indulgent Swim-up Suites and Millionaire Suites, each room is meticulously designed to elevate your stay to new levels of extravagance.
Experience the First Rooftop Pool and Restaurant
Prepare to be amazed by the first rooftop pool and restaurant in Barbados, exclusively available at Sandals Royal Barbados. Additionally, the magnificent glass infinity pool boasts a zero-entry design. This provides breathtaking ocean views from its elevated rooftop location. Relax in the surrounding lounge areas, and don't forget to visit the rooftop bar for refreshing beverages while taking in the stunning vistas.
Enjoy a Mega-Vacation Experience
At Sandals Royal Barbados, you get more than just a resort; you get a mega-vacation experience. Furthermore, this remarkable property is conveniently located alongside another Sandals resort. Because of this, there is a total of 21 restaurants, 14 bars, multiple beaches, and an array of amenities. Also, the two resorts are situated side by side, making it easy to explore and enjoy the best of both worlds.
Pamper Yourself at Red Lane Spa
Treat yourself to ultimate relaxation at the renowned Red Lane Spa. Experience the Night Blooming Jasmine Massage, a couples' massage that enhances the bond between you and your partner in a serene twilight setting. Moreover, discover the therapeutic benefits of the Himalayan Salt Stone Massage, where warmed salt stones soothe your muscles and promote deep relaxation. Immerse yourself in the Raindrop Dreams ritual, which combines essential oils and a hypnotic full-body and foot massage to restore balance and rejuvenate your senses.
Relax on the Water 
Sandals Royal Barbados offers a wide range of water sports activities. Enjoy the beauty of crystal-clear waters while kayaking, snorkeling, or paddle boarding. Additionally, embrace your inner sailor on a Hobie Cat or a captivating glass-bottom boat ride. Take advantage of scuba diving with professional instruction and top-of-the-line equipment to ensure you have a safe and superior experience.
Elevate Your Relaxation with Private Cabanas
Upgrade your relaxation experience with the indulgence of a private cabana. You can lounge in privacy and luxury all day in curtained cabanas for two. Here, a dedicated Cabana Concierge attends to your every need. Enjoy refreshing cold towels, chilled drinks, delicious meals, and personalized service. Of course, all while basking in the tranquil ambiance of your exclusive retreat.
This superior-category hotel is situated in a beachfront complex alongside two other hotels, offering a luxurious experience designed specifically for adults. Prepare to indulge yourself with the ultimate luxury experience, including butler service in select rooms.
Spoil Yourself at SPA Sensations
Make the most of your opportunity to unwind and pamper yourself at SPA Sensations. Whether you prefer to enjoy your treatments in the privacy of your own suite or right on the shore, the skilled therapists will provide you with a range of rejuvenating services. Moreover, allow yourself to be transported to a state of pure relaxation as you take in the serene ambiance of the Caribbean.
Culinary Delights Await
Experience a delightful culinary journey at the Iberostar Grand Hotel Rose Hall. With five à la carte restaurants and four bars, including a swim-up bar, you'll have a variety of delectable options to choose from. Also, sample both local and international gastronomy, and savor the unique choices offered by the buffet each day of the week. Additionally, wine enthusiasts will appreciate the selection of 15 house wines from Spain, the United States, Argentina, and Chile, as well as an extensive menu with over 70 wines to choose from. Enjoy the convenience of à la carte breakfast in bed and take advantage of the 24-hour gourmet station for round-the-clock dining.
Unlimited Golf Experience
Golf lovers will find the Iberostar Grand Hotel Rose Hall to be a golfer's paradise. Take advantage of the unlimited golf experience at a nearby course just a five-minute transfer from the hotel. Book your room and choose the Unlimited Golf pack to enjoy unlimited rounds of golf, transfers to and from the golf course, and the use of a golf cart. Hone your skills on the practice area and make the most of your time on the course surrounded by breathtaking views.
Personalized Butler Service
For a truly luxurious experience, select rooms at the Iberostar Grand Hotel Rose Hall offer personalized butler service. Likewise, your dedicated butler is available 24 hours a day to make you feel at home. They assist with your check-in and unpacking your luggage to customizing your pillow, aromatherapy essence, and minibar service. In fact, they can even draw you a relaxing bath or take care of your laundry and shoe-shining needs.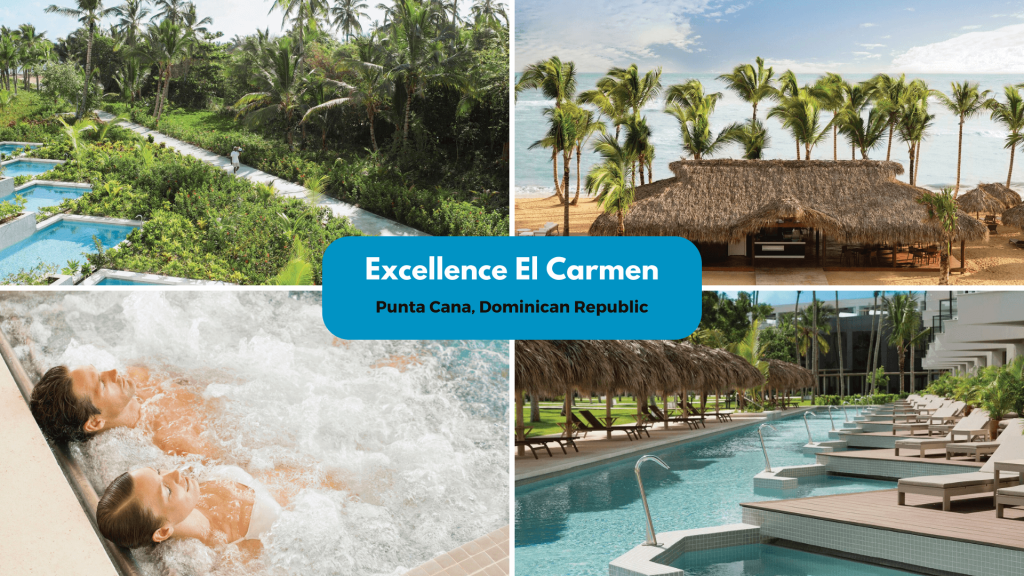 Excellence El Carmen offers the perfect retreat for relaxation and indulgence. Furthermore, with its luxurious accommodations, world-class dining, serene spa experiences, and an array of activities, this resort ensures your every need is met. Also, this luxurious resort offers a multitude of amenities designed to provide the perfect vacation experience.
Experience the Beauty of Excellence El Carmen
Immerse yourself in the stunning architecture that surrounds you at Excellence El Carmen. Additionally, with 23 pools scattered throughout the property, you'll have ample opportunities to relax and unwind in a serene environment.
Delight in World-Class Restaurants and Daily Entertainment
Indulge in an array of world-class restaurants that cater to every mood and taste. Whether you're craving local delicacies or international flavors, the carefully curated offerings will satisfy your palate. Notably, each moment of your stay is filled with bliss as you enjoy the brilliant all-suite accommodations and daily entertainment options.
Miilé Spa: A Serene Haven
Escape to Miilé Spa, located within the resort, and experience the utmost in self-care and rejuvenation. Likewise, the spa embraces ancient traditions and holistic ingredients to provide a serene escape. Furthermore, skilled therapists deliver innovative beauty and wellness techniques, ensuring a pampering experience like no other. From healing massages to collagen-infused facials and luxurious body treatments, Miilé Spa offers a wide range of options tailored to your relaxation needs.
Hydrotherapy Area: Prepare to Unwind
Prior to your treatment at Miilé Spa, immerse yourself in the Hydrotherapy Area. Also, enjoy the soothing hydrotherapy pool, invigorating water hoses, bubble massage lounger, and various other amenities designed to help you relax and prepare for your pampering experience.
Tranquil Treatment Rooms
Find tranquility in the treatment rooms at Miilé Spa. You can choose the relaxation area, ritual area, or opt for one of the spa suites with a couple's hydrotherapy tub and shower. Regardless, you'll be surrounded by a serene ambiance that enhances your relaxation journey.
Endless Activities for Your Enjoyment
At Excellence El Carmen, there's no shortage of activities to enjoy. For instance, take a dip in one of the 23 swimming pools. This includes a beachside main pool, and nine hot water jacuzzis. Then, engage in snorkeling, aerobics, water aerobics, tennis, or yoga classes. Moreover, explore various other activities offered by the resort. There's something for everyone to enjoy.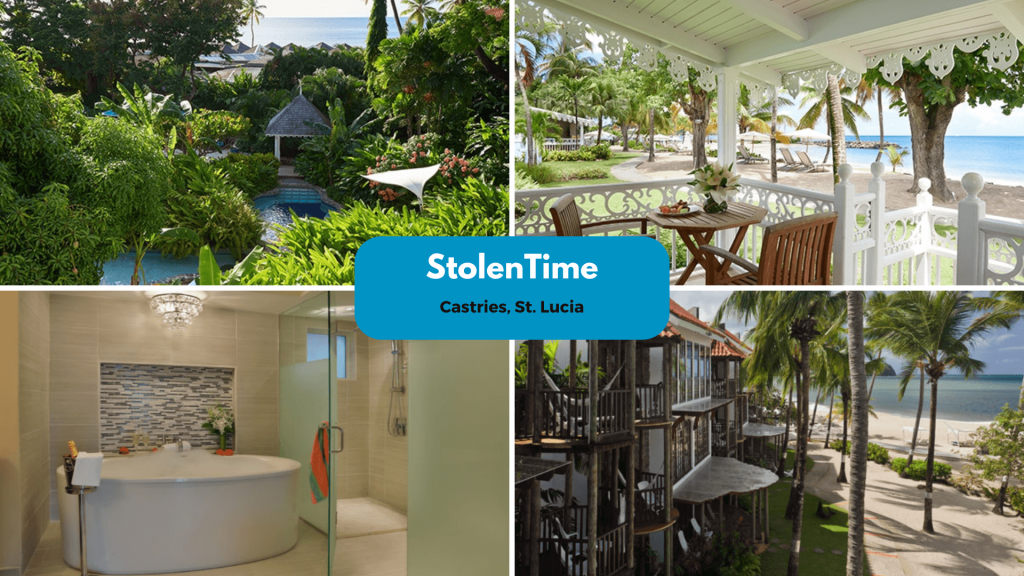 Unwind and rejuvenate at StolenTime by Rendezvous, a remarkable adults-only wellness retreat in St. Lucia. Whether you choose to indulge in spa treatments, engage in energizing activities, or simply relax in the idyllic surroundings, every moment at StolenTime will leave you feeling reconnected, refreshed, and rejuvenated. 
Immerse Yourself in Serenity
At StolenTime, find inner peace and serenity amidst the beauty of St. Lucia's calming Caribbean Sea. Also, discover the origins of StolenTime, which symbolizes a respite from the busyness of everyday life. Take a step back from constant digital connection and pressures to excel. Here, you can quiet your mind, explore avenues to inner peace, and bathe your spirit in the natural beauty that surrounds you.
Luxurious Accommodations and Exceptional Service
Experience the epitome of luxury with first-class accommodations and warm hospitality from the professional staff. In fact, from the moment you arrive, you'll be treated like family. The staff ensures that your stay is both memorable and relaxing. Every aspect of your experience is carefully curated to enhance your well-being. Experience the range of spa and wellness services to the exhilarating activities, gourmet food, and refreshing drinks.
Rejuvenate at The Spa in the Water Garden
Find solace at The Spa in the Water Garden, a sanctuary overlooking a secluded pool surrounded by tropical greenery. Here, you can unwind, recharge, and indulge in the luxury of free time. Likewise, choose from an array of spa services, including manicures, pedicures, Swedish Massage, Deep Remedial Tissue Therapy, Aroma Stone Massage, and Hawaiian Lomi Lomi. Furthermore, couples can enjoy pampering massage treatments designed specifically for two, enhancing their relaxation experience.
Detoxify and Revitalize
Experience the Detox Experience, a wellness journey designed to detoxify your body, revitalize your mind, and restore your spirit. Begin with a detoxifying body wrap that helps eliminate toxins, followed by a lymphatic drainage massage to promote wellness. Then, complete the experience with a foot detox and a soothing scalp and pressure point face massage.
Escape with the Water Garden Escape Package
Indulge in the ultimate spa experience with the Water Garden Escape package, offering a series of treatments over multiple days. Immerse yourself in an Exotic Ginger & Lime Body Scrub, a Head to Toe Massage, a Muscle Ease Body Wrap, a Hand and Foot Massage, and an Elemis Skin Specific Facial. Likewise, each treatment is designed to rejuvenate and nourish your body and mind.
Experience Balinese Massage and More
Relieve muscle tension and reduce stress with Balinese Massage, a therapeutic treatment that combines various techniques to soothe strained muscles. Additionally, try the Boreh Boreh treatment, which uses a blend of turmeric, ginger, black pepper, clove, and rice powder for detoxification and skin conditioning. Rejuvenate your skin with the Exotic Coconut Milk Wrap, a luxurious full-body exfoliation followed by a cocooning treatment.
Engage Mind and Body with T'ai Chi and Pilates
Participate in T'ai Chi, an ancient practice originating from China, combining deep breathing, relaxation, and flowing movements. Also, experience the benefits of this mindful exercise, including stress reduction, improved posture, balance, mobility, and muscle strength. Then, explore Pilates, a low-impact workout focusing on body alignment and breathing control. Improve core strength, flexibility, range of motion, circulation, stamina, and coordination.
Escape to the lap of luxury at Secrets Royal Beach Punta Cana, an exquisite all-inclusive adults-only resort in Punta Cana, Dominican Republic. The resort, boasting AAA Four Diamond status, offers over 700 yards of palm-studded white sand beach and tranquil turquoise Caribbean waters, providing the perfect setting for a romantic seaside getaway in the Dominican Republic. Similarly, immerse yourself in the elegance of the modern luxury suites adorned with vibrant colors, and indulge in the renowned Secrets signature Unlimited-Luxury® experience.
World-Class Spa by Pevonia®
Pamper yourself and find serenity at the world-class Spa by Pevonia®, a sublime sanctuary spanning an impressive 17,000 square feet. Likewise, this oasis of relaxation invites you to rejuvenate your senses and discover pure indulgence. Experience a range of exquisite treatments, from rejuvenating seaweed treatments to Secrets' exclusive facials, blissful couples massages, and the soothing outdoor hydrotherapy circuit within this secluded spa sanctuary. Surely, allow yourself to unwind and create unforgettable memories.
Fun in the Sun
Engage in an array of recreational activities specially designed for couples, providing ample opportunities for quality time together. Dive into the vibrant underwater world and explore the captivating marine life with snorkeling adventures.  Also, non-motorized water sports await, allowing you to sail across the waves and embrace the beauty of the ocean. Embark on scuba diving tours or venture into the deep sea for fishing excursions. Notably, these can add unforgettable moments to your stay. 
Poolside Relaxation
Unwind and luxuriate in the exceptional pools that Secrets Royal Beach Punta Cana offers. Experience the vibrant social atmosphere of the two expansive pools, where you can mingle with other guests and enjoy the ambiance. In contrast, for a more serene and tranquil setting, retreat to the four outdoor jetted pools. Here, you can bask in the sun, find solace, and revel in ultimate relaxation.
Ultimate

Relaxation

Awaits
If you are looking for relaxation and luxury, these all-inclusive adults-only resorts are the best. Whether you choose to indulge in rejuvenating spa treatments, engage in exciting activities, or simply bask in the serenity of pristine beaches, these resorts cater to your every desire.
You can be confident that your trip will go off flawlessly when it is planned by the travel experts at Guide Me Away. We provide top-tier travel services and exclusive deals. This takes your relaxing getaway to a whole new level.
So, pack your bags, leave your worries behind, and embark on a journey of pure bliss at these remarkable resorts. Your well-deserved escape awaits!
Get the best rates
when you book
with GuideMeAway!
The latest information on the best resorts - Sent right to your inbox.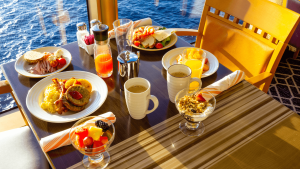 From delectable Michelin-starred cuisine to immersive cooking classes and unique dining experiences, these cruises are meticulously designed to exceed the expectations of foodies everywhere. 
Read More »
Paris is known for its rich culinary culture and its love for good food. From traditional French cuisine to modern gastronomic creations, the city has
Read More »
Several nations have a reputation for great food, and France is definitely among the best in that list. Their cuisine is rich, varied, and it has
Read More »