Resorts in Mexico with best food :
If you're looking for a future vacation spot with some of the best food in Mexico, this is it. These five all-inclusive resorts in mexico on our list are great for families, couples, or solo travelers who want to enjoy everything .
This blog post will show you where to find the most delicious meals and top-notch service at these relaxing destinations! So what are you waiting for? Pick your favorite resort from our list below, and start packing your bags today!
1. Pueblo Bonito Pacifica Golf & Spa Resort
For all inclusive resorts in mexico , Pueblo Bonito Pacifica Golf & Spa Resort comes at first.
This adults-only all-inclusive resort is one of the top-ranked resorts for foodies. Offering several dining options from casual to gourmet dining, even the pickiest eater will be sure to find something to please their tastebuds.
Aside from award-winning restaurants, the head chef, Octavio Hernandes, sure won't disappoint when putting delicious food on the table. While specializing in Baja Peninsula cuisine, Chef Hernandez loves to share his culinary expertise. Hernandez offers programs at the resort such as Hook and Cook, where he takes you fishing and then teaches you how to make a refreshing ceviche with your catch of the day.
In addition to serving up some of the best food in Mexico, the fun doesn't stop there! Off-road desert safaris, mixology classes to hone your bartending skills, and swimming with dolphins are just a few of the many unique experiences you can have at this resort. If golfing is more up your alley, there's an 18 hole course right on the property as well as vineyard tours for those who want to try their hand at wine or tequila tasting .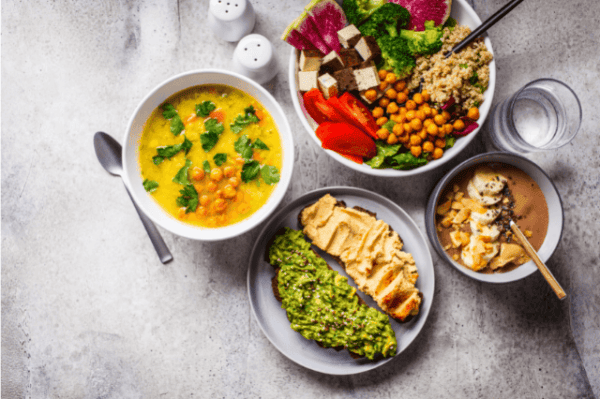 2. is Beloved Playa Mujeres
This couples-only luxury all-inclusive resort near Cancun prioritizes your wellness in every detail. The idea is that you should be not just physically healthy but also fulfilled in mind and spirit. The luxuries of a beachfront hotel are paired with yoga studios, vegan menus at all restaurants, meditation rooms by the sea – even special "wellness concierges" to help make it happen.
Enjoy lunch with views at the Isla Grill while overlooking the ocean. And, while you wait for your food, enjoy the salad bar with a variety of colorful vegetables, fresh mussels, five different types of olive oil, and seasalts.
Later have dinner at Lupita where they offer dishes from all regions of Mexico. Also, be sure to not pass up their specialty of Mexican wine options. Just from glancing at the Instagram page, the sushi looks to die for! If you're wanting more authenticity in Mexican cuisine, check out the food truck that serves up delicious Mexican-style tacos.
This is the perfect place to go for a romantic getaway or even an ultimate reset.
3. Grand Velas Rivera Maya Resort & Spa
Grand Velas Rivera Maya Resort and Spa goes beyond all-inclusive by offering gourmet culinary tours throughout the entire resort. An all inclusive family friendly resort located in Quintana, Roo, one of the most beautiful states in Mexico, is a a top-rated travel destination. This area boasts some of the best weather, beaches, jungles, and all-inclusive resorts.
Above all, the resort itself is a foodies paradise, with restaurants curated by famous chefs. You can try the best of French cuisine or enjoy an authentic Italian meal. Each restaurant offers unique Asian fusion dishes and Mexican classics are reinvented in creative ways that will leave you wanting more!
If you want to experience fine French cuisine and live music, head over to Piaf one of their most popular restaurants. This resturant is the perfect place to try out their delicious duck magret that has been marinated in red wine and spices with white truffle essence. Accompanied by endives compote, berries dressing, Grand Marnier cream, hazelnuts toasted in butter, and orange croquant; your taste buds won't be disappointed!
4. El Dorado Maroma
It's no surprise to see the adults-only El Dorado Maroma resort taking a spot in our top five. located in the heart of the Rivera Maya,  Karisma is no stranger to luxury with its top-of-the-line chefs and gourmet cuisine.
Likewise, their Gourmet Inclusive Concept takes that one step further. This concept pays close attention to those with specific dietary needs while ensuring all tastebuds are pleased.
Don't miss out on the Mexican-Caribbean cuisine you can find at the Caribbean Grill restaurant. Want to spice things up a notch? Join a cooking lesson with these world-class experts to learn exclusive recipes! Or unwind poolside after visiting one of the best beaches in Playa del Carmen and then head to the Sabores restaurant for dinner, which offers the freshest Mexican seafood dishes. Although reservations are not required, it is highly recommended to do so. We are certain this resort has some of the best food in Mexico.
5. Le Blanc
Sorry kids, this one is also just for the adults. The Le Blanc in Cancun is the pinnacle of fine dining with world-class chefs serving up gourmet dishes, five-star service, and 24/7 room service. Every plate will be served as a masterpiece where you're sure to enjoy an unforgettable culinary voyage.
Also, when you're looking to unwind there's plenty of drinks to be had at Le Blanc! You can choose from a number of poolside bars, or head to one with an elegant ambiance. They're perfect for every mood and time of day.
Although this resort is promising for having some of the best food in Mexico, good food and drinks aren't the only things this resort is serving up. At Le Blanc, Cancun guests can choose between many attractions that are not food-related.
Some options include seeing Mayan monuments, snorkeling tours in turquoise waters and swimming with dolphins or the Jungle Tour & Aquatwister Package which gives you a chance to explore nature's beauty of Mexico. Spend your vacation here for an unforgettable experience!
In Summary…
There are a lot of great all-inclusive resorts in Mexico, and they're not all created equally! We've gathered the best ones we could find, with an emphasis on their food offerings.
If you're looking to go south of the border this winter or next spring break, and hoping to find some of the best food in Mexico, these should be at the top of your list! Are there any other features that would make one resort stand out from another? Let us know what's important to you so we can help guide you away from anything less than perfect!
Looking for more travel inspiration?
You've probably heard of TSA Precheck and Global Entry Pass if you travel frequently.  These two systems are intended to improve airport security and customs procedures, but which one should you use? 
Read More »