Top 10 Affordable Travel Destinations Around The World In 2021
Whether you're looking to lie on a beach, enjoy a family vacation, or go on thrilling adventures – there's plenty of budget-friendly travel destinations out there for everyone. These ten countries are some of 2021's top-rated travel destinations. They all offer an abundance of unforgettable experiences and are ideal for visiting countries with fascinating cultures.
Vietnam
Vietnam, located on the edge of Southeast Asia, has become more and more popular these last few years. Not only is it a beautiful country with diverse landscapes, but it's very affordable.
Not only is it easy to experience Vietnam's culture without spending a ton of cash, but you'll also enjoy delicious meals, unique accommodations, and travel adventures. Make sure you try all the amazing coffee, explore nature (think caves, beaches, and mountains), and ride on a motorbike. Also, witness the excitement Hanoi has to offer in the north and take a bus to nearby cities for nature. 
Bali
Located in Indonesia, Bali is often thought of as an entire place of its own.
Not only is Bali beautiful, but it's also one of the top budget-friendly travel destinations. You can easily spend your vacation lying on the beach and watching the surfers (or join in with your own surf lesson). Aside from the ocean, there are volcanoes to see, Buddhist temples to explore, and many restaurants to indulge at.
Some popular areas in Bali include:
Canggu: relaxed yet fun beach townUbud: peaceful with spas and yoga studiosSeminyak: beach clubs and diningUluwatu: luxurious resorts and restaurants
Philippines
The Philippines is a string of over 7,000 islands in Southeast Asia. It's one of the more affordable travel destinations in the region, aside from accommodations which can be more costly but still not as much as Western countries.
While most of the country is laid-back, the capital of Manila is a lively and popular city. The Philippines is also home to six UNESCO World Heritage sites including the gorgeous Puerto Princesa Subterranean River National Park.
Thailand
There's plenty of reasons why Thailand is a travel hotspot. Affordability is high on the list along with delicious food, friendly locals, and beautiful beaches and mountains. 
Thailand is located in Southeast Asia making it an easy place to visit before or after surrounding countries. In fact, many flights on your journey to Southeast Asia will stop in Thailand's capital of Bangkok.
While Bangkok isn't necessarily one of Thailand's most affordable travel destinations, many other cities are. Phuket Island for beach life and Chiang Mai for exploring over 100 temples are a couple of must-see places.
Nepal
Nepal, situated along the slopes of the Himalayan mountains, is said to be one of the most affordable destinations in India. This unique country offers a calmness like no other.
Additionally, you'll want to explore ten of the world's highest mountains, endless excursions like paragliding and white water rafting, and scenic monasteries. A vacation to Nepal can easily be enjoyed on a budget.  
Cambodia
Also located in Southeast Asia, Cambodia is between Thailand and Vietnam. It's mostly a land of plains and rivers. Cambodia is known for its abundance of history and incredible nature. 
Popular affordable travel destinations in Cambodia include Angkor Wat, a temple in Siem Reap. Travelers also enjoy the capital of Phnom Penh for stunning architecture and delicious cuisine. Cambodia also features several remote islands that feel like you're spending thousands of dollars to enjoy.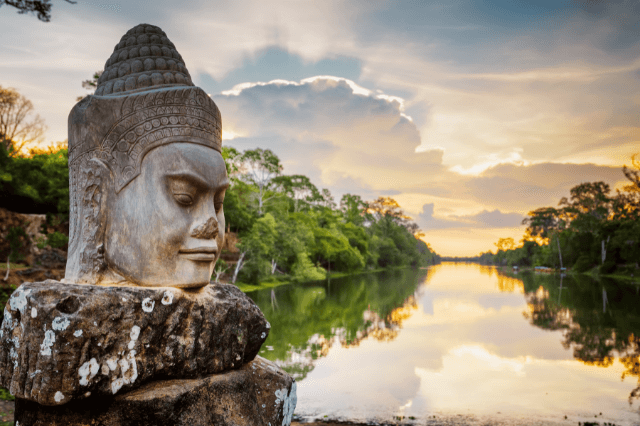 Portugal
Found lying along the Atlantic coast on the Iberian Peninsula is Portugal. While this country is known to have one of the lowest costs of living in Western Europe, it's also home to fascinating cities and breathtaking beaches.
The public transportation system in Portugal makes traveling a breeze, especially if you book in advance. And, you'd never know the food costs as little as it does. Make sure you try the fresh seafood!
Greece
While Greece is a more pricey destination to fly to in Europe, once you're there it can certainly be enjoyed on a budget. Short-distance transportation, accommodations, and activities cost less than surrounding destinations.
Greece is especially ideal for family vacations. You can find an abundance of kid-friendly activities, especially on the Greek Islands. The crystal-clear water and various water sports are enjoyable for everyone. For the adults, make sure to discover Greek wine.
Georgia
Located at the eastern end of the Black Sea, Georgia is known for its vibrant cities, hospitality, and picturesque landscape. Given the many things to see and do along with its affordability, it's truly an underrated vacation spot.
Guesthouses, meals, and activities can be enjoyed on most budgets. Some favorites amongst Georgia tourists include exploring Old Town Tbilisi, hiking in the Caucasus Mountains, and visiting the city of Batumi.
Croaita
Do you dream of visiting Italy, but it's not in your budget? Croatia, located on the Balkan Peninsula, is one of the more budget-friendly vacations with Italian vibes. Croatia is known for their tasty fish and meat cuisine.
Like with other European countries, flights to Croatia can be costly. But, once you arrive, travel is affordable and they have a pleasing exchange rate. Tourists enjoy exploring the fascinating capital of Zagreb, seeing Plitvice Lakes National Park, and enjoying wine.
In Summary, there are plenty of places to travel without breaking the bank. Although we do book a lot of luxury travel, this past year has been financially difficult for a lot of us. Don't miss out on memories that can be made and contact us today and we will find the best vacation that will accommodate to your budget!
CONTACT US TODAY FOR A FREE QUOTE!
More Travel Inspiration
About Kensington Tours And Why Customized Travel Plans Are Trending (guidemeaway.com)
Let's Talk All Things Walt Disney World And Why You Need To Book Now (guidemeaway.com)
Gluten-Free All-Inclusive Resorts You Don't Want to Miss! (guidemeaway.com)