When it comes to planning a family vacation with babies and young children, choosing the right all-inclusive resort can make all the difference. After all, you want a destination that not only pampers you with luxury but also caters to the unique needs of your little ones.
In this blog post, we'll explore some of the best all-inclusive resorts for families with babies and young kids. Each of these resorts offers a wide range of amenities and services tailored to ensure that both parents and kids have a memorable and stress-free vacation.
Finest Playa Mujeres
Cancun, Mexico
Finest Playa Mujeres is an all-inclusive resort for families with babies and young kids that offers a luxurious and unforgettable vacation experience. Located on a peninsula surrounded by pristine beaches and endless sand dunes, the resort offers breathtaking views of the Caribbean Sea. Moreover, guests can enjoy a variety of amenities at Finest Playa Mujeres, including stunning pools, exceptional restaurants, and a world-class spa. 
For families with young children, Finest Playa Mujeres is very baby-friendly. During your stay, all your baby's needs will be met with complimentary cribs, baby monitors, bottle sterilizers, electric kettles, bottle warmers, high chairs, and even baby bathtubs provided. Notably, select Family Suites even feature a private pool! 
Furthermore, fine dining can be enjoyed by all. Notably, the resort offers natural, homemade purees created exclusively for babies. Each are made from 100% fresh ingredients and completely gluten-free.
Special Amenities for Babies and Young Kids
Moreover, Finest Playa Mujeres resort offers a variety of childcare options for children of all ages, all of which are supervised by professional staff.
In the Imagine Lounge, you can leave their children for breakfast and dinner. Notably, this allows  you to enjoy some alone time. Furthermore, the lounge is well-equipped with video games, board games, movies, books, and more.
The Mini Club caters to young children ages 0-2 and 3-6. Parents are required to stay with their children under 2 years old. Here you will find, a nap room, a bathroom for adults and children, changing rooms, an area for families with babies, a kitchenette, a multipurpose room with games, and a mini pool playground with water slides.
For children ages 7-11, the Maxi Club offers a comfortable indoor area with bathrooms and a multipurpose hall filled with activities like video games, board games, books, and more. Also, there is a spacious palapa area with games like ping pong, air hockey, and more.
Beaches Resort & Spa
Negril, Jamaica
This all-inclusive resort is located on Negril's Seven Mile Beach, which was recently voted one of the best beaches in the Caribbean by TripAdvisor. Also, the water is shallow and calm, making it perfect for young children.
Special Amenities for Babies and Young Kids
Beaches Resorts offers children the opportunity to play every day with their favorite Sesame Street characters. They are the only Caribbean all-inclusive resort for families with babies and young kids to provide this. At Camp Sesame, children can participate in fun-filled activities like Baking with Cookie Monster, Puppet Making with Bert & Ernie, Move and Groove with Zoe and Rosita, and more.
Beaches Resorts offers a free nanny service from 9am to 9pm so that parents can enjoy some baby-free adult time.
Notably, all nannies and Kids Camp staffers are members of the International Nanny Association. Beaches Resorts trains all nannies and Kids Camp staffers in safety, nutrition, and child development. Additionally, Beaches Resorts has completed the rigorous International Board of Credentialing and Continuing Education Standards (IBCCES) training and Autism Certification. They are the first in the world to do so.
Beaches Resorts offers a variety of kids' programs, including:
Infant Program (ages 0-2): Here, you will find luxurious nurseries with cribs, strollers, high chairs, rocking chairs and everything your little one could ever need.
Toddler Program (ages 3-4): Supervised activities like toddler pools, shell collecting, face painting, treasure hunts, puppets, costume time, magic shows, and sand castle building are provided.
Navigators Program (ages 5-7): Kids can participate in creative and active activities like Beach Science, Beach Olympics, Kids Talent Shows, Treasure Hunts, arts and crafts, and more.
Adventurers Program (ages 8-10): Exciting activities like Scavenger Hunts, beach soccer, capture the flag, water pong, reggae jam sessions and more are enjoyed.
No matter what their age, kids are sure to have a blast at Beaches Resorts!
Nickelodeon
Punta Cana, Dominican Republic
This all-inclusive resort is a great choice for families with babies and young children. Additionally, adults can take a break from the kid-friendly fun at The Vassa Spa. Notably, the spa has oceanfront massages, bubble beds, an herbal steam room, chromotherapy showers, a dry sauna, and a whirlpool.
Continuing on, it is a perfect all-inclusive resort for families with babies and young kids. Likewise, the resort offers a variety of amenities and activities to make your stay enjoyable and stress-free.
Special Amenities for Babies and Young Kids
Firstly, they have the Gotcha Covered program. The resort supplies cribs, changing tables, baby food, baby monitors, strollers, beach toys, bottle sterilizers and warmers, step stools, bathrobes, and bathtubs.
This means you can pack light and know that everything you need for your baby will be provided.
Secondly, the resort has a dedicated Baby Zone. Moreover, it's a comprehensive nursery area with toys, cribs, learning activities, and an open play area designed just for babies and toddlers.
An experienced and certified Super Nanny childcare team supervises the Baby Zone. So, you can enjoy everything the resort has to offer knowing your little one is safe and well-cared for.
Overall, this is the perfect place for a family vacation with a baby or young children.
Franklyn D. Resort & Spa
Runaway Bay, Jamaica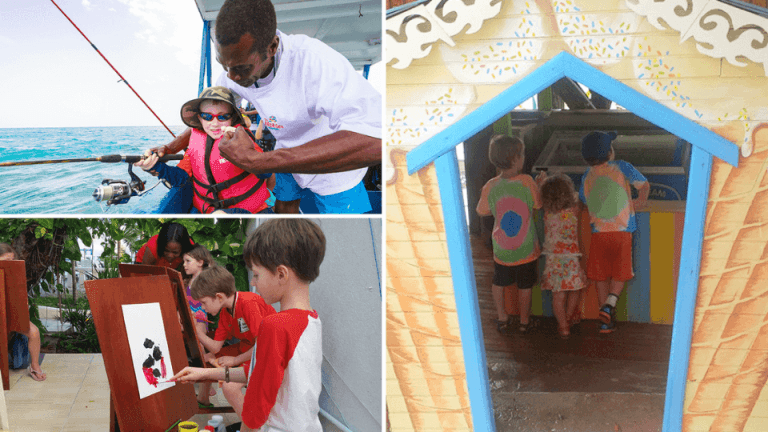 Franklyn D. Resort and Spa is a high-end, all-inclusive resort for families with babies and young kids on Jamaica's gorgeous north coast. Additionally, it's known for its stunning beaches and crystal-clear waters. Plus, guests can enjoy a one-of-a-kind Jamaican experience for kids, full of culture, history, and natural beauty.
Special Amenities for Babies and Young Kids
Franklyn D. Resort and Spa offers a unique kid-friendly Jamaican experience, with a dedicated nanny/vacation assistant for each family. Moreover, nannies are trained in housekeeping and child care. Additionally, you can take some time for yourself while they take your children for a swim, to the playground, or to any of the many daily kid-friendly activities. In addition, your little one's safety is ensured while they keep a close eye on them at the beach or in the pool.
Along with childcare, the nannies keep your suite tidy and keep your fridge stocked with snacks. They are happy to act as your Vacation Assistant and can help with special events. For example, you can receive assistance organizing family reunions, birthdays, anniversary celebrations or even off-property tours.
Also, a wide range of activities for children of all ages is offered at The Yellow Bird Kid's Club. Moreover, kids can enjoy outdoor and indoor arts and crafts, snorkelling lessons and beach picnics. Lastly, cooking classes, tennis lessons, beach games, and a 100ft slide called "Big Blue" is included. Furthermore, the club's experienced staff ensures that children are safe and well-supervised while they enjoy their activities.
Riu Palace
Cabo San Lucas, Mexico
The Hotel Riu Palace Cabo San Lucas is situated on a breathtaking white sand beach and promises an unforgettable vacation experience. This all-inclusive resort for families with babies and young kids offers round-the-clock, all-inclusive services. Moreover, you can expect diverse culinary offerings, top-notch entertainment, and many amenities.
An added perk, guests at the Riu Palace Cabo San Lucas have exclusive access to the adjacent Riu Santa Fe resort's Splash World waterpark. Likewise, shallow pools and an array of water slides that are bound to delight little ones. Of course, with parents supervision. 
Special Amenities for Babies and Young Kids
Continuing on, RiuLand kids club is a fantastic option for children aged 4 to 12. Kids are divided into two age-appropriate groups: one for youngsters aged 4 to 6 and another for those aged 8 to 12. This allows them to participate in activities designed to suit their specific age range.
What sets this resort apart is its dynamic animation team. For example, kids can play on the beach or by the pool. Continuing on, they can express their creativity through drawing, singing, face painting, and even choreograph dance routines. Also, they can help put on plays featuring Calú. Calú is the RiuLand mascot, inspired by a turtle born on one of the RIU beaches.
Booking Your All-Inclusive
Kid-Friendly Getaway
From dedicated childcare services to baby-friendly amenities, these resorts go the extra mile to ensure your little ones are safe and happy, allowing parents to relax and enjoy their well-deserved getaway.
So, whether you're dreaming of a Caribbean escape or a Mexican adventure, consider these all-inclusive resorts as your go-to destinations for a family vacation filled with cherished memories.
Planning your next trip? Schedule a free consultation call with Guide Me Away's travel experts to get personalized advice and recommendations.
Make Lasting Family Memories
Without Stressful Planning
The travel experts at Guide Me Away are here to help!
Get exclusive info about
kid-friendly resorts
sent right to your inbox.
"Guide Me Away is a great place if you're looking for a tourist agency that helps you to plan and book the right flight/vacation for you and your family. The travel experts were very supportive and, in less than one hour (!), had found the perfect set of flights we wanted to have for our multi-way booking. I wholeheartedly recommend Guide Me Away."
"The experts at Guide Me Away found us a great deal for an all-inclusive Mexican family vacation, about $1,500 cheaper than I could find anywhere else. And there were no catches – the hotel (Marina El Cid), the flights, everything was fantastic. They were very patient and understanding when we were going through various options, and eventually helped us to select the one that fits perfectly."
"This is a once in a lifetime experience. Morocco surprised us in every imaginable aspect thanks to the National Geographic (G Adventure) tour. We have experienced Morocco through views, sites, food and people in the most authentic way possible with very careful and customized personal accommodation. Thank you Lia and Guide Me Away for guiding me to select this trip. Sharing a few visions from the Sahara desert from sunrise to relaxing day."