When was the last time you went to a beautiful beach? The seasons are getting colder in the four seasoned states in United States. I'm sure for some, the best way to stay warm is to imagine being somewhere warm, sunbathing under the hot sun, and enjoying a single layer of clothing. One state park that all should visit is Honeymoon Island State Park!
When Honeymoon State Park was purchased back in 1930 by Clinton Washburn, the state park went under design to be an ideal island for honeymooners. By 1940, 50 honeymoon cottages were built and the first honeymooners arrived as their post-marriage destination.
However, after the influence of World War II and other buyers later, by 1970s Honeymoon State Park opened up a recreation area and invited other types of people to enjoy what this state park has to offer.
Florida is known to have warm temperatures above the 70s Fahrenheit throughout the fall and winter. Florida also has many beaches and parks worth exploring if you need a quick getaway from the dropping temperatures where you live right now.
In the name, anyone would think that the state park is not only meant for honeymooners, which was the initial idea for the park location! But over the decades, this park has been open to all who are looking for adventure, sunshine, nature, and the bluest waters to swim in.
Thinking of booking a trip to Honeymoon Island State Park? Here are 5 ways to have an amazing experience at Honeymoon State Park:
Double-check the CDC travel advisories before traveling (this blog post was written during COVID-19) here.
1. Swim in the bluest waters
The waters at Honeymoon Park are serene and beautiful. When you take a look at it, you feel that you were transported to the Caribbean.
No need to miss the islands!
2. Hike the nature trail
Honeymoon State Park is mostly a secluded beach where you can find part of the beach's natural beauty preserved and maintained.
The trail is about 3 miles in total to walk on and you can observe turtles walking on land and osprey taking a pit stop from flying.
3. Visit the nature center in Honeymoon Island State Park
In speaking of nature, Rotary Centennial Nature Center offers spectacular views of wildlife in its natural habitat. There are different species of birds, sea creatures, and mammals that you can observe on a tour or hike at the center.
Birdwatching is also highly encouraged!
4. Take your dog with you!
Sometimes travelers have to debate with themselves whether to take their best companion with them to their destination.
Honeymoon Island Park is the best place to bring your furry friend with you! It is a dog-specific beach where it is encouraged to bring your dog and let them have fun in the sunshine with you.
This is great especially if you live in a big city and your dog does not get enough time outdoors as possible.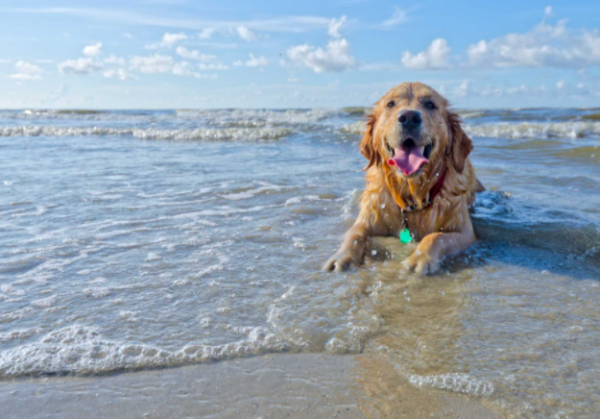 5. Kayak to Caladesi Island State Park
Caladesi Island State Park is a quick boat ride away from Honeymoon Island. But why just hop onto a boat? Kayak instead! This park is a paradise because it's isolated and far away from the mainland.
The image below is what Caladesi looks like when you get there.
Honeymoon Island is a local treasure of Florida that all should experience and visit.
Not convinced yet? Watch the video below and see what you can be missing out on.
Ready to book your vacation?