By Iris Alvarado  
Europe started to reopen last week, and there are a few countries that are doing better than others in terms of COVID – 19. Safety and least crowded places are the keys to enjoying the weather and visiting sites, doing what most people love to do, travel. A few countries with the lowest confirmed cases are ready to welcome tourists this summer. Are you planning to travel soon? I got astonished about so much to explore just getting off the trail of the most famous countries and cities in Europe. See below to find out the top 5 best countries in Europe to visit after Covid-19.
1. Corfu, Greece
This beautiful city is not like the rest of Greece, you can still enjoy the nature and turquoise waters surrendering the island. The old town is a Unesco World Heritage Site, the architecture and design of the buildings combined with sunny days, create the perfect match to have a great experience when you visit Corfu.
Places you should stop and visit:
Liston: With an elegant – French touch, you must walk into the arcades to take a closer look at the design and enjoy a cup a coffee.
15th century Old Fortress: This fortress constructed by the Venetians on the site of a former Byzantine castle. The Old Fortress is located within just a 15-minute walk away from Corfu central bus station.
Greece is open the borders for international travelers from June 15th. No quarantine is required.
2. Vienna, Austria
Imperial capital full of music, events, modern and traditional architecture invite tourists to immerse themselves in the culture and explore. The City of Mozart's, you will feel his legacy through every corner of Vienna. 
Schloss Schönbrunn is a palace with over six centuries of plenty of history and heritage.  If you are tired of exploring Vienna, also it's well known for the finest wine, so if you fancy a glass, there are a few wineries not so far from the city.
Austria has reopened the borders for Tourism; however, they have restrictions for a few countries. For more information click here 
3. Krakow, Poland
One of the most beautiful and vibrant cities in Europe. There are many places to stop, but nothing like the old town of Krakow. Main places to visit are Main Market Square & St Mary's Church, Cloth Hall and Townhall Tower, the remains of medieval city walls with Barbican and St Florian Gate. St Francis Church, Bishop's Palace, the Papal Window, Wawel Hill, and Wawel Castle. This is a friendly city; most local people offer free tours around the old town, get ready to enrich your knowledge and have fun!
Poland opened the border on June 13th for tourists. 
4. Postojnska – Predjama, Slovenia
Postojna is a gem in the Karst Region, the magnificence of those mighty Caves that have been delighting thousands of visitors for years now. Imagine the spectacular wonder of visiting a cave, and then you see a Castle next to it? How often we usually see this? No, very often, it's a perfect family trip full of things to do and explore. There is also a Hotel on site where you can spend the night and looks like a cave too!
5. Plitvice National Park, Croatia
You should book a ticket to the Plitvice Lakes National Park if you are looking for an adventure and exploring Croatia. The park is open all year round and captive tourists with the combination of the colours during the fall and winter wonderland sceneries. Zagreb is only 2 hours away, and tours and buses are frequently going to the park. Croatia slowly reopens the borders for European travelers for updates, click here.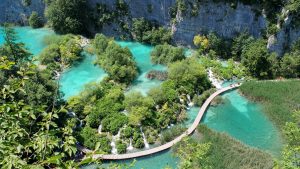 The meaning of my travels is changing, adding to my soul more meaningful experiences. What are you looking for in a destination? Are you a foodie friend? Adventure?
Find more Europe travel tips here:
https://guidemeaway.com/your-next-adventure-awaits-united-kingdom-2021
https://guidemeaway.com/7-destinations-for-your-fairytale-honeymoon
Share your travel ideas! Book a trip with us!