When searching for the best cruises for families, there are a lot of factors that come into play. Where to go, which cruise line to take, what activities do they provide, and how much will it cost me? If you landed on this page, then you must be looking for the answers to these questions.
Most cruises are family friendly and there are a ton of options to pick from. So how do you know which ones are the best for your family? After looking around, I have compiled a list of cruise lines suitable for families of all varieties. Let's start off by talking about the best cruise line for toddlers.
The Best Cruise Line For Babies and Toddlers
When looking around, there were a variety of cruise lines recommended for children, but the one that jumped out at me the most was Carnival Cruises.
The reason I chose Carnival Cruises as the best cruise line for babies and toddlers is that each ship has a drop-off kids camp called Camp Ocean. This is a free benefit while sailing with Carnival, and hey, who doesn't like free! The best thing about this camp is that it's an all-day day care service which allows you, the parents, at least one day to relax and enjoy each other's company.
Camp Ocean is great for toddlers and even some tweens. There are three different play areas and groups that the children are separated into Penguins ( 2 to 5), Stingrays (6 to 8) and Sharks (9 to 11), so each age group will get the proper attention. Not only can you drop your kids off for the day, but they also offer late night sitting for a fee.
Their group babysitting for babies and toddlers ages 6 months to 11 years old is known as their Night Owl program. They even have late night themed parties for the younger kids on some nights. Along with the late night options, Carnival cruises also offers babysitting for children under 2 for an additional fee.
Camp Ocean is the main reason I went with Carnival Cruises as the best cruise line for babies and toddlers, but it isn't the only reason. Aboard their ships, they also offer typical amenities such as kiddie pools, play areas, etc. Infants must be at least 6 months at the time of embarkation for medical safety reasons.  Strollers are available for rental onboard for as low as $10 a day, plus a security deposit of $75 that is refunded upon return. The stroller model is  Kolcraft Cloud Plus (Model #KL029-FRR1).  There are also complimentary cribs (upon request), as well as booster seats and high chairs.  As far as infant food goes, you are permitted to bring aboard sealed baby food as there is not any baby food/supplies on board for purchase.  Breastfeeding is also permitted everywhere on board, too, which makes it easy for moms in a pinch with a starving baby.
Carnival Cruises are affordable, very toddler-friendly, and have a variety of ships to choose from!   I'm not saying you must book a cruise through Carnival, but definitely check them out if your traveling with a toddler. To make your search even easier, here are some specific tips when traveling with a toddler.
The Best Cruise Ship For Teens
The thing about cruises is that there are many companies out there and each has a variety of ships. When thinking about the best cruise ships for teens, I took a step back into the past and thought of all the things I'd want to do being stuck at sea for a week with my family.
That's when I came across the Norwegian Joy.
I've sailed with Norwegian before, but never have I been on a ship like this. I can just imagine how my 12-year-old self would react to seeing this ship. The first amenity that made me decide to go with the Joy is their Go-Kart track.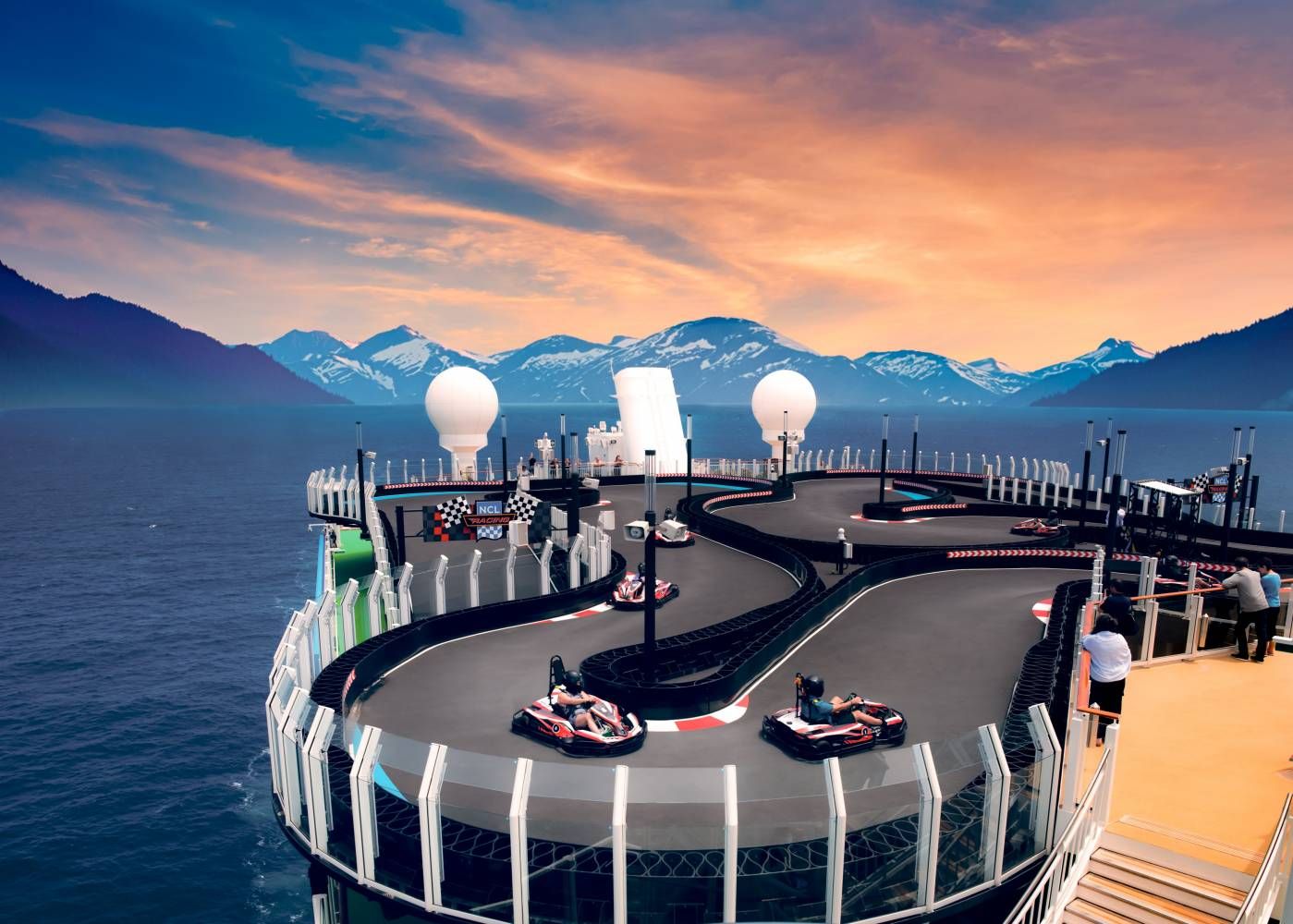 Being able to race your family and friends on this epic track while sailing at sea is truly amazing. This will for sure keep your teens occupied and happy! Another cool feature that this cruise ship offers is mini golf. Whether the whole family is playing or your kids are playing with their new friends, everyone will have fun on this 5 hole course.
Not only does the Norwegian Joy have Go-Karts and mini golf, but they also have laser tag. Now, how cool does that sound! The galactic theme laser tag is set up outside so the whole family can have a blast under the ocean stars.
After everyone is done playing laser tag, making some hole-in-ones and racing around the track, you can head over to deck 16 for an amazing 7D experience!  Your teens can immerse themselves into the virtual world of The Galaxy Pavilion. They can experience a world like no other in the 7D adrenaline-fueled gameplay of Dark Ride or enjoy watching colorful 3D animations come to life on the Wonder Wall.
The last two kid-friendly amenities that really sealed the deal is the Aqua Park and the Entourage Teen Club. The Aqua Park has a slide the twirls off the side of the ship and splashes you back into the pool. At the Entourage Teen Club, they can enjoy movies, music, video games, and other entertainment.  This is your teens time to escape from you and enjoy the company of people their age.
The Best Cruise Ship For The Whole Family
All these cruises mentioned are family friendly, I just broke them down to be more specific to certain age groups. Royal Caribbean's Anthem of the Seas, to me, is among the all-around best cruises for families! The reason this is the best cruise ship for the whole family is that it encompasses aspects of each of the other cruises.
This ship has so much to do for the whole family! Aboard the Anthem of the Seas, there are a variety of adventurous activities for the kids and you to take part in. Among the normal amenities like pools and hot tubs, you can expect to find much more while sailing this ship. Kids can enjoy the rock climbing wall, ride the waves on the surf simulator, and even take part in trapeze school! If they're looking to be really adventurous, experience what it feels like to skydive with their skydiving simulator!
The fun doesn't stop there! Jump in and drive around bumper cars, head over to the science lab for exciting experiments or become an expert cupcake maker at the cupcake classes. To really put the icing on the cake, not only is there a water park for tots to splash around in on board, but one of the ports you stop at is Royal Caribbean's private island, CocoCay!
Don't think I left you parents out. There are a variety of activities for you to take advantage of while your children are doing their own exploration of the ship. From wine tasting to live bands to amazing entertaining shows, there isn't a scarcity of things to do.
Still Need Help Finding The Best Cruise For Your Family?
If you're still not sure that any of these cruises are the best for your family that's alright. These are just some recommendations and thoughts to help you compare your options.
I know it can get overwhelming trying to make a decision on what the best option is, but you don't have to do it alone. If you still need help finding the best cruise for your family, head over to Guide Me Away and speak with a travel consultant today. They can help find you the perfect family cruise you're looking for.