Why Solo Travel?
In the last couple of years, solo travel has exploded in the traveler world. Gone are the days feeling like you can only take that bucket list trip if you have someone else to go with. Solo travel means freedom, independence, and out of your comfort zone experiences. It's for everyone! In my travels, I've met hundreds of solo travelers. From 18-year-olds running through gap years to retirees finally taking the trip of their dreams, it's truly a mix. Here we'll tackle that nagging fear that solo travel will be lonely, read more for how it can be anything but!
The number one question I receive when I tell others about my solo travel adventures is, "but doesn't it get lonely?". HAH. Solo travel can be many things, but lonely is not one of the adjectives I would use. Granted, if you can't even begin to imagine sitting down for a meal by yourself, solo travel may prove to be a bit difficult. But that's where you can start! Go out to eat by yourself or see that movie in the theater that no one else wants to. Solo travel within your own city and it will open your eyes to how fun it can be!
Then for those who have solo traveled before, have you ever been hit with the "increased price for individual travelers" or paid more for a tour solely because you didn't have someone to split the room? Lucky for us, tour agencies are starting to notice the influx of solo travelers as well. Both G Adventures and On The Go Tours currently excel at the solo traveler game specializing in providing group travel experiences for any and all types of travelers. See more below!
G Adventures is a tour company not like the rest. Their focus on responsible travel that provides "off the beaten path" experiences for their travelers is truly unique. Even more admirable is their commitment to providing the same experiences for solo travelers. To aid in avoiding pesky extra private charges, they help pair you up with a roommate of the same sex. Not only do you avoid additional fees, but it's almost like a bonus automatic travel buddy to meet! Though if you would rather have your own room still, they'll happily provide that as well at a great price. In addition, G Adventures is known for its small group travel tours. This is perfect for those looking to make new friends in a more intimate group setting! Still not fully convinced? Read further for many more reasons to travel with G Adventures!
"I'm used to traveling on my own, so I wasn't sure if going with a group of strangers was going to work for me. I was wrong. You get company when you need it, independence when you don't."

– Testimonial from a G Adventures' solo traveler
Explore South America
South America is saturated with culture, cuisine, and jaw-dropping views. Though if you don't have a base of Spanish language knowledge, traveling alone can feel somewhat nerve-wracking. Though it's still certainly not a place to miss! G Adventures offers a multitude of tours to South America! The travel styles range whether you're looking for an active adventure of trekking the Inca Trail in Peru or maybe a relaxing rejuvenation at a lodge in Patagonia. G Adventures has a huge selection of tours to choose from where we're sure you'll find your perfect vacation no matter your preference!
Even better news for your next solo travel adventure? When you book a G Adventures tour with Guide Me Away, we offer an additional $100 off their lowest sales price. What are you waiting for? Contact us today!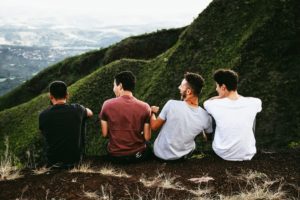 On The Go Tours has really hit the nail on the head for catering to solo travelers. In fact, solo travelers make up about 20% of all their passengers! On The Go Tours guarantees an unforgettable experience for all with their award-winning tours. For those on solo travel adventures, there are no 'single supplements' so you'll get your own room at no extra cost. From the very beginning of your arrival into the country, On The Go Tours will be there to meet you at the airport. So forget about any worries of trying to navigate a new city or language jet-lagged. In the end, you'll leave with so many new friends, you'll probably even forget you started off solo!
Travel through Egypt
Have you always been intrigued in exploring Egypt? Though maybe your friends and family are a little less adventurous? Don't let that stop you! Explore the famous Pyramids of Giza, learn royal history, and discover the blissful Red Sea. All possible in the Egypt Uncovered tour with On The Go Tours! Sit back and relax as local guides assist at every point from showing the very best of Egypt. They arrange local transport to tourist attractions as well as provide recommendations for what to do in your free time. On The Go Tours makes it easy to travel on your own leaving you with more time to thoroughly enjoy your holiday for a truly all-inclusive experience!
To rest our case, solo travel is truly for everyone. No matter your age or travel style, there is a way for everyone to adventure as they please! Traveling with companies such as G Adventures and On the Go Tours can provide experiences that may otherwise be difficult to find on your own. Plus at the end of the trip, we're sure you'll be leaving with more than a few new friends!
Want to learn more about the perks of small group tours? Read more in here!
________________________________________________________________________________________
Guide Me Away
Did you know that Guide Me Away is rated the best travel agent in Vancouver on Yelp? Years of experience contribute to assuring customers have the trip of their dreams!
To further help in making your travel plans, we have both English and Hebrew speaking travel experts ready to assist.
Learn more about the services Guide Me Away provides and how we can help make those dreams a reality. Contact our travel experts today!