Imagine waking up in a new country, greeted a local breakfast that you can sit down and enjoy since your day's plan is already set. These are the all-inclusive perks of a small group tour. Why waste your precious vacation time pouring into guide books and maps, trying to decide what to do for the day? Similar to the "Chef's Choice" option at a restaurant that you wouldn't dare try to modify, sometimes the experts know best. Group tours provide a full all-around catered experience showing the best the country can offer.
"But group tours are boring and overwhelming…"
You wouldn't be the first person to say that or think it for that matter. Just the word "tour group" drives most of our minds to pictures of large groups meandering like lost cows in a herd. The matching hats and the group tour guide who no one can hear anyways. Although this is one type of group tour, it certainly isn't always the case. Small group tours offer a different way to explore and can actually be not only budget-friendly but also sustainable!
Save time AND your budget.
Think about your last grocery shopping trip. When you went hungry and the next thing you know you've bought half the store. What was supposed to be your grocery budget for the month you just blew in two hours of hunger daze! If you had stuck with that original grocery list, you would have been right on target. Similar to a grocery store run, sometimes traveling expenses can catch you off guard. Food, accommodation, transportation, and activities all start to add up and before you know it your travel budget is ruined. When you book with a small group tour, you know what you're paying ahead of time which makes sticking to your budget much easier. Though that is until you see the beautiful Moroccan scarves at a market, we can't help you there!
Experience an authentic adventure.
Small group tours are led by experienced and knowledgable tour guides who are paid to know the country. Don't spend your time peeling over which is the best hike in Machu Picchu or when to go see The Lourve. Instead, devote your attention to enjoying the best local dishes at authentic restaurants or exploring the Amazon rainforest led by expert naturalists. Enjoy your travels and leave the nitty-gritty details to the professionals.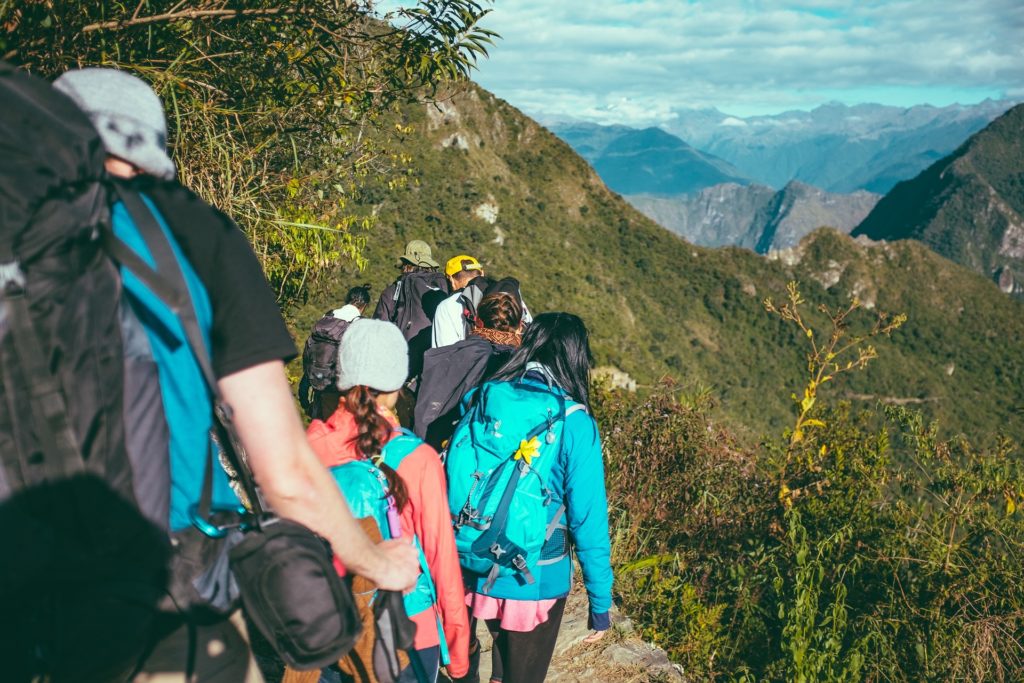 G Adventures has small group tours figured out.
As a company, they have truly proved their standing in the world of small group travel with over 28 years in the field. G Adventures' dedication to responsible tourism and creating authentic experiences for all their travelers set them at a level above the rest. Small groups are at the heart with their trips averaging around 10 travelers and usually never more than 16. On top of that, their policy of life-time deposits makes it easy to commit to your dream trip. That way even when life gets in the way, your deposit remains valid until you're ready to go. The list goes on of the many small group tour perks of traveling with G Adventures!
Unique tours and experiences.
With a focus on adventure travel, G Adventures offers a step above your typical vacation. Their tours are designed for travelers who really want to get to know the world better through an authentic and local experience. Though fair warning, you may be a bit overwhelmed taking a look at all the tour options. Offering tours in an array of countries across all seven continents, there is an option for everyone through G Adventures. From "National Geographic Journeys", "Family Tours", and even those for the "18-to-Thirtysomethings", you'll find a true adventure to fit any and all travel styles. Just imagine your next vacation watching elephants plod across the Serengeti or gazing up at the roaring Iguazu Falls.
Travel responsibly.
Through their tours, G Adventures has maintained its commitment to sustainability and responsible tourism. Their non-profit partnership with the Planeterra Foundation ensures that tourism gives back to the local communities as much as we gain from traveling. On select tours, G Adventures provides opportunities for interaction with indigenous people and local experiences while still taking special care to protect both the environment and the communities.
Benefitting the animals.
The benefit of small group tours is that they are ideal for wildlife interactions. Less noise and smaller groups of humans offer a more beneficial experience not only for tour attendees but for the animals as well. Then for the animal-loving travelers, G Adventures offer the "Jane Goodall Collection" a selection of 20 wildlife-focused tours. These specific adventures have even been endorsed by the famous ethologist Jane Goodall herself as a result of the tour company's responsibility and care for the animals involved.
In conclusion, group travel doesn't always have to follow stereotypes. In fact, small group tours can be one of your most economical and sustainable ways to travel! With a tour through G Adventures, you won't have to lose the authenticity nor the thrill of your upcoming vacation. Instead, you'll most likely end up with a greater adventure than you could have ever planned!
Why book with Guide Me Away?
Why book with our services? As a further bonus, we offer an additional $100 off any of G Adventures' tours, including sale prices! Let us help you book the best small group tour for your next vacation!
Did you know that Guide Me Away is rated the best travel agent in Vancouver on Yelp? Years of experience contribute to assuring customers have the trip of their dreams!
To further help in making your travel plans, we have both English and Hebrew speaking travel experts ready to assist.
Learn more about the services Guide Me Away provides and how we can help make those dreams a reality. Contact our travel experts today!
Looking on to your future travels and all the exciting adventures you're sure to have? Making friends with wild orangutangs and cycling Iceland will be life-changing experiences but make sure you're protected! Be sure not to leave home without travel insurance and we'll tell you why!