Did you know that there are secret deals available only for travel agents? Yes, a few distinctive suppliers only disclose special discounts and promotions for travel agents. So that is another reason why it's important to book through Guide Me Away. Well, there are special discounts that HVN Apartments and Villas have in many beautiful destinations. Are you planning a family reunion or getaway in the next couple of months? Let me tell you a few good deals available exclusively with Guide Me Away.
1. A romantic escape in Paris 
In the middle of the most romantic city in the world, a beautiful studio with a balcony, all amenities exclusive for couples and honeymooners. Feel the atmosphere of staying in an 18th-century building nearby museums, shops, and restaurants; I can imagine my day going around the city. 
Credits www.stayhvn.com
Here is the special discount, booking through Guide Me Away, the price will be between 180-200 USD per night. If you are booking online, the price fluctuation is between 267- 300 USD. Big booking websites are taking the full commission, and travellers are paying for it, whereas with Guide Me Away, there is no commission associated with the client's booking. In summary, there is almost 100 USD per night that you could spend on something else while you are in Paris. That sounds pretty good to me. Don't you think? 
2. A family getaway in Hawaii 
Nothing better than feel the breeze and enjoy the sunrise from your balcony while you are in Hawaii. After COVID-19, experts predict that more families will be looking into more private places to enjoy their vacation. This condo in Kihei-Hawaii is perfect for a family or friends travelling together. Located only 5 minutes away from the beach and can accommodate up to 6 people. 
Some of the amenities:  
TV(s)
Internet
WiFi
Grill / BBQ
Pool Access
Air Conditioning
Dishwasher
Garden
Elevator
Credits www.stayhvn.com
The price for this condo is around 470 USD per night for six people. A terrific deal with access to the pool and only a few steps away from the beach. The average price online is almost the same, 482 USD but the add the cleaning fee 150 USD and the reservation fee 50 USD (this is something new that most websites are doing due the cancellation for COVID19 and they don't refund the money in case you can't travel) 
3. Full Italian experience in Montemagno/Toscana/Italy 
What about celebrating your next birthday party or anniversary in Italy? A charming Italian home away from home. It could be a new way to experience the countryside of Italy in Montemagno. The house offers beautiful views of the surrounding valleys and the Tyrrhenian sea, including Tuscan's near islands. With a capacity for ten guests, five bedrooms, five bathrooms, a hot tub, and a private pool should be the most to "see and stay" for your next vacation.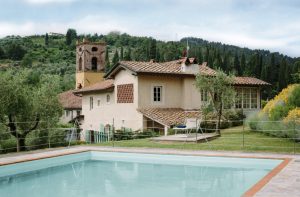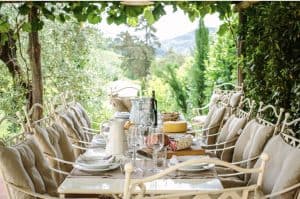 credits www.stayhvn.com
The renting fees for this property, a part of HVN Apartments and Villas, are between 757 USD to 1000 USD per night, with a 1000 EUR deposit. I did not find this property listed anywhere else, so it's an exclusive offer from HVN and Guide Me Away.
4. Santa Fe adventure with "Amigos"
Many attractions, beautiful views and deserts to explore, your trip will be made even better with a stay at this modern-yet-rustic vacation rental. This 3-bed, 3-bath home features numerous amenities, like a state-of-the-art kitchen and Jacuzzi tub, but what makes it remarkable are the mountain views visible from the living room. Spend your days on the slopes of Ski Santa Fe, hiking in the Santa Fe National Forest, or exploring downtown's attractions.

credits www.stayhvn.com
This fantastic place is on the HVN Apartments and Villas will be around 300 USD per night based on four guests. If you check on another popular rental website, the price could be about 370 USD for reservation on the same days.
5. A mountain retreat vacation in Aspen
This beautiful HVN Apartments and Villas Mountain Condominium is located directly on the free shuttle route, just minutes from the Village shops restaurants and lifts. Aspen is also consistently rated as one of the top destinations for families by Skiing Magazine. The new Base Village boasts numerous restaurants, bars, and shops and a vibrant Aspen Ski scene. So if you are looking for a private and breathtaking view, Aspen is the place to visit next winter.
Amenities:
TV(s) Internet WiFi Fireplace(s) Hot Tub Jacuzzi Pool Access King Bed In-Suite Laundry
       
credits www.stayhvn.com
The property renting price started at 569 USD based on eight people occupancy already with Guide Me Away special discounts included. A very fair price if you think that Aspen is one of the most famous ski destinations in the world.
In summary, every time you book with Guide Me Away, you're saving between 10% to 25% of the price of booking depending on the season and availability. It is also essential for us to let you about the other charges that are now implemented by hotels and rentals, but with us, you will still be paying less. We highly recommend planning ahead if you want to travel, we can always assist you with recommendations and tips to enjoy, be happy and travel more with special discounts just for you! 
***Prices are subject to change depending on the booking days****