Aloha!
 This week we are heading to the beautiful islands of Hawaii, it is a popular getaway for surfers, honeymooners, hikers, luxury travelers and anyone looking to enjoy natural beauty and the slower pace of island life deciding to take a Hawaii trip is easy! Figuring out which Hawaiian Islands to visit is when the struggle becomes real therefore, we made this list of the most visited Hawaii islands to show you what each of them can offer you
1-Oahu
The most visited, populated, touristy, and developed island in Hawaii's chain
Come here if you want to experience the Hawaiian vibe and culture, and if you are also looking to party
some of the nicest resorts to stay at here are
weather averages in Oahu for the next 4 months
This island has a full list of places to visit, some of those are Waikiki beach(the main tourist zone), Lanikai beach, makapu'u beach, the bishop museum, cove beach, and the green world coffee farms
check out the video below on some of the best beaches on this island
2-Maui
The shining star of the Hawaiian Islands
Maui is full of luxury, world-class beaches, towns, and rural areas and that is why it is visited by millions every year
our top 3 resorts in Maui are
weather averages in Maui for the next 4 months
Some of best experiences in Maui are whale watching in Molokai, staying at the exclusive Wailea resort, windsurfing in Hookipa Beach, and enjoying helicopter tours to explore the whole island
check out this amazing video of Maui, Hawaii from above!
3-Hawaii (The Big Island)
The biggest of the islands full of energy, adventure, and a wonderland of environments
and there are 2 active volcanoes here, Kilauea and Mauna Loa
the best resorts to stay in here are
weather averages here are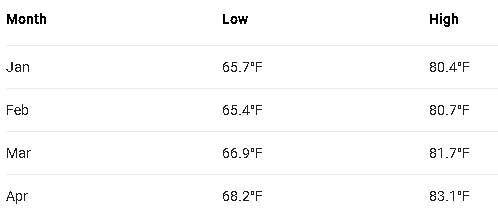 the big island offers loads of fun and unique experiences and places to visit such as Hawaii volcanoes national park
head to the west side of the island to whale watch, or enjoy the world-class golf courses, or to the east side to enjoy lush rainforests hikes, or the amazing waterfalls
https://www.youtube.com/watch?v=OcIQ
4-Kauai
Known as the garden isle due to its rainforests green lush color, and the oldest of the islands in the Hawaii chain
not visited by many tourists when compared to the other islands, however, this is a paradise for active travelers seeking adventures
but that doesn't mean you can't enjoy Kauai without luxury
some of the best places to stay here are
weather averages here are
adventure is truly unlimited here, enjoy hiking around Wailua River, get on some fast ATVs, or enjoy a private helicopter tour above the beautiful island of Kauai, Hawaii.
5-Lanai
Lanai is the smallest inhabited island in the Hawaiian chain, and it is only 9 miles away from Maui
this island offers world-class resorts and golf courses
the top resorts to stay at are
weather averages here are

check out this amazing video of the Four Seasons golf resort
in conclusion, traveling to Hawaii is an amazing experience, the islands offer unique experiences for all kinds of travelers
contact us now and let us guide you away to Hawaii! here