Sustainable Tourism is tourism that takes full account of its current and future economic, social and environmental impacts, addressing the needs of visitors, the industry, the environment and host communities.
We believe adventure tourism is the most sustainable way to vacation because your vacation takes place in the natural features we all want to preserve and promotes local economies more than traditional tourism. It's also a great way to challenge yourself and pick up a couple of new skills, all while having a blast!
Adventure travel is a trip that has at least two of the following: physical activity, natural environment, and cultural immersion. A trip combining all three is the perfect adventure!
Types of adventure activities
Backpacking

Birdwatching

Camping

Canoeing

Caving

Climbing (mountain/rock/ice)

Scuba diving

Snorkeling

Surfing

Sustainable tourism
Cruise

Cultural activities

Hiking

Horseback riding

Kayaking

Rafting

Trekking

Volunteer tourism

And MORE!
But we don't just love sustainable adventure travel, we live it.
My name is Izzy Juell and I'm Guide Me Away's newest travel agent. I have a degree from a four-year university in environmental science and sustainability and have spent years working in natural resource restoration and environmental education before finding my way to travel. I've learned what it takes to restore natural resources after they've been hurt or impacted by people. I know how important it is to treat our planet well and consider the impact of our travel. 
It's my commitment as your travel agent to provide personalized.
sustainability tips to you after booking every vacation. These tips will help you make smarter, greener decisions while you're away, and may even help you save a few bucks.
My love for adventure comes from growing up in Seattle, Washington. I've always lived within an hour of the beach, forests, mountains, and big cities. In the same weekend you can find me hiking Mount Rainier and walking Green Lake, so you can trust my love and passion for exploring new places and challenging myself physically. I know what it takes to plan a fulfilling and exciting adventure.
I'm excited to plan your next sustainable adventure!
Here you'll find our cultivated list of adventure tours from all over the world, featuring the most action-packed, nature-filled, and scenic adventures in your dream destinations
Have you ever considered planning your next adventure around your sustainability interests?
Voluntourism: a longtime travel industry niche, has risen in popularity in recent years as a way for travelers to give back and make a difference in the communities they visit. The effort has increasingly spread to cruises, where itineraries offer charitable initiatives onboard and excursions with an eye toward volunteering in port (like helping to build schools, teaching English to local school children or cleaning up beaches).
Volunteer excursions: Many cruise lines offer opportunities to volunteer on land excursions during your vacation, here are some great examples.
Princess Cruises : Travel Deep Caribbean. Guests join locals for in-depth immersion into island life, a connection with local communities, a donation drop, and community care, making a tangible difference in their lives. In 2018 in St. Thomas, guests on Crown Princess handed out nearly $14,000 worth of baby items, purchased by travelers, to more than 200 young families from the island. In the afternoon, the group helped the local Boys & Girls Club, where they built game tables, repainted facilities and heard stories from local children.
Holland America Line: Cruise with Purpose. Some of the most popular offerings include a stop to interact with local schoolchildren at the Betania Foundation in Corinto, Nicaragua, or a reforestation-focused tour of volcanoes and forests in Reykjavik, Iceland, where a tree is planted in participants' names.
Crystal Cruises: You Care, We Care. Options might include an orphanage visit in Sihanoukville, Cambodia; a stop at a rescue center for homeless cats in Bergen, Norway; or a tour of a mangrove preserve and wildlife sanctuary in Sitio Cajuyong, Philippines.
Royal Caribbean International: Save a Turtle. Select ships will have the Save a Turtle excursion available. Every evening the turtles hatch and make their way to the sea, but only about 80 percent of the hatched turtles make it to their ocean destination. On this tour, you'll help local volunteers rescue the 20 percent of hatchlings that are not able to reach the water.
On-board Fundraising
 Many cruise lines offer opportunities to donate to good causes while onboard.
Holland America's On Deck for a Cause: More than 500 "On Deck for a Cause" events are planned annually across the HAL fleet, and the program has raised nearly $6 million since its inception in 2006. Every year on World Cancer Day (February 4th). On Deck for a Cause program invites guests to participate in a noncompetitive 5k fundraising walk on every sailing of the line's ships, with proceeds distributed among the American Cancer Society, Canadian Cancer Society, Cancer Council Australia, Cancer Research UK, Deutsche Krebshilfe (German Cancer Aid) and KWF Kankerbestrijding (Dutch Cancer Society).
Royal Caribbean International's Walk for Sea Turtles
Royal Caribbean partnered with World Wildlife Fund (WWF) in 2006 to protect sea turtles through on-deck donations, a charity Walk for Sea Turtles around the ship deck, and charity Swim for Sea Turtles. WWF helped Royal Caribbean set sustainability goals including reducing their greenhouse gas emissions by 35 percent by 2020. Royal Caribbean International has also worked with WWF on Arctic cruise trips to raise money to protect polar bears with their Walk for Polar Bears charity event.

Carnival Cruise's Care to Play: Care to Play fundraising campaign on-board Carnival ships to raise money for St. Jude Children's Hospital. Since the creation of Care to Play, Carnival has raised over $18 million for St. Jude. They have many opportunities to raise money including "Groove for St. Jude," a dance charity party and "Day of Play," hosted at the hospital, providing patients and their families with a special fun-filled event. This year, our Carnival team members brought the whimsical world of Dr. Seuss with the Seuss-a-Palooza Parade and Story Time, face painting, beanbag toss, a photo booth… plus a fan-favorite Dr. Seuss Bookville family reading space.
Charity Cruises: Some organizations and travel agencies partially charter out cruise ships for the purpose of charity-driven theme cruises. By participating, you're ensured that a good portion of the proceeds (from both cruise fares booked and onboard fundraising initiatives) go toward supporting the highlighted organization.
Royal Caribbean International's Sails for Tails charity cruise, a cruise dedicated to raising money for animal shelters and also features pet educational events, animal shelter visits, trivia, and scavenger hunts. This charity cruise departed in May 2019 but hopefully there will be more "Sails for Tails" cruises in the future.
If voluntourism or any of these specific excursions, on-board fundraising opportunities, or charity cruises sounds like a great way to give back on vacation, contact our expert travel agents today!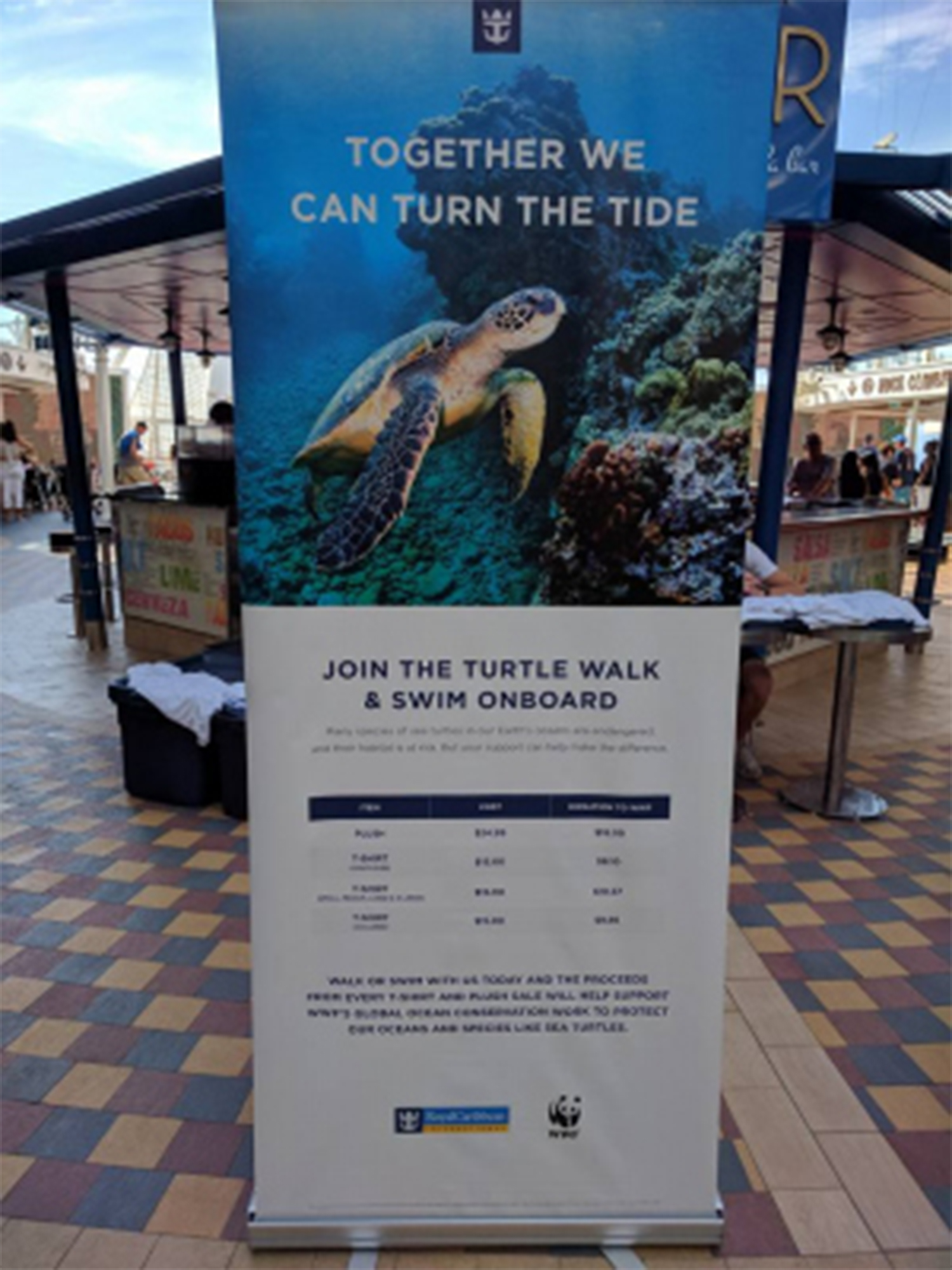 Sustainability Links
Use these links to help you travel more responsibly.
Blog Posts
Check out our adventure and sustainable travel blog posts: