The quickest way to our hearts is food, right? I know it's most certainly mine! Lucky for us, Vietnamese cuisine has no shortage of delectable dishes to satisfy till your heart's content.
The spicy, sweet, tangy, and rich flavors of Vietnam will make your feet stop and your mouth water. Whether you're stopping at a Bánh Mì stand for a quick bite or you find yourself in one of the many small restaurants with your only choice being what meat you want in your Phở (if you're even given that choice), the Vietnamese traditions, charm, and tastes will leave a lasting impression.
Vietnam is a country rich in history, culture and best of all, FOOD. One of the incredible characteristics of Vietnam is its over 3,400 kilometers (2,000 miles for the imperial system users) of coastline. With a country that stretches 1,650 km from the very south crossing paths with the Mekong River all the way up into the Northern provinces meeting the Chinese border, there is plenty of room in the middle for a vast variety of different climates, ingredients, methods, and dishes!
It's hard to focus on just a few, but these five dishes stand out in many more ways than one.
Phở 
Phở (pronounced "fuh" so please don't start ordering a bowl of "foe") is a Vietnamese noodle soup made from beef broth, rice noodles, thinly sliced beef, and the epitome of Vietnamese food. Served to you in usually a rather large bowl, most times it will be accompanied with garnishes such as basil, cilantro, bean sprouts, hoisin sauce, soy sauce, fish sauce, sriracha, chili paste, jalapeños, limes, etc. Honestly anything the restaurant saw fit to put on the table with you. In the majority of the small, authentic restaurants, when you order Phở, you get what you get with little room for modifications. With all the garnishes on the side, that's where you can add and test flavors and spiciness until you reach the perfect bowl.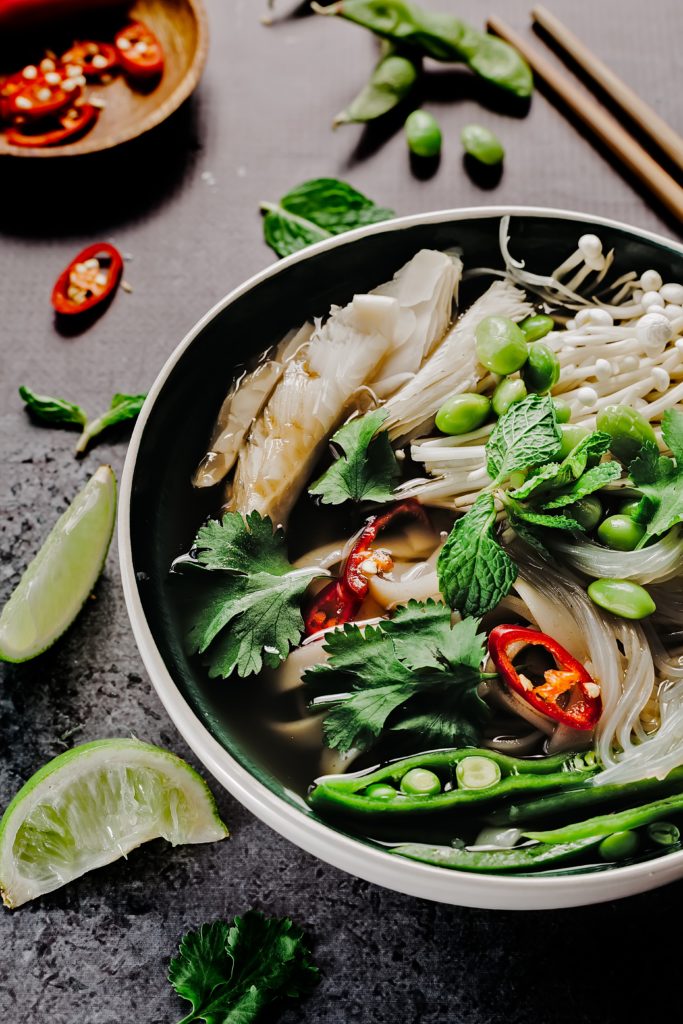 Bánh Mì
There's no better sound when your stomach starts to growl than the clanging and rattling of a Bánh Mì stand rolling up the street. A Bánh Mì is the perfect combination of a crunchy french baguette overflowing with carrots, cilantro, cucumbers, spicy chilis, and pork. There's some variation in regards to the protein as sometimes there's an option of fried eggs, chicken, beef, or even tofu. Somehow even with these basic ingredients, each stand does it their own way. You never really know what's the difference but you don't really care because they all taste incredible.
Bún Chả
Bún chả is another traditional Vietnamese dish originating from its capital, Hanoi. The essence of simplicity at its best, bún chả is a dish comprised of rice noodles (bún), a bowl of grilled pork in broth (chả), and a basket of fresh greens. Many times you'll find the bún chả to be accompanied by fried spring rolls as well to add to the dipping fun. 
Gỏi Cuốn
Gỏi Cuốn, commonly known as "Vietnamese Spring Rolls," is a Vietnamese staple. Traditionally they are wrapped in rice paper and stuffed with an array of vegetables, garnishes, and/or meats. You can find them fried or a little healthier in their 'fresh' form. These rolls go best when served alongside a peanut or sweet chili dipping sauce. They are an easy on the go snack or full meal depending on how many you decide to have. Don't worry, no one's counting!
Is you stomach already starting to grumble? The blog Tastes Better From Scratch has a delicious looking recipe for Fresh Vietnamese Spring Rolls that you can make right at home! Including a step-by-step of the rolling process, the hardest part of all.
Chè Ba Mau
Saving the sweetest for last, Chè Ba Mau. One of the more unusual dishes I found in Vietnam, Chè Ba Mau literally translates to "three color bean dessert". Which easy enough, is exactly what it is! Fill your cup with a mixture of beans and jelly, topped with ice, and covered in sweet coconut milk. Similar to many other Southeast Asian sweets, these desserts are not meant to be overwhelmingly sweet but instead a perfect level that's absolutely delicious. You'll see these stands pop up around the Vietnamese food markets throughout the cities. It may be intimidating but it's worth it to try these different and traditional dishes. Though the dish starts off pretty, as you dig in the layers they quickly blend together. So fair warning, get those instagram pictures in early!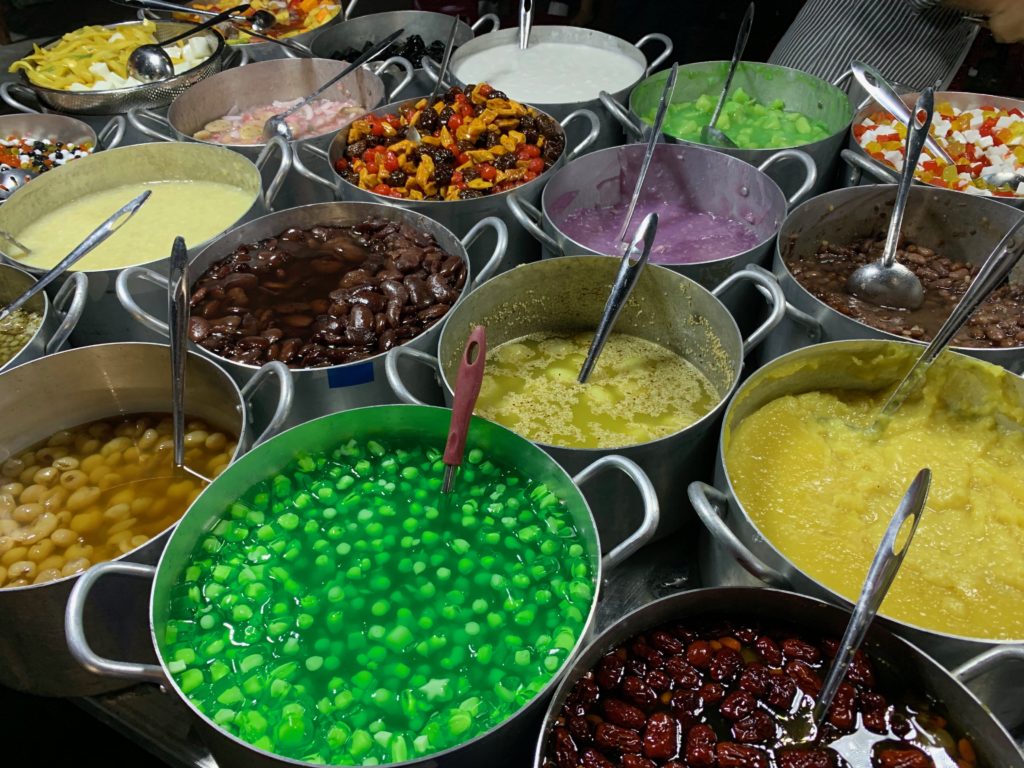 It's hard to pick just five dishes from the hundreds of different variations of Vietnamese cooking. The next person arriving from Vietnam might have a completely new list of their top five. Though for me, these dishes are what still make my mouth water even months later.
Think there's another dish that should join this list? Leave a comment below and let us know!
Did all these make your stomach grumble to explore more of Vietnam's food scene? Ready to come up with your own list of the top five Vietnamese dishes you MUST try? 
Learn more about the services Guide Me Away provides and how we can help make those dreams a reality. Contact our travel experts today!
Article's featured image by Maggie Rotts