So you're planning, hoping to plan, or have already planned a vacation to an amazing, sunny destination. Perhaps it's one of those gorgeous, all inclusive resorts in the Caribbean, or you're planning to enjoy the amazing beaches in Hawaii, in the middle of the ocean. Wherever you are, you're reading this article because you want to make sure you're bringing the right stuff to your vacation.
No problem. GMA can help with that.

1) Sun Screen & Sunblock, Tanning Oil, Tanning Lotion & Aloe Vera
This one may seem like a no-brainer. While you do need the sun for your daily dose of Vitamin D, it does not imply that you should put your health at risk! As our ozone layer starts to deplete, we face more and more issues with the sun now than ever. Tanning oils and lotions come with a lower SPF to allow more of the sun's UV rays to enter your skin, giving you that nice brown you want coming back from your vacation.
Make note that there is a difference between sunscreen and sunblock, with sunblock acting as a completely reflective screen for your body (as opposed to a resistance that lets them into your skin).
If you're vising the UNESCO World Heritage site of Ghadames in Libya where there is a scorching average temperature of 105.8°, it is very likely that you might want to invest in some Aloe Vera. Aloe is anti-inflammatory, promotes circulation, and inhibits the growth of bacteria. It is used to treat first- and second- degree burns, which will be very helpful for your pain relief if you do happen to get burned by the sun.

2) Sunglasses & Hats
It goes without saying that protection from the sun is key. If you've ever had sunburn, you'll know that it is extremely difficult to move and not very enjoyable. That's why we recommended bringing sunglasses and hats – providing shade to your vision and your eyes & head is extremely important.
The main points of wearing sunglasses & hats would be:
They protect your eyes against the sun's UV rays, which could otherwise lead to cataracts. A cataract is an eye disease in which the clear lens of the eye becomes cloudy or opaque, causing a decrease in vision.
Sunglasses protect against "blue light" from the solar spectrum, which could increase your risk of macular degeneration.
They lead to improved and more comfortable vision from not having to squint.
They can make it easier to adapt to darkness. Exposure to bright light can make it more difficult to adjust during night time.
Hats will be able to protect more of your body from UV rays, lessening your exposure and chance of skin cancer.

3) Multiple Swimsuits & Summer Clothing
Bikini, Monokini, one piece, trunks, etc. If course, if you're going to a summery destination, there's going to be lots of visits to the beach, out door pools, night-time hot tub sessions… I might be describing a resort in Bora-Bora! There's also going to be tons of outdoor activities (I mean, you don't go to a place with tons of sun to practice hiding from it) so your standard hiking shoes, pants and fanny packs would be a great bring along.

4) Re-usable Water Bottle (Bonus points for insulated)
Don't forget that our bodies are 70% water, so staying hydrated is extremely important. Water helps with our cardiovascular health, with the movement of our muscles and joints, as well as keeping your skin elastic and supple. With tons of out-door activities planned for your trip, you want to make sure you've constantly got water on the go with you.
Sure, plastic water bottles work too, but re-usable water bottles are just so much better. Don't forget about the safety concerns coming from drinking a plastic bottle that has been out in the heat. If the water bottle is insulated, it can keep your water cold for 12-24 hours or more, depending on the bottle!

5) Water Shoes & Sandals/Flip Flops
The right footwear is a must for any sport or activity as it helps you perform at your peak while providing the appropriate level of protection. Think any shoe will be just fine in the water? Think again. If you've ever stepped on a sharp rock with bare feet or slipped on a dock wearing flip flops, then you're already aware of two key reasons why water shoes matter: safety and traction. Their lightweight designs, flexible material and rugged out soles are an ideal balance of protection and comfort. Plus, if you're big into boating, you'll be happy to hear that most water shoes have non-marking soles.
Sandals are definitely a great idea to have no matter where you are, but for beaches and pool-side lounging they are irreplaceable. With your sneakers, sand and pebbles are much harder to get out of then sandals.

6) Beach or Picnic Blankets
Beach and picnic blankets are an essential to any outdoorsy vacation. Whether you want to lie down and get your tan on, read a nice book, or have a little beach picnic, all you have to do is lay down your blanket and kick back. Beyond comfort, blankets provide protection from the hot sand, as well as rocks and other harmful items that may be buried beneath the surface.
The best thing about the blankets are their practical use, being the thing that stops contact from your skin to the ground, as well as any other items to the ground like food, phones, bags and purses. They're definitely a must pack for any vacation trip. If you're going to be hanging out in the beaches around the south, make sure to look at sand-free beach blankets!
7) Polaroid
Sure, your phone camera works all good and well. Any DSLR camera or high quality photography device is definitely recommended, but the Polaroid cameras are an amazing addition to any trip. Photos produced by a Polaroid camera is instantly printed out of the device and has a naturally vintage look to them – no filter needed!
One of our favorites, we would never leave home without a Polaroid.
Don't forget to bring film!
8) Waterproof Speaker
Because, obviously who wouldn't want to rock out to their jams at the beach or by the pool?
With the a water-proof speaker, you can listen to all your favorite tunes while relaxing in the pool-side of your resort in Riviera Maya, or by the amazing beaches in Maui.
9) Safe
A smaller, portable one. Or at least a lock.
On vacation to foreign locations, there are chances that tourists may enter into a more shady area of the cities and towns they visit. It is always ideal to keep either a small, portable safe for your valuables or at least a small lock to keep your bags from being unzipped. Trust us – we're experts in travel!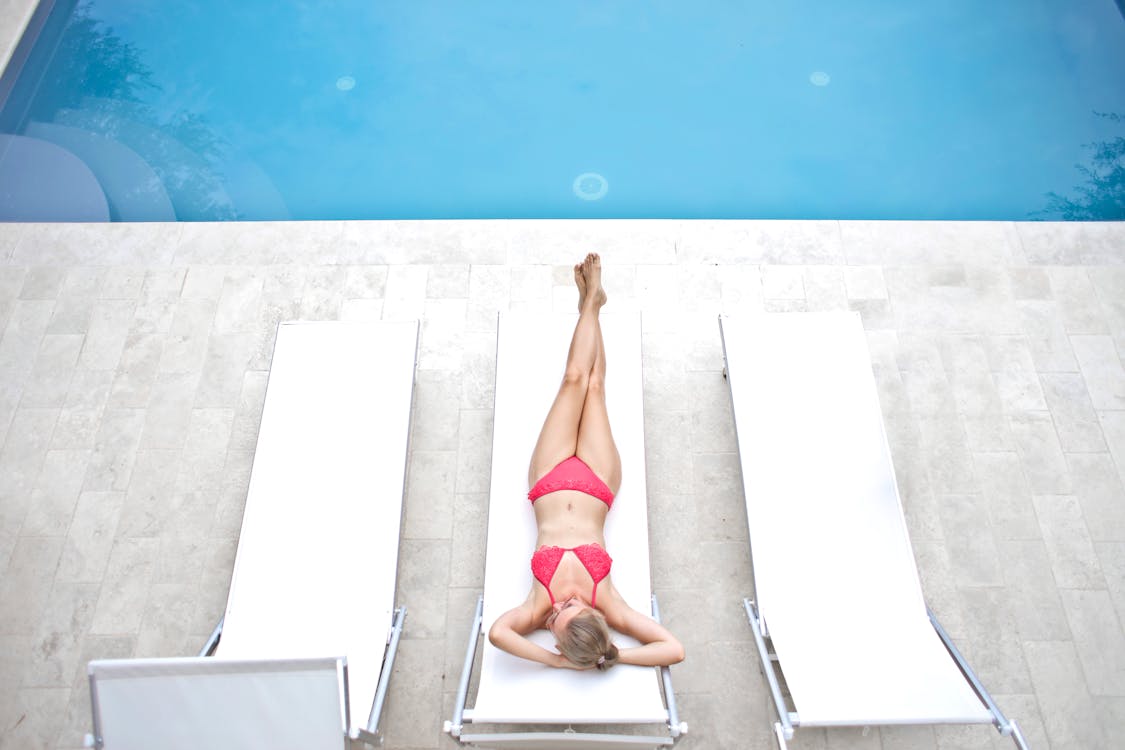 10) Fold-able lounger
You're on vacation, so your comfort should be a priority.
When you head to visit parks, beaches, or nearly anything outdoorsy, bringing along a fold-able lounge chair will make it very easy for you to lay down, sit back and relax.
They're also super easy to carry.

11) Mobile Battery Pack
It's a vacation, which means that a lot of your time is most likely going to be spent on the go. You're going to be going around, taking pictures of amazing ocean-side views, beautiful palm trees and recording long treks on amazing yellow beaches with your friends.
That is, unless your phone battery dies.
A mobile battery pack has always been one of our must-brings on vacation. What happens when after your first day, you just get too darn tired? You shower, get dressed and slump into the amazing queen-sized bed they've given you at your hotel and completely forgot to charge your phone. You wake up the next day just before you need and you might be seeing the Pyramid of Giza, the Sphinx in Egypt or some other world-renown landmarks but your phone has no battery to capture these memories for you!
Seriously. We definitely recommend the battery pack.
And there you have it! We hope this list has definitely helped you in preparing for the trip full of beaches and sunny outdoor activities for you.
Not sure where you want to go yet? Give us a call and GMA's expert travel advisers can help you book your trip completely hassle-free and worry-free so you and your friends can put all the tips you've learned today to good use!