The year 2020 has been a roller coaster. Many travel cancellations, endless hours on the phone, thousands of emails sent, and we can go on and on. How sad and frustrating that is it? After the pandemic, many people are switching habits and the way how to travel, work and do things daily. Did you know that you could avoid all that booking your trip with a travel agent? Well, let me tell you a few reasons why it is essential to book your next vacay with a travel agent.
1. First things first, the price
Most people think that every time they are buying a vacation or booking a flight, they are getting the best deal ever buying it, big mistake. Mostly of sales do not cover, luggage, food onboard, delays or cancellations. We got attracted by the price, do not realize that in the end cheap things always cost more. On the other hand, booking a trip with a travel agent, you will get to know all the pros and cons and fully understand the conditions of the service. A better price or discounts that probably are not available online. Guide Me away always got the best rates for you, talk to us to find out more, click here and leave us a message
2. Dealing with changes and updates
Did you spend a few hours on the phone trying to get any information about your flight during Covid-19? Good news, you were not the only one. Some people spent more than 4 hours trying to talk to someone to know more about their flight cancellations. Travel agents can do everything for you. From change on flights, book vacation packages in less time and more efficiently. Avoid all the headaches and wasting time dealing with a machine telling you are the number 1000 in the queue waiting. Search for quality service; we are here to support you.

3. Tailored and customized service
Online booking doesn't have any flexibility in terms of specific requirements; you do not have the freedom to build your dream vacation without paying higher rates or being overcharged. Guide Me Away can do the magic for you. We can create your vacation package according to the places you want to visit, or depending on the destination that you like the most.  Are you an adventure traveller? Click here to find your next adventure trip and book it with us!
4. Save time with a travel agent
People do not think about how much time they are spending searching for the perfect deal or a specific tour that they want to do. Sometimes travellers are searching for months. They want to know all the details and be sure that they'll be safe in the destination. But, Why should you spend so much time doing that when someone can do it for you? Travel agents are well known and professionals, Guide Me Away has been assisting people and helping travellers for more than ten years. We understand and believe that the time is essential, forget the planning, get more time with your family, and we can arrange everything for your next trip.
5. Best tips and recommendations
Travel Agents are constantly on the road travelling, they know more than any website. For example, where to go, how to get to places because they're speaking from their own experience. Guide Me Away has been travelling around the world. Learning about the best destinations, sustainability and safety to offer the best service people can get genuinely. We are committed to helping in the best way possible to bring people to their destinations, safe and without worries.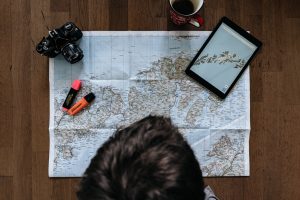 Generally speaking, travel agents can be the solution for all the concerns and questions before going back to travel. There is essential to know that we can keep travelling the world. But it's a few regulations and restrictions to follow; we need to adapt and take all the precautions to be happy and safe.
For all-inclusive family, packages click here. Interesting in taking a cruise in 2021?
Remember, for best deals book with Guide Me Away!
Check out next week's blog, Important information Alert!!!