You may have caught our blog last week describing the 6 best adventures to embrace the cold this winter, but we know the cold isn't for everyone. For those of us living in cold places as it is, an escape to a warm oasis might be just what you need. The holiday season can be a drag and sometimes we just need to get away from it all. Take a break and challenge yourself with a new adventure. 
We've put in the research and figured out the 9 best adventures to ditch the cold this winter. These destinations are warm AND action packed. We included a couple cruise adventures as well to give plenty of variety. All adventures are perfect for your winter getaway.
1) "Hawaii Multi-Island Adventure" – 15 Nights
Hawaii is the perfect winter destination. With 137 islands covering over 1500 miles, there's plenty of opportunities for adventure. Hawaii is considered an adventure capital of the world. There's kayaking, hiking, ziplining, snorkeling, cruising, and so much more. The adventure opportunities are endless and this adventure will be a blast.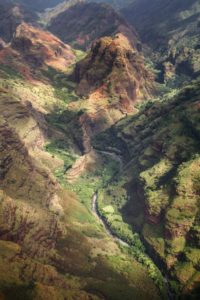 Route: 
Waikiki | Oahu | Kualoa | Waikiki | Kapa'a | Waimea Canyon | Kapa'a | Kahului | Hilo | Kailua-Kona
Excursions:
Explore the North Shore of Oahu

Tour the Kualoa Ranch Nature Reserve, famous movie filming location.

Hike the "Grand Canyon of the Pacific," Waimea Canyon

Traditional Luau 

Explore Wai'anapanapa State Park and its famous black sand. 

Wailuku River State Park with Rainbow Falls and Boiling Pots.

Hawai'i Volcanoes National Park

Opportunities for: paddle boarding, kayaking, swimming, surfing, snorkeling, and MORE!
Dates:
Hawaii Volcano National Park is an amazing place and just one of the stops on this adventure. The National Park encompasses two active volcanoes: Kīlauea, one of the world's most active volcanoes, and Mauna Loa, the world's most massive shield volcano. The Park reopened in 2019 after closing in May 2018 due to volcanic activity of a nearby volcano. This Park is a great source of data for scientists as well interesting plants, animals, and adventure opportunities for us to enjoy.
This is the perfect Hawaii adventure because you'll hit four of the largest islands. A typical adventure won't cover this much distance while keeping you relaxed. There are so many opportunities for adventure you'll arrive home invigorated and inspired. 
2) " Best of Southern Spain" – 8 Nights
With most destinations, you have to compromise on something, whether it's cuisine, history, or just things to do. Luckily, in southern Spain, there's no such thing. This tour covers the major highlights of Andalucia (southern Spain): the ornate palace of Alhambra in Granada, Córdoba, and the Andalucian capital of Seville, home of flamenco dancing.
Pair it all up with time in Madrid and Barcelona, and you'll never run out of fun things to do, eat, or see. This adventure has a more relaxed pace than our last adventure, but there's still plenty of historical buildings and cities to explore. 
Route:
Madrid | Granada | Cordoba | Seville | Barcelona
Excursions:
Tour the Royal Palace

Walk through Granada

Tour Alhambra

Mezquito de Córdoba and world's largest Gothic cathedral

Flamenco performance

Mescladis tapas cooking class and dinner
Dates: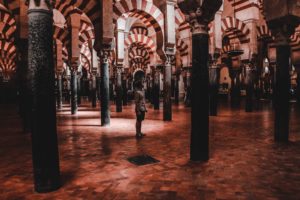 The Great Mosque of Córdoba is the Catholica cathedral of the Diocese of Córdoba located in Andalusia.  The Mosque is considered one of the most accomplished monuments of Moorish architecture. The original structure was first built in the year 784 before being converted into a Roman Catholic church in 1236.  During this adventure, you'll get a uniquely authentic glimpse into the Medieval time period. You won't believe how well preserved these buildings are, many are still in use today. 
Spain is a great destination during winter. This adventure is perfect for those looking for adventure while taking it easy and eating lots of yummy food. Gin and tonic is the national drink of Spain, so make sure to order at least one! You'll arrive home with a better love and appreciation for this beautiful country. 
3) "Mayan Trail" – 8 Nights
Leave the resorts of Cancún behind and embark on a true adventure that will take you from spectacular Mayan ruins to the cobblestoned streets of colonial towns and deep into the jungle of Mexico. Explore the ancient ruins at Chichén Itzá and Palenque and meet the descendants of those who built them in the vibrant streets and colourful markets of picturesque Mayan towns. Get your camera out—you're going to need it!
Route:
Playa Del Carmen | Mérida | Palenque | San Cristóbal de Las Casas | Panajachel | San Juan La Laguna | Antigua, Guatemala 
Excursions:
Tour of Chichén Itzá

Tour ruins of Uxmal

Spend two nights in a luxurious and fun jungle lodge

Tour Mayan ruins of Palenque 

Swim in pristine waters of Roberto Barrios waterfall

Boat ride through Sumidero Canyon

Boat on San Juan la Laguna

Posadas Mayas Homestay with local family
Dates:
Dec. 1, 8, 15, 29

Jan. 5, 9, 12, 19, 26

Feb. 2, 20, 23

Spring dates available, contact for details.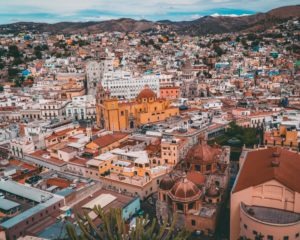 The Posadas Mayas Homestay opportunity is a community project supported by the local non-profit Planeterra. This is an amazing, once in a lifetime opportunity to meet locals and experience authentic Guatemala culture. 
On top of this experience, you'll get opportunities to boat through Sumidero Canyon and San Juan la Laguna plus stay overnight in a jungle lodge and tour ancient Mayan ruins. Forget boring and cold winters, head on this thrilling Mexico and Guatemala adventure. 
4) "Biking Cuba" – 8 Nights
Two wheels are better than four (or more) when it comes to exploring the Caribbean nation of Cuba. This eight-day active tour leads you along some of the nation's most scenic sights and routes. Cycle through the Garden Province of Pinar del Río, passing famous mogotes (limestone pincushion hills) of the region, see the historic Cueva de los Portales used by Che Guevara, and venture along the Ancón peninsula coastline. Your time relaxing or swimming on the beaches of Playa Ancón will be well-earned by this point.
Route:
Havana | Viñales | Playa Larga | Trinidad | Santa Clara | Havana
Cycle Excursions:
Viñales in Pinar del Río, otherwise known as the "Garden Province" of Cuba

Cueva de los Portales, a cave that was used by Che Guevara during the 1962 Cuban Missile Crisis

Visit Playa Giron museum

Picnic lunch on the golden sands of Playa Ancón then swimming

Salsa dance class and Spanish lesson

Mausoleum of Che Guevara
Dates:
This is the perfect adventure for the avid cycler who needs a break from inactive winters. This adventure is sure to engage your muscles in a country with amazing scenery and history as your backdrop. You'll pick up a few dance moves and Spanish along the way. You'll arrive home invigorated and energized with new skills to share with your friends and family.
Don't worry about the packing, a bike is included in an adventure package. You'll have all the fun of a bike adventure without the hassle of bringing your bike or dragging your luggage along with you. 
5) "New Zealand Express" – 9 Nights
See Middle Earth with your own eyes on this nine-day tour through the best of New Zealand. Explore the stunning North Island and its geothermal park, stargaze around Lake Tekapo (the world's largest dark sky reserve), and cruise along fjords, cliff walls, and waterfalls in Doubtful Sound. Cross a few items off your bucket list by visiting the adventure capital of the world with pretty much every thrilling sport at your fingertips (paragliding, skydiving, jet boating). It is, after all, the birthplace of the bungee jump.
Route:
Auckland | Rotorua | Christchurch | Queenstown
Excursions:
Visit the Waitomo Caves, famous for their glow-worms and adventure activities

Explore Middle-earth on excursion to Hobbiton Movie Set

Experience Maori culture with authentic dance and dinner

Mt. Cook

Vineyard tour and tasting

Cruise through Fiordland National Park and Doubtful Sound. 

Opportunities for: whitewater rafting, hiking, bungee jumping, paragliding, mountain biking, gondola ride, jet boating
Dates:
Fiordland National Park is New Zealand's largest National Park covering an area of 4868 square miles (12607 square km). The retreat of the glaciers after the ice age left behind U-shaped valleys with sheer cliffs and as a result Fiordland's coast is steep and sharp, but stunning beautiful. This adventure provides you the opportunity to cruise through Doubtful Sound. 
This is the perfect vacation for thrill seekers needing a break from the mundane winter. On this adventure you have the opportunity to push your limits or take it easy, depending on your preference. Thanks to adventures like these, exciting travel isn't just for the summer. Adventure is year round! 
6) "South Africa Safari Experience" – 18 Nights
Witness nature's greatest spectacles on a 18-day safari to some of Africa's celebrated national parks, including Kruger and Chobe. Enjoy an unforgettable wildlife walk with a local guide in the panhandle of the Okavango Delta, drive through Hwange National Park in search of large herds of elephants, and sit down to a family dinner at a private home near Victoria Falls. Our small group size ensures maximum exposure to everything this region has to offer.
Route:
Johannesburg | Karongwe Private Game Reserve | Kruger National Park | Johannesburg | Victoria Falls | Hwange National Park | Chobe National Park | Okavango Delta, Botswana | Maun, Botswana
Excursions:
Traditional South African Braai (Barbecue)

Scenic drive through Panorama Route

Camp overnight in Kruger National Park

Safari drive through Kruger National Park

Meet with a researcher from the Endangered Wildlife Trust's Cheetah Metapopulation Project

Two safari drives through Karongwe National Private Game Reserve and see the "big five" animals

Shop at market and have dinner with local family in Zimbabwe

Victoria Falls and river safari tour

Chobe River boat safari tour

Opportunities for: whitewater rafting, helicopter flight
Dates:
This South Africa adventure is stacked with safari drives, boat rides, and more to get you up close and personal with Africa's iconic wildlife. You won't find a better safari experience with more tours. You'll arrive home inspired by our globe's wildlife and the scientists working to preserve and study these species. This is the perfect adventure to get you motivated and active during winter.
Do Good On Vacation
The Endangered Wildlife Trust Cheetah Project monitors and prevents the killing of cheetahs, and introduces them to new, safe, wild territories so they can continue to freely roam our African plains. Your adventure package gives money directly to the Project so you get the fun experience of interacting with cheetahs while helping ensure their survival. 
Populations of rhinos, elephants, cheetahs, and more iconic African animals have been dwindling due to poaching and harmful tourism. It's important to travel responsibly in order to protect the remaining animals and help them bounce back. Responsible tourism is absolutely necessary to protect these animals!
7) "Highlights of Portugal" – 7 Nights
In Portugal, the sun is bright, the food is delicious, and the living is easy. Wander the hilly streets of coastal Lisbon, where you can munch on a custard tart while gazing at sun-dappled architecture. Get your fill of history and culture at UNESCO World Heritage Sites like the Monastery of Batalha, Coimbra University, and the picturesque town of Sintra. End the tour in Porto, where the majestic Douro Valley begs for you to lounge back with a glass of port wine in hand. Felicidades! And welcome to Portugal.
Route: 
Lisbon | Coimbra | Porto 
Excursions:
Fado Nights with traditional Portuguese food

Visit the historic Monastery of Batalha

Tour Medieval capital of Portugal, Coimbra

Visit the famous Coimbra University, a World Heritage site (and also the inspiration for Harry Potter's Hogwarts)

Cruise down Douro Valley

Port wine cellars tour and tasting
Dates: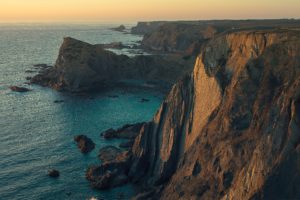 Coimbra University (now known at The University of Coimbra) was first opened in 1290 and is one of the oldest universities in continuous operation in the world. In 2013 UNESCO added the University to its World Heritage List, protecting the building with international treaties due to its historical significance. 
Travel back to Medieval Portugal on this adventure. You'll experience traditional Portuguese food, architecture, history, and more on this quick but fun adventure. Arrive back home in no time feeling refreshed and stuffed with authentic Portuguese food and wine. 
8) "Tahiti & The Society Islands" – 7 Night Cruise
Discover your own island inspiration in the destination that enchanted painter Paul Gauguin, author James A. Michener, and countless others. In one wonderful week, you'll explore the best of the South Pacific, with stops in lush Huahine, beautiful Bora Bora, and postcard-perfect Moorea. Once you've made these islands your home—even if just for a week—they'll always be calling for you to return.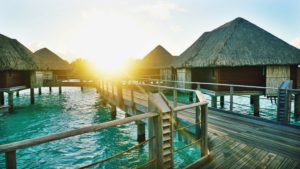 Route:
Papeete, Tahiti | Huahine | Taha'a | Bora Bora | Moorea | Papeete, Tahiti
Excursions:
Relax on the beach in Bora Bora

Rent an Aquabike underwater scooter

Aquasafari boat ride

ATV tour through mainland Bora Bora

Aquaplane tour

Ride in a glass bottom boat

Opportunities for: paddle boarding, kayaking, windsurfing, snorkeling, scuba diving
Dates:
Bora Bora is an island group in the Leeward group of the Society Islands of French Polynesia. The main island is surrounded by a lagoon and a barrier reef and is the perfect destination for a winter getaway. Bora Bora has made a name for itself in the tourism industry for their aqua-centric luxury resorts. Many of these aqua-resorts are sustainable, which you can experience with a night at a hotel right on the barrier reef. 
This cruise is the perfect adventure for those looking for hands-off paying for an easy vacation plus plenty of adventure. These excursions are sure to get your blood pumping while getting you up close to aquatic wildlife. 
9) "Panama Canal Holiday" – 17 Night Cruise
From Ft. Lauderdale to San Diego, your holiday will be filled with festive celebrations, temperate rainforests, exotic wildlife, and a passage through the Panama Canal. Through exclusive partnerships with highly acclaimed brands in entertainment and personal enrichment, Holland America Line ensures both days and nights are filled with delight and inspiration.
Route:
Fort Lauderdale, FL | Half Moon Cay, Bahamas | At Sea 2 days | Willemstad, Curacao | Oranjestad, Aruba | At Sea | Enter Panama Canal Cristobal | Exit Panama Canal Balboa | Transit Panama Canal | At Sea | Puerto Caldera (Puntarenas), Costa Rica | Corinto, Nicaragua | Puerto Quetzal, Guatemala | Huatulco, Mexico | At Sea | Puerto Vallarta, Mexico | At Sea 2 days | San Diego, CA
Excursions:
BBC Earth Experiences on board including concerts and films

Greenhouse Spa & Salon on board
Dates:
While on board, enjoy a cooking show or hands-on workshop from America's Test Kitchen. Work out in our fully equipped Fitness Center. Savor the world's great cuisines in our specialty restaurants. Explore the world's wonders with BBC Earth Experiences presentations and activities. This cruise adventure takes you away just in time for Christmas. Spending your holiday away on vacation is a great way to add variety to life and skip the ordinary. 
Ditch the cold this winter
Pick one of the thrilling and engaging adventures to ditch the cold this winter. We featured adventures from Hawaii, Spain, Mexico, Cuba, New Zealand, South Africa, Portugal, Tahiti, and Panama Canal because they offer fun-packed adventures in warm destinations. It doesn't matter how active you want to get, we've covered adventures featuring cycling, hiking, cruising, relaxing on the beach, and more so you can find the perfect adventure for your winter getaway, Don't let yourself get snowed in this winter. Get active with one of these adventures.
All of these adventures are available to book NOW
Follow our adventure page on Facebook for daily adventure updates and opportunities