Even for the biggest thrill seekers around the world, the winter usually means it's time to slow down, come inside, and recuperate after a long season of adventure. Just because it's cold outside doesn't mean adventure stops. There's still plenty to explore all over the world, including some places or experiences that are only available during winter.
We've put in the research and figured out the six most exciting winter adventures available now. The six best adventures are featured here, unranked, to help you find your perfect winter adventure. We cover Christmas Markets, Arctic cruises, and active adventures to give you plenty of inspiration. The holiday season can get complicated.  
Get far away and embrace the cold with these awesome adventures:
Christmas Markets
Whether or not you celebrate Christmas, it's hard to deny the beauty and excitement that accompanies Christmas Markets. Christmas Markets are a fun way to celebrate the holidays as well as winter, family, and traditions. Authentic European Christmas Markets are bright and colorful with plenty of food, treats, games, rides, and handmade arts and crafts. Picture your standard fair bolstered by holiday cheeriness. 
Skip the party planning this holiday season and pick a cruise. Cruises are the perfect holiday alternative because most cruises are entirely hands-off. No money, no effort required, except to pick which excursions you want to add to your adventure. 
Combine the two and you have a recipe for a relaxing adventure. These action packed cruises will take you to a few Markets to give you real taste of the holiday season, with plenty of excursions along the way. Check out these great options to explore Christmas Markets in Europe:
1) "Christmas Markets on the Danube"

 

– AmaWaterways – 7 Nights
Experience timeless holiday traditions and elegant pageantry in four countries—Hungary, Austria and Germany. Let iconic capital cities — Budapest and Vienna — decked in holiday finery with glittering Christmas trees illuminated by thousands of lights, bells pealing from cathedral towers and children dressed as angels singing Christmas carols, dazzle you. Wander the stalls of Europe's most traditional and enchanting Christmas Markets, including Nuremberg, Regensburg and Salzburg, shopping for handcrafted toys and gifts, sipping hot mulled wine and inhaling the fragrance of gingerbread and roasted chestnuts.
This cruise is perfect for those looking for extra adventure with their holiday spirit. There are many opportunities to cycle through town without the weight of your luggage. Cruises are a great way to get active in iconic cities without being weighed down by navigating, budgeting, and managing your luggage. Vacationing on a cruise is easier! 
Route:
Budapest, Hungary 2 days | Vienna, Austria 2 days | Melk, Austria | Linz, Austria | Passau, Germany | Vilshofen, Germany
Excursions:
Vörösmarty Square Christmas Market.

Bratislava Castle Hike.

Rathaus Christmas Markets.

Weissenkirchen to Melk bike tour.

Passau hike or bike tour, and more!
Dates:
Nov. 1, Dec. 1, Dec. 8
Dec. 15, Dec. 20, Dec. 22 (SALE PRICES AVAILABLE)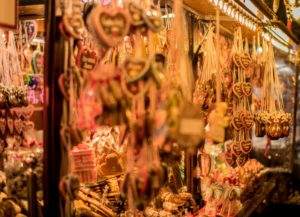 2) "Rhine Holiday Markets" – Uniworld Cruises – 8 Nights
Switzerland, France and Germany provide the perfect backdrop for this true connoisseur's Christmas market cruise. Discover the roots of our Christmas traditions as you explore some of Europe's most charming towns. Browse for unique ornaments in Basel's Christmas Market. Sip vin chaud as you stroll to Place Kléber to behold the enormous, brilliantly lighted tree that Strasbourg offers modern celebrants. See how the baroque town hall of Koblenz is transformed into an Advent calendar and find unexpected treasures in the red-roofed stalls clustered around Cologne's magnificent cathedral.
Route:
Basel, Switzerland 2 days | Kehl, Germany | Mannheim, Germany | Mainz, Germany | Cruise Rhine River | Cologne, Germany 2 days
Excursions:
Strasbourg Christmas Market.

Heidelberg Christmas Market.

Doctorenhof vinegar estate visit and tasting.

Siegfried's Mechanical Musical Instruments Museum.

Cologne Cathedral Visit, and more!
Dates:
Nov. 28, Dec. 12
Dec. 5, Dec. 19 (SALE PRICES AVAILABLE)
Head on this cruise if you're ready for Christmas Markets and lots of historical stops. You'll get private tours at popular tourist destinations. The Cologne Museum is the most visited tourist spot in Germany but luckily this tour takes place during a lighter tourist season so you can see more with smaller crowds.
Siegfried's Mechanical Music Instruments Museum is another cool tourist spot. This museum holds 350 self-playing musical instruments spanning three centuries. You'll be fascinated and delighted!
Cruise the Arctic:
Truly embrace the cold by cruising one of the most cold and desolate places on earth, which also happens to be one of the most beautiful. An Arctic or Antarctica cruise is the perfect adventure to embark upon during winter. You get the great views from the comfort of a luxurious cruise. An all-inclusive cruise makes life even easier so you can truly enjoy the holiday season.
3) "Antarctica and Climate Change" – PONANT

 

– 10 Nights
Visiting Antarctica is almost like stepping back in time, to the era when the world was new. There are no human sounds in this land of primeval beauty, only the wild cries of birds, seals, and whales echoing across a vast expanse of land and sea. Travel with us to this magical land during the austral summer, when the days are long and relatively mild, when seabirds are courting, and massive icebergs thaw into sculptures of brilliant form and color.
Route:
Ushuaia, Argentina | Cruise Drake Passage 2 days | Antarctica Peninsula 5 days | Cruise Drake Passage 2 days | Ushuaia, Argentina
Excursions:
Kayaking.

Shore visits.

Visit research stations and forming whaling stations.

Hiking, and more!
Dates:
Dec. 10 (SALE PRICES AVAILABLE)
If you're interested in an arctic cruise read how to save money on cruise tickets and how to take a sustainable cruise vacation in order to be the most responsible tourist you can be. This is the perfect opportunity to embrace the wilderness. This cruise has lots of wildlife viewing excursions and will educate you about this region as much as it inspires you..
As the only French cruise company, PONANT is an ambassador of the "French Touch" around the world. With French crew, discreet service, refined cuisine and partners that embody the same spirit of excellence and refinement, they do their utmost to maintain their unique cruising philosophy.
4) "South America & Antarctica Holiday" – Holland America Line – 22 Nights
Enjoy the most immersive culinary experience at sea, influenced by our global Culinary Council® of world-renowned chefs. The Dining Room is celebrated for everyday excellence, while restaurants like Pinnacle Grill, Tamarind, and Canaletto offer specialty options. Our extensive wine selection is chosen by our Wine Curator James Suckling; and spirits enthusiasts will appreciate our classic cocktails, with direction from our Master Mixologist Dale DeGroff. But the experiences don't stop there, hone your skills with America's Test Kitchen and explore the culinary side of destinations through exclusive culinary excursions by FOOD & WINE® magazine.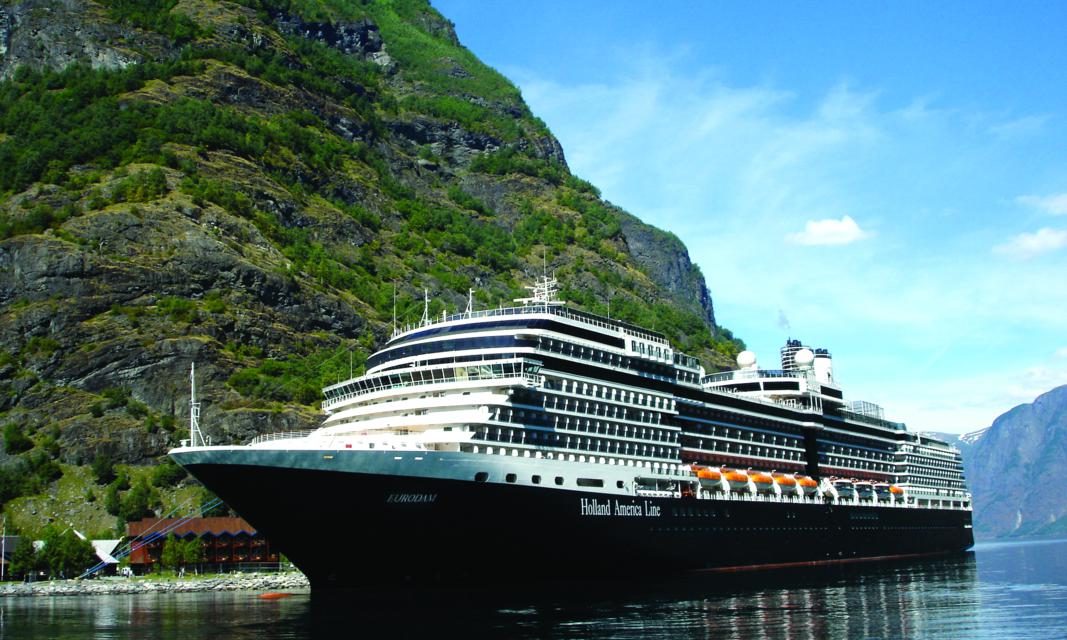 Route:
Buenos Aires, Argentina 2 days | Montevideo, Uruguay | At Sea | Puerto Madryn, Argentina | At Sea | Stanley, Falkland Islands | At Sea | Antarctic Experience 4 days | At Sea | Cruise Cape Horn and Drake Passage | Ushuaia, Argentina | Cruise Glacier Alley | Cruise Beagle Channel | Punta Arenas, Chile | Cruise Strait of Magellan | Cruise Canal Sarmiento | Scenic cruising Amalia or Brujo Glacier | Cruise Chilean Fjords | Puerto Chacabuco, Chile | Castro (Isla Chiloe), Chile | Puerto Montt, Chile | At Sea | San Antonio (Santiago), Chile
Excursions:
Graf Spee monument.

Batlle y Ordoñez Park and famous soccer stadium visit.

Colonia del Sacramento, oldest city in Uruguay.

Juanicó Winery visit and tasting.

Dolphin watching, and more!
Dates:
Dec. 18
This cruise features a tour of Estadio Centenario, a famous soccer stadium in Montevideo built for the first world soccer cup in 1930. Estadio is the national soccer stadium and contains a world cup museum. This is the perfect excursion for soccer lovers everywhere. Go to the heart of soccer!
This cruise is great for those looking for an arctic adventure plus plenty of tourist hotspots. There's a winery visit and tasting, soccer stadium visit, and more!
Explore the Cold:
If you're ready for real winter adventure, head one of these active tours. You don't need to be in amazing shape or a skilled hiker for these adventures. Either tour would be a great holiday present for the thrill seeker or nature lover in your life. G-Adventures is a great company who always has authentic, safe, and fun tours guided by knowledgable locals. 
5) "Spirit of Shackleton" – G-Adventures – 21 Nights
Experience vast penguin rookeries and seal colonies on this awe-inspiring voyage to Antarctica, South Georgia, and the Falkland Islands. This 21-day voyage illuminates Ernest Shackleton's legend and recounts his courageous exploration of Antarctica. You'll visit historical sites of past explorers, as well as Shackleton's final resting place — the wildlife-rich island of South Georgia. Antarctica is beyond comprehension and sure to amaze any traveller seeking a true adventure to the world's most remote wilderness
Route:
Urshuaia, Argentina | Beagle Channel | Falkland Islands (Islas Malvinas) | Southern Ocean | South Georgia | Scotia Sea | Tierra de O'Higgins, Peninsula | Drake Passage | Urshuaia, Argentina
Excursions:
Sail through Beagle Channel.

Penguin watching on the Falkland Islands.

Camping.

Kayaking.

Tierra del Fuego National Park.
Dates:
Jan. 11, Feb. 11
Experience some of the most unique wildlife and awe-inspiring scenery in the world while setting foot on the Antarctic continent. Attempt two shore landings per day  and encounter Gentoo, Chinstrap, and Adélie penguin rookeries; Weddell, crabeater, and leopard seals; and orca, humpback, and minke whales in the cold Antarctic waters. Go penguin watching, and get active on a boat, on a kayak, and in the wilderness.
6) "Norway Winter & Northern Lights" – G-Adventures – 7 Nights
Venture to one of continental Europe's most northerly regions on this seven-day tour through Norway. Experience how these lands truly come to life in the wintertime with dogsledding, a visit to a reindeer farm to learn more about Sami culture, and an overnight stay in a coastal fishing cabin. To top it all off, there'll be plenty of opportunities to see one of the world's most awe-inspiring natural wonders — the Northern Lights — throughout your trip.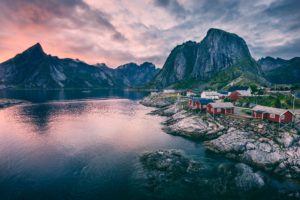 Route:
Tromsø, Norway | Narvik, Norway | Lofoten, Norway | Tromsø, Norway
Excursions:
Dog sledding.

Reindeer farm visit.

Wildlife-spotting cruise around Lofoten Islands.

Holiday concert at Arctic Cathedral.

Northern lights, and more!
Dates:
Jan. 12, Feb. 9, Mar. 1, Mar. 15, plus more in spring (contact for dates)
The best place to see the Northern Lights is Norway. The holiday concert at the Arctic Cathedral, reindeer farm, and brightly lit sky are sure to put you in the holiday spirit.
Northern Lights, scientifically known as Aurora Borealis, is a natural phenomenon that occurs primarily in the higher latitudes. The Arctic and Antarctic are both in an "auroral zone" and therefore the perfect places to see the Lights. Technically, the Northern Lights are the light formations near the Arctic. The Lights in the southern latitudes near Antarctica are called "Southern Lights" or Aurora Australis. Most people say "Northern Lights" when referring to the Lights in both places!
Embrace the cold this winter
Don't just let this winter pass you by. Do something exciting! It doesn't matter if you're looking to shop at an authentic European Christmas Market, catch a few great views, or jump right into some adventure. Embrace the cold this winter with one of these awesome winter adventures.
All featured adventures are available to book NOW. 
Follow us on Facebook for daily adventure opportunities and deals.