From the gay beach parties and Pride events of Tel Aviv to Amsterdam's canal boat filled pride, here are some of the most gay-friendly cities in the world! Travel to these amazing queer-friendly cities that will have you filled with Pride!
1. Tel Aviv-Israel
Dubbed "the gay capital of the Middle East" by Gaycities.com. Tel Aviv is an amazing liberal city with spectacular beaches and culture to experience!
Tel Aviv is also home to one of the best gay Pride events in the world! Come to Tel Aviv in July and experience their outstanding gay Pride on their beautiful beaches!
Here at Guide Me Away, we even offer customer support in English and Hebrew, so be sure to use us when you want to visit this gay capital!
Wanna learn more about Israel? Check out our blog on the 5 most unique things about Israel that you've never heard of! Just click here. 
2. Toronto-Canada
Canadians are known for their friendly nature and this can be noticed in their openness with the gay community!
You can even notice the Canadian Prime Minister often marching in the Pride parade!
Toronto's Pride event is also one of the largest in the world that attracts people from around the world!
Be sure to experience Toronto's Gay Village which has been featured in popular movies and tv shows such as Queer as Folk!
3. Amsterdam-the Netherlands
The Netherlands boasts of being one of the most gay-friendly countries in the world!
In addition to being the first country to legalize same-sex marriage, the country also boasts an incredibly high acceptance rate of homosexuality!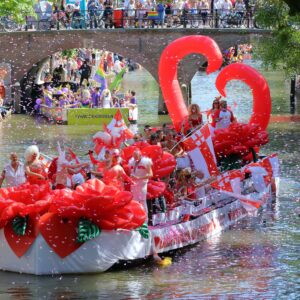 Amsterdam's gay Pride is not to be missed because, unlike other gay Prides around the world, Amsterdam has a canal Pride! This gay Pride utilizes its canal for its Pride parade and has floating gay-themed boats.
4. Madrid-Spain
Madrid has arguably one of the best gay Pride events in Europe and is one of the largest in the world! Madrid has an amazing culture and party scene that is gay-friendly.
Madrid's history is full of queer icons such as the famed poet Federico García Lorca. Be sure to visit his statue and brush up on his beautiful poetry.
5. San Francisco-California, USA
The gay mecca itself, San Fran, is a must-visit place for people of the LGBTQ+ community. This city has the largest gay population reported and has some of the strictest anti-discrimination laws to help protect the LGBTQ+ community!
Visiting San Francisco will surely feel like home when you experience this queer-friendly city.
Be sure to check out our recent blog post on the top 5 ways to experience California here!
All around the world, you can find LGBTQ+ friendly cities and here at Guide Me Away we can help you plan your next vacation to them!
We offer LGBTQ+ friendly support and strive to ensure you have the best trip yet. So let us guide you away to some amazing gay-friendly cities.