Sustainable vacations are one of the newest vacation trends popping up in time for 2020 and many travelers are doing what they can to adjust their vacation habits. Some habits are easier to break, like packing reusable utensils in your carry-on. Other habits can be tricky to figure out. Flight-shaming, or shaming against using air travel, is another new trend hitting the travel industry. Avid travelers are starting to ask themselves: how can we replace air travel, since water travel isn't that great either? Well. they have a point.
It's no secret cruise lines have been incredibly wasteful in the past.
Cruises require large amounts of fuel and energy and large cruise lines have made global headlines by dumping tons of trash into the ocean. Times have changed and expectations for our cruises are higher, especially since over 29 million people are expected to cruise in 2020. The time to adapt is now. 

"The water around and below us, the air above us, the communities around us, the people who work for us; all are critical factors when it comes to planning sustainable growth strategy for the cruise industry," said Adam Goldstein, a chairman of the Cruise Lines International Association (CLIA) and Royal Caribbean Cruise Lines, at The Economist's 2019 World Ocean Summit in Abu Dhabi. "With opportunity comes responsibility, and we are working as an industry to meet those responsibilities." 
The cruise industry is realizing their responsibility to protect the oceans they sail on, but these 5 awesome cruise lines are leading the fight with their eco-friendly company goals and sustainability programs:
The 5 most sustainable cruise lines and their awards for environmental stewardship:
5. Holland America Line (HAL):
Holland America Line ranks at number five on our list of sustainable cruises. Each ship has a black water treatment system that filters grey water before leaving the ship. HAL has committed that no waste ever goes overboard and will be stored until the ships hit land. Environmental officers are aboard every voyage to educate staff on environmental improvements.
HAL covers their basics by implementing towel reuse programs, low-flow shower heads/faucets, green cleaning supplies, and tinted cabin windows to reduce air-conditioning use. HAL is also highly decorated with environmental awards and takes a green lifestyle very seriously.
Awards:
Green Planet Award from Kuoni Switzerland for outstanding environmental standards

Gold Medal: Eco-Friendly "Green" Cruise Ship, Magellan Awards

Responsible Tourism Award from Virgin Holidays, 2008

Marine Environmental Business of the Year from Port of Seattle, 2010 and 2014

Most Ethical Companies List from World Travel Awards, 2012-2016

World's Leading Green Cruise Line from World Travel Awards, 2010

Sustainable Tourism Award from Hsmai and National Geographic Traveler, 2013

Ocean Stewardship and Sustainability Award from Alaska SeaLife Center, 2013

Green Gateway Award from Port of Seattle (Silver: 2011, 2015, 2016 and Platinum: 2012, 2014)
4. Oceania Cruises:
Oceania Cruises ranks number four on our list of sustainable cruises. In 2019 Oceania announced a partnership with Vero Water to cut 3 million plastic water bottles per year. Every suite now has their own water filtration system with still and sparkling water available. Oceania has figured out a way to use their sustainable changes to add more luxury to their ships and boost their business.
Through their green "Sail & Sustain" program they are reducing their use of print materials in guest rooms and have switched to a digital newspaper and guest survey.
Oceania shows they care about the ocean ecosystem by partnering with the Alaska Raptor Center to protect Alaskan birds of prey. Every vessel navigates around whale herds to minimize ship impact. Oceania has also replaced tarnished buoys along Harvest Caye in Belize to improve the habitat for manatees.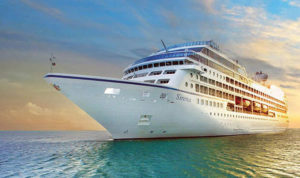 Awards:
Compassionate Business Award from PETA, 2017

Most Innovative Cruise Line from Virtuoso Performance Awards, 2011
3. Crystal Cruises:
Crystal Cruises ranks as number three on our list of most sustainable cruises. The Solstice ship added 216 solar panels on board to cut their emissions in half. Each ship has a water filtration system that cleans water to near pristine condition before going overboard. Solstice even has a live grass lawn on the upper deck to provide some natural cooling for the ship.
Crystal recycles aluminum and tin and crushes glass onboard. Plastics have been replaced with alternatives like paper cups, eco-friendly dry cleaning chemicals, washable laundry bags, and EcoHangers. Those last two may not seem like big additions but 9 million wire and plastic hangers fill America's landfills every year and switching to reusable laundry bags saves more than 100,000 plastic bags every year! Those "small" changes add up to a big difference.  
Awards: 
Most Groundbreaking Cruise Company from Porthole Cruise Magazine, 2016

Best Cruise Line for Innovation from Cruise Passenger's 21st Birthday Awards, 2017

Cruise Ship Environment Awards from Port of San Francisco, 2005 and 2011
2. Royal Caribbean Cruise Lines (RCCL):
Royal Caribbean Cruise Lines rank at number two on our list of most sustainable cruises. Environmental officers are onboard each ship to educate staff and guests on sustainability programs. Plastic utensils and water bottles are banned on every ship to reduce plastic use. An on-board wastewater treatment system treats all grey water before it leaves the ship to keep oceans clean.
In addition to the basics, RCCL is leading the way on unique eco-friendly solutions to cut emissions and reduce waste. RCCL shuts off one engine during the winter months to reduce unnecessary energy use. This simple change has gone above and beyond the trend to reduce drag by redesigning the hull shape to reduce drag and improve fuel efficiency.
RCCL has also invested heavily in biofuel in the past few years to reduce their dependence on harmful fuel. The company committed to sourcing at least 90 percent of its seafood served onboard from sustainable and safe fisheries. One of their most popular environmental initiatives, "Save the Waves," was started back in 1992 and focuses on protecting the health of our oceans. "Save the Waves" guides all actions RCCL takes including the building of offsite offices and charitable donations, including on board walk-a-thons. 
Awards:
Fuel Efficiency from SeaTrade Awards, 2017

GOLD Eco-Friendly "Green" Cruise Ship from Travel Weekly Magellan Awards, 2012-2014

Most Eco-Friendly Cruise Line from Porthole Reader's Choice Awards, 2013
1. Disney Cruise Line:
Disney Cruise Line ranks at the top of our list for their "A" rating on the Cruise Ship Report Card and their tireless effort to curb their emissions on each vessel.  Each ship has an environmental officer onboard to monitor ships and provide education classes.
Disney Cruises also goes above and beyond basic eco-friendly options. Their unique solutions to cut emissions and waste on board are already making a difference. Heat generated onboard is used to power evaporators that turn 1200 tons of seawater into potable water each day, vastly reducing water use.
Every possible material is recycled (including cooking oil) in ports all over the world. Disney has recycled over 2100 tons of material since 2014. Disney was one of the first cruise lines to implement non-toxic coating to reduce drag and improve fuel efficiency of each vessels. Plenty of "Add-A-Dollar" charity programs are available onboard where guests can donate to over 750 wildlife programs. They also participate in voluntary programs with the National Oceanic and Atmospheric Administration (NOAA) by recording sightings of humpback whales along the coast of Alaska. 
Awards:
Blue Circle Award for voluntary efforts to conserve energy and reduce emissions from Port of Vancouver, 2011-2019

Cruise Award for positive impact on Port Canaveral from The America Association of Port Authorities, 2013

"A" rating on Cruise Ship Report Card (Sustainability) from Friends of the Earth, 2019

Environmental Initiative Award from Seatrade Inside Cruise Awards, 2012
There's more work to be done
These cruise lines are really kicking butt, but there's more work to be done. Carnival Corporation has been on criminal probation in the U.S. for the last two years for illegally dumping oily waste into the ocean. In 2019, news broke that eight different cruise lines under Carnival Corp. violated their probation by illegally dumping wastewater and plastic into the ocean. Friends of the Earth gave all Carnival cruise lines an automatic "F" rating on their eco report card due to the dumping. The most important action we can take is to spend our money wisely and choose cruise lines with great green initiatives, like these ones! 
International organizations need to step up and require cruise lines to meet environmental standards. The International Maritime Organization (IMO) set a deadline for 2020 for all international vessels to use cleaner fuel with a lower sulphur content. The newer scrubbers installed by some cruise lines are a step in the right direction, but not as effective as simply buying cleaner fuel. 
You can make a difference 
Choosing between air and water travel to get to your adventure destination can be tricky, but making smart choices can help you cut the emissions of your vacation. If you want to go on a cruise, don't sweat it. Pick a sustainable cruise and feel better about your decisions.
If you're worried you're not doing enough to lead an eco-friendly lifestyle you can always donate to an organization like Carbonfund.org, a non-profit where your donations contribute to green programs to offset your carbon emissions. Carbonfund has unique packages you can purchase to cover airplane rides up to 100,000 miles or cover the annual use of your car. 
A smarter vacation leads to a more relaxed life, because you know you're doing the best you can to keep the environment clean and healthy. Now, let's get to vacationing. 
Book your next cruise today with our sustainability expert, Izzy Juell. 
Check out our Sustainable Travel page for more info on how stay green while traveling.
For more information on how you can save money on cruise adventure go here.