As Spring approaches, it is time for countless people to pick hiking spots for some fantastic outdoor activities! Not that hiking during the winter season is not as popular, but now is a great time to start contemplating on which spots and where to go, and which season would be best to kickstart their hiking journey…
Here are 5 compiled hiking spots that are recommended for you to explore!
Havasu Falls, Havasupai tribal lands, Arizona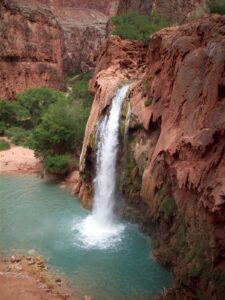 A hiking spot famous for its beautiful turquoise water and history-rich culture, Havasu Falls is a must-go for all hiking junkies. It is important to note that in order to hike Havasu Falls, you are going to need a permit! Havasu Falls is located in the Havasupai Indian Reservation, which is a part of Grand Canyon National Park. A challenging trail, visitors are advised to be fully prepared, mentally and physically, for the hike. Also, as the Supai Village is administrated and governed by the Havasupai people, it is pivotal for visitors to be respectful of the culture and laws of the Havasupai land. Many other details are important to be taken note of too, such as the lack of emergency assistance, rather lengthy duration of hikes, and risky mountainous conditions. A great hiking spot to learn culture and be aware of our existence in this world of ours.
Poo Poo Point, Washington
Image: Andrew Larson
Located in King County of Washington state, Poo Poo Point is a marvelous spot for visitors to hike up to and chill. Visitors can reach Poo Poo Point by hiking up Chirico Trail and Poo Poo Point Trail, then take in the wonderful view of downtown Bellevue and the rest of West Tiger Mountain. This is a great hiking spot, as not only are the views stunning, but you could catch some uncommon sights of the wildlife that resides along the trail too! Paragliding is available at Poo Poo Point too.
Lost Palms Oasis, Joshua Tree National Park, California
Fan Palm; Image: protrails.com
Located in Joshua Tree National Park, the Lost Palm Oasis hiking trail stretches 7.4 miles southeast. Lost Palm Oasis is a desert-setting trail, where visitors can observe and spot the beautiful and intriguing landscapes of the southernmost part of Joshua Tree National Park. Home to the native palm tree of California, Desert Fan Palm or California Fan Palm, the rocky, rugged landscape of Lost Palm Oasis (and Joshua Tree National Park as a whole) is a fantastic hiking spot for people of all ages.
Eternal Flame Falls, Erie County, New York
Image: wikipedia.org
Despite being a very small waterfall (compared to the rest that have been mentioned), Eternal Flame Falls is famous for its intriguing little flame that sits in a grotto and stays lit all year round. The natural wonder is nestled in the Chestnut Ridge Park in Upstate Western New York, and is a well-known hiking spot for students in nearby schools of Western New York. The tiny flame remains in vigor due to the natural gas that is emitted from the grotto, and it can be extinguished and re-lit.
Emerald Lake Trail, Rocky Mountain National Park, Colorado
Image: rockymountainhikingtrails.com
Colorado, one of the paradises for hiking spots, presents Emerald Lake, a stunning lake situated in the Rocky Mountain National Park, with a hiking trail that you would die to take a hiking trip on. In order to get to Emerald Lake, visitors are going to have to take the Bear Lake Trailhead, which is great, as visitors can get the chance to see the famous Bear Lake as well as other picturesque lakes, like Nymph Lake and Dream Lake. Depending on the season visitors make a trip there, weather changes and precautionary steps should be taken into consideration, for winter times can bring tough winds and freezing temperatures.
Which would you prefer? Hiking when it's cold during winter or sweating it out in the summer? Let us know on our Instagram or Facebook!
Check out our last post on Valentine's Day Gift Ideas for Travelers if you haven't!